The swiftly evolving technology landscape and changing business environment continue to shake the world of CHROs. So how can the future CHRO successfully embrace such change?
The clock is ticking. It is a long and unfriendly staircase. The CHRO looks at the wristwatch again, with a worried face, running furiously and looking over the shoulder from time to time. Are they coming? Yes, there is 'Digital Transformation' right behind and 'Diversity and Inclusion' just about at the turn. And the voices of 'Employee Well-being' and 'Employee Engagement' can also be heard coming from a few steps below. Will they all reach the board-room in time? The CHRO gets nervous and asks everyone to hurry up a bit. After all, it is not every day that HR issues get a seat at the strategic table. If they get late, it will hurt everyone, including the business. This is 2022. They cannot afford to make this goof-up or to take it lightly. The expectations of all stakeholders – especially employees and customers – have changed a lot. And with everything turning digital, the very existence of business growth, profitability, and competitiveness rest on the quality and morale of the talent pool.
If the CHRO misses out on any one of these six areas, the whole deck of cards can come crumbling down.
The digital transformation of HR
Increasing importance of HR Analytics
More focus on employee engagement
Greater emphasis on diversity and inclusion 
Increased focus on employee wellness programs 
A new role for the CHRO
More so, as the pressure on the CHRO has become multi-fold and of a new genre during and after the pandemic. In a report by emotional wellness organization YourDOST, National HRD Network, and Great Place to Work India, about 270 senior and mid-level HR leaders indicated that the HR impact has been unmistakable.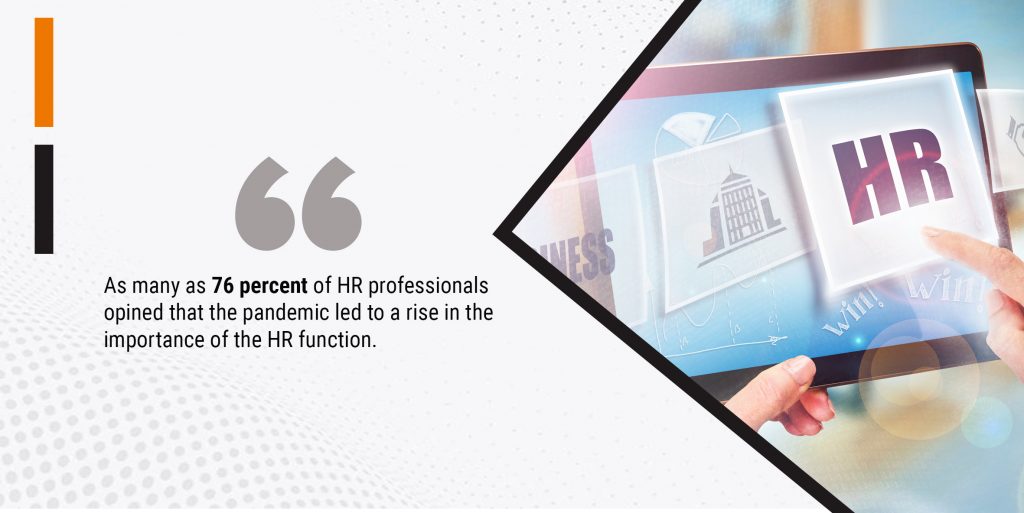 The future- a rock-climb of new CHRO imperatives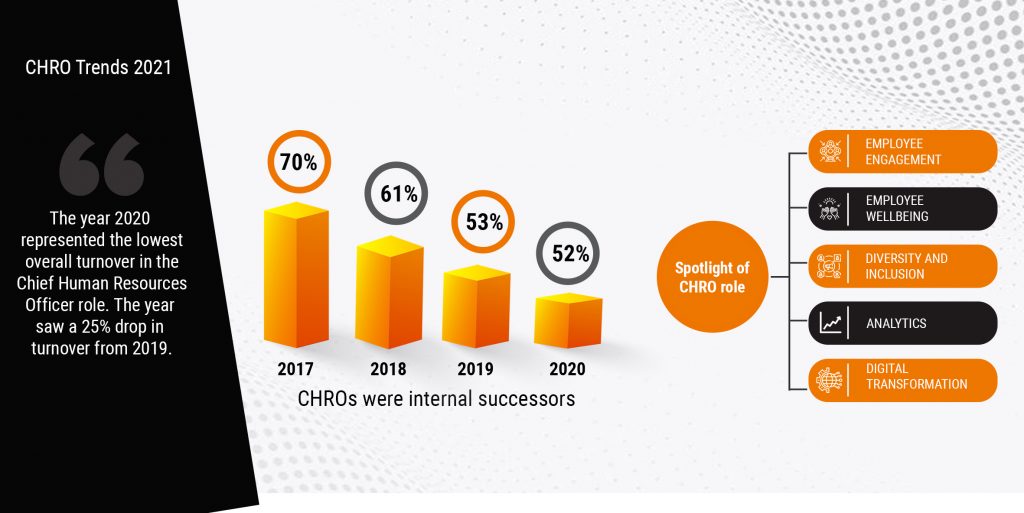 1. The digital transformation of HR
A force that cannot be denied anymore. Digital transformation is not going in reverse gear ever. Instead, HR is tapping automation, technology breakthroughs, artificial intelligence, and analytics with a never-before fervor now. These forces enable HR to equip an enterprise with the best talent and keep this talent happy, well-trained, motivated, and committed. This is being done through three significant changes.
First, legacy processes are being shaken and stripped apart to the very core of business value. 
Second, digitization of outdated processes is allowing HR to embrace agility. With that, many paper-based areas and manual tasks are getting upended and rapid digitalization is gaining force. 
Third, when all that is given the booster shot of cutting-edge technology advancements like Cloud, AR, VR, AI, IoT, Analytics, etc., the result is an enterprise racing ahead with digital transformation. 
Several organizations are planning significant changes this year. The top drivers for this path are increasing innovation, enhancing customer experience, more digital ways of working, cost-cutting, streamlining operations, and building resilience– all, incidentally, factors that are related to business. That precision and holistic transformation level would need some very deep-rooted confidence derived from data. And that's not possible without analytics.
2. Increasing importance of HR Analytics
CHROs can now use HR data and put it under a good microscope to distill insights. These insights will guide them better for shaping effective strategies in the areas of hiring, recruitment, talent development, and talent acquisition. With a good grip on HR analytics, CHROs can enjoy:
Ability to recruit fast and with accuracy
Gap assessments for training and development
Proactive management of employee grievances and attrition
Alignment of HR goals with business goals
Cost-effective and time-effective HR measures
Thanks to the current challenges induced by this acceleration, the CHRO faces a multi-headed beast. This iterates the role of insights drilled well in time and in a solution-centric way. With analytics in place, the CHROs can easily make sure that:
HR makes the right decisions on whether work continues in a remote or hybrid model or a safe physical office model.
Employees feel safe and engaged when they are working
HR has strategies to address the 'great resignation' and disillusionment triggered by the crisis
Employees' health is taken care of – on all dimensions
Employees deliver on business goals and help the organization to bounce back
Employees are sure of a fair and positive workplace
These are not minor or temporary headaches. They are serious challenges. And a big one among these is – Employee Engagement and Well-being. This brings us to the next discussion point.
3. More focus on employee engagement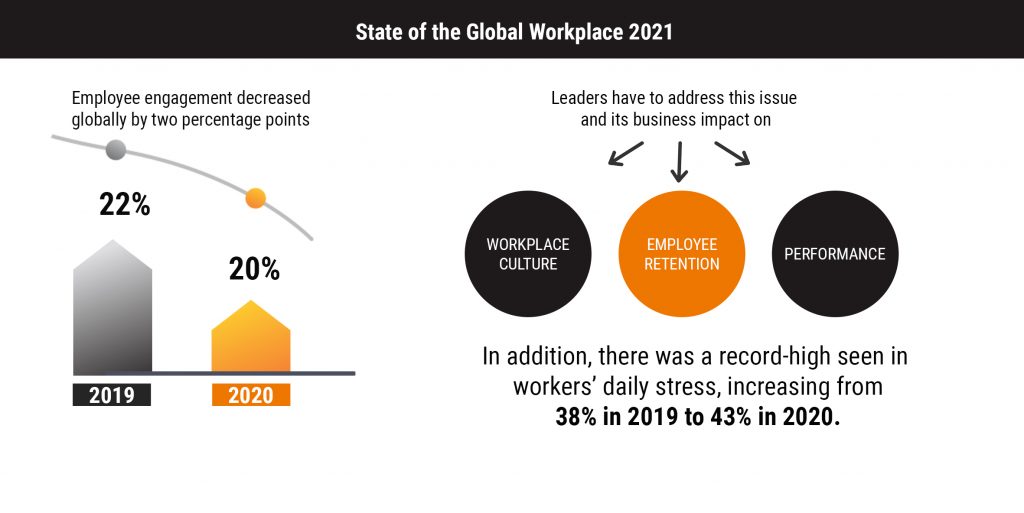 Employee engagement is not a luxury to be indulged when HR has the time or funds to do it. It is a vital factor. Without proper attention and interventions, all the hard work, time, and energy devoted to recruitment and training can fall apart. Smart HR leaders keep employee engagement at the top of their priority list, not buried in the footnotes. When your employees feel inclined, involved, and fulfilled at work, they tell you that you are good at employee engagement.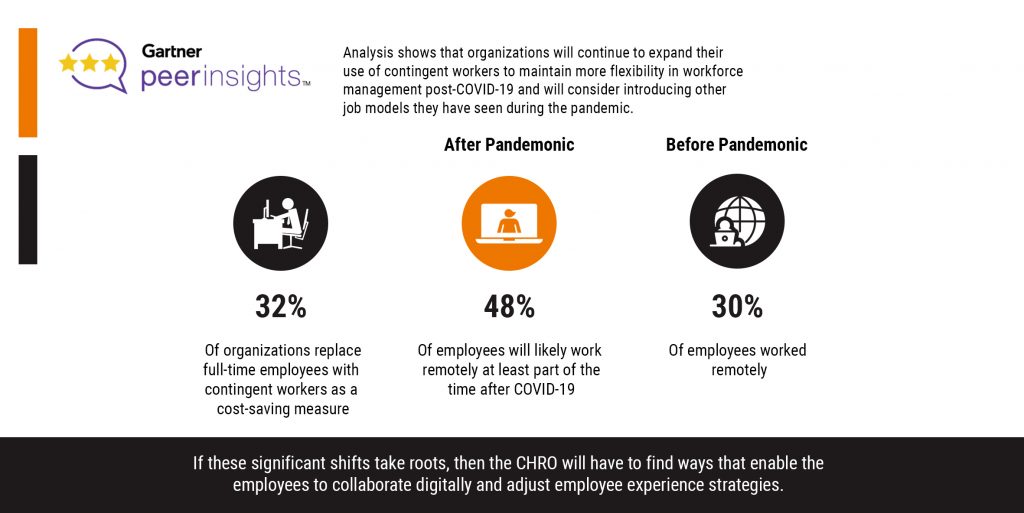 In the KPMG 2020 Report, 'Workforce, workplace and HR reshaping –During Covid-19 Pandemic', it has been advised that the most important thing for organizations during this crisis is to ensure connections between people remain strong. Organizations need to assess, understand, and address the unique risks they will face at the business and workforce front. It has been recommended that organizations are pragmatic in their solutions and yet be agile to re-evaluate and change their business strategies.
As per Deloitte's Workforce Strategies for Post-Covid recovery report – there are five critical workforce actions to tackle a COVID-19 recovery: Reflect, Recommit, Re-engage, Rethink, and Reboot. It is time to strike a multi-stroke strategy to connect recovery to thrive and the new normal.
Then there is the issue of equity, diversity, and inclusion.
4. Greater emphasis on diversity and inclusion
According to the recent Chief Human Resources Officer report from The Talent Strategy Group, the role of CHRO is getting interesting to reckon with. The CHRO Trends 2021 Report shows a further increase in female representation. It looks like companies ushered in new ways of working, more frequent communication and transparency to employees, and increased focus and accountability to deliver superior business results through a diverse and inclusive culture. Strikingly enough, the CHRO role was elevated as one critical to company value creation.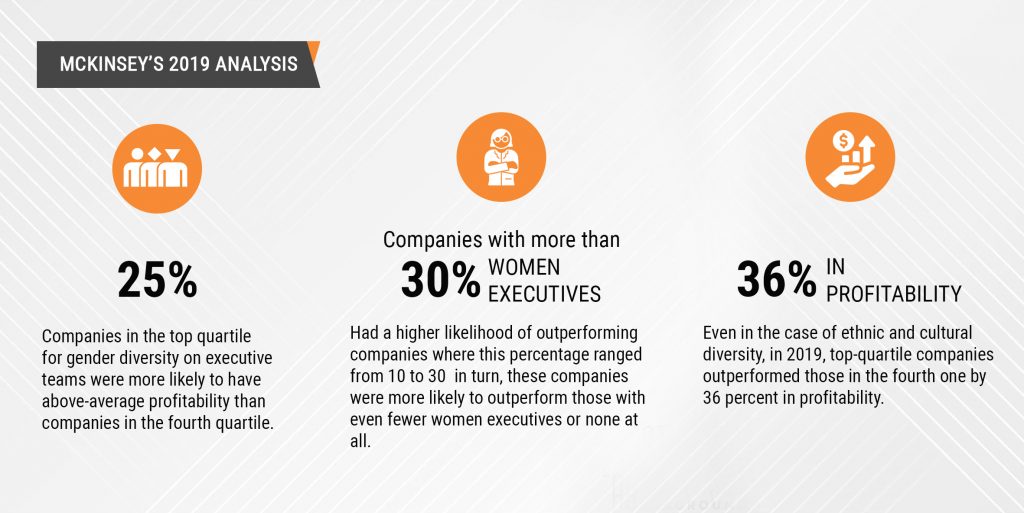 When it comes to diversity, businesses have to ensure that they give fair and well-executed opportunities to every segment – without any prejudice of race, caste, color, religion, or gender. That's not enough. The current work environment and societal renaissance also expect businesses to be proactive and not just ok with ticking these boxes. They have to make active, visible, and result-oriented efforts in including all strata and segments of society into their talent pool. And these efforts span almost every area under HR's ambit – talent acquisition, candidate sourcing, selection, learning and development, career management, performance management, employee engagement.
The importance of diversity and inclusion in the workplace has been gaining a substantial degree of pace and connotation in the last few years. So the CHRO has to keep employees at work, keep them productive, keep them healthy, keep them engaged, keep them assured of fairness and inclusion and keep them on the path of digital transformation. But how to do all this- it all looks so urgent, complex, and overwhelming!
5. Increased focus on employee wellness programs
A corollary of the employee-engagement imperative is the emphasis on employee wellness. And wellness is being looked at from all directions- physical, emotional, mental, and family-wellbeing – especially after the seismic changes in the way we work- as injected by the pandemic.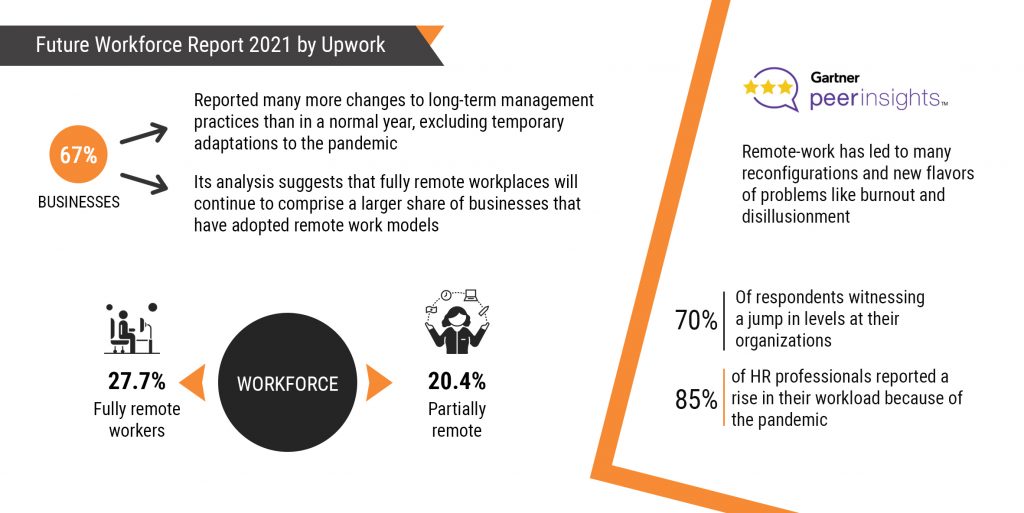 The pandemic has still left a hangover for HR to deal with – with the difficulty of hybrid or physical work dilemma, remote working/coordination, increased health concerns, and of course, the need to deal with 'the great resignation.' To give a peek into the formidable nature of the problem, we can check out an Upwork survey of 4,000 professionals that pointed out that many professionals are less than enthused about the return to the office and are making moves as a result. Professionals are not excited to go back.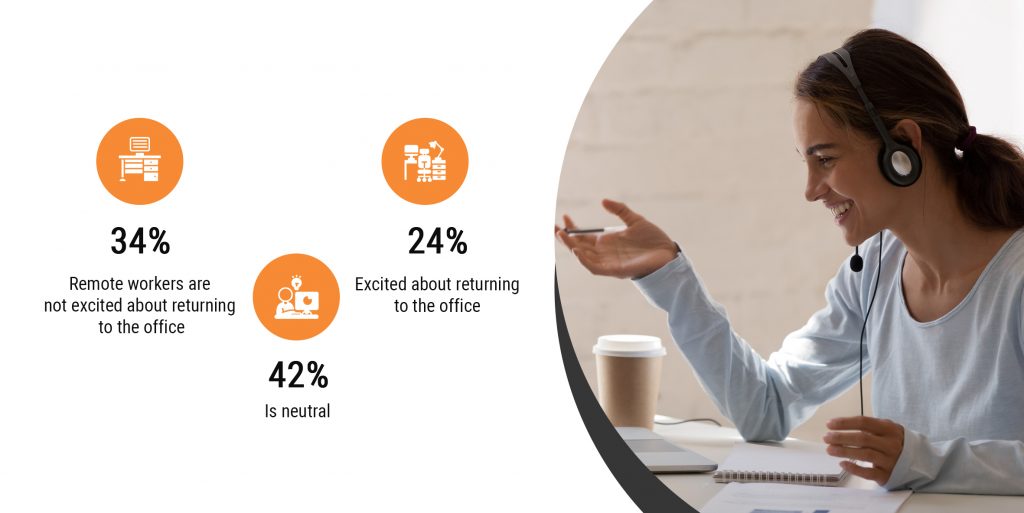 Also, as the KPMG report reminds, a strong focus should be given to health, wellbeing, safety, digital preparedness, and active engagement of the workforce. Both the organizations and the workforce have to be digitally ready and efficient, with alternative ways of working. This heightens the need for active engagement.
We can see that the role of the CHRO has evolved. It has slowly moved from highly-process-oriented areas to highly-agile ones. For example, just recruiting and training talent would suffice some years back. Still, today the CHRO mandate also entails leadership development, succession planning, compliance, diversity and inclusion, employee engagement and welfare, and industry impact.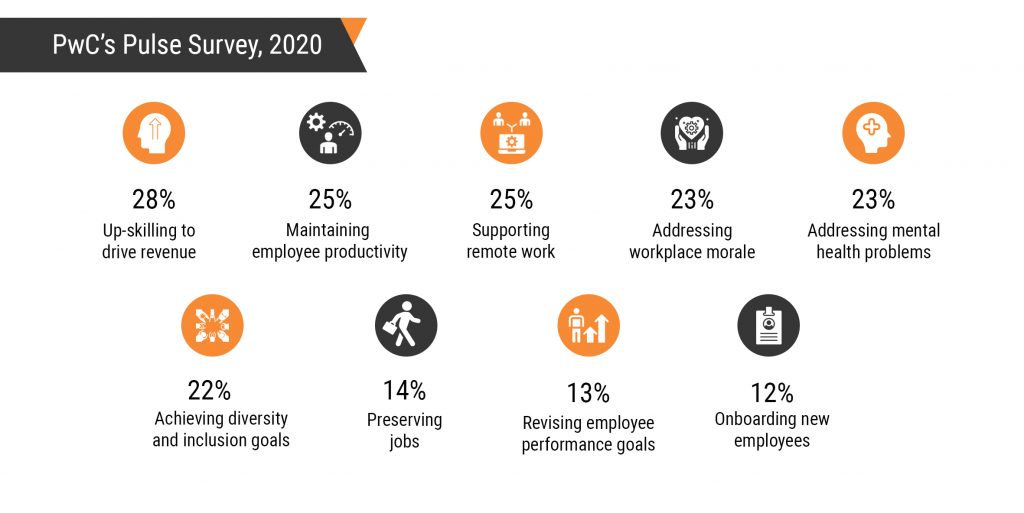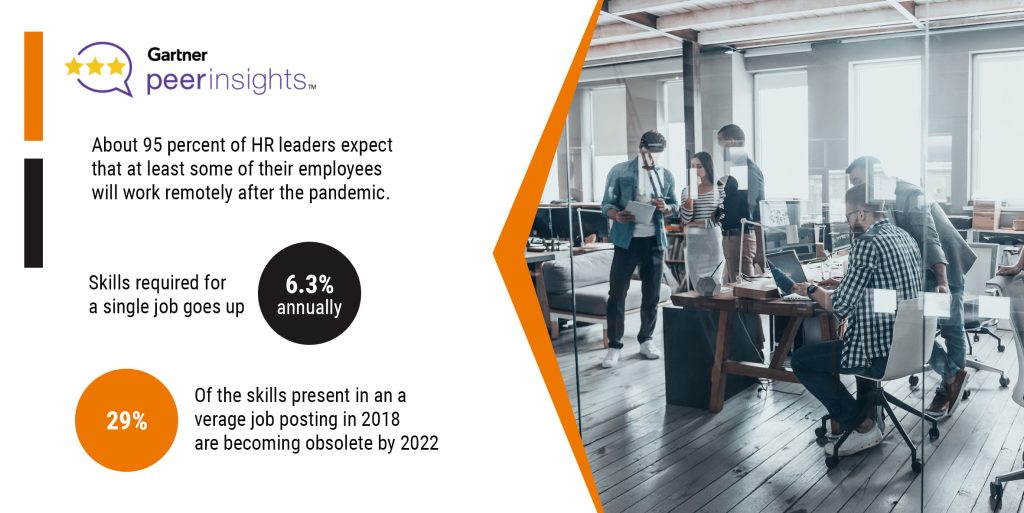 Meet technology- the harness, the guide
Remember the tense and nail-biting CHRO we were talking about? Suddenly, this CHRO feels a tap on the shoulder. It is technology. Smiling and relaxed. Somehow, this face seems to know what dilemma, turmoil, and anxiety the CHRO is going through. This offers a small wave of relief to the CHRO. The shoulders feel a little light – knowing that someone has your back. And then, technology softly points at something. It's an elevator.

The CHRO stares in surprise. Yes, there it is. Roomy enough for all five elements behind. And not scary to step in at all. It looks well-arrayed, sleek, and comfortable. There is just one button to push. And instead of drudging their way on a heavy staircase, they all could reach the top corner-room in a jiffy. Together.

The CHRO looks at technology and mutters a heart-felt 'thanks.' As they all get in, and the CHRO presses the button, there is a soft whirring sound. They all feel cradled and safe in the arms of this elevator. It is made of the steel of automation, the carpet of intelligence, the cables of Cloud, and is operated by a wizard called analytics. While they are being levitated to the North storey, technology tells why all these tools and features make it possible to successfully transport all CHRO concerns without any jolts.

With the power of real-time data, automated assessments, and seamless employee experiences, technology can elevate all areas – from recruitment, skill assessment to appraisals, training, development, and employee engagement – with a lot of ease and speed.
Similarly, HR leaders have started embracing new employee engagement strategies and tactics to enhance what they do. They are using technology in many aspects to ensure that their employees are happy, fulfilled, and well-equipped in the organization. 
Enhanced and seamless collaboration
Augmentation of employees through technology in the right places
Transparent and fair skill assessment
Well-executed reskilling and up-skilling avenues
A cohesive and positive environment for interactions
Democratic work culture
Flexibility and agility
Proactive measures for fighting disillusionment, fatigue, and stress
Transparency, accountability, and equity
Environmentally-responsible and SDG-friendly practices
Mental health upliftment and counseling
Timely and fair, recognition and empowerment
Feedback-friendly culture and ample scope for conversations
Balance of career, competence, and care in core HR areas
Succession planning and leadership development opportunities
Work-life balance and encouragement of purpose beyond work
Relationships, purpose, and meaning in work
Even in efforts to bolster employee wellness, technology can come to the forefront and augment a CHRO like never before. CHROs are discovering the importance of training and continuous learning opportunities for strengthening employee wellness programs. And if technology and automation augment training and learning, an organization can drastically improve employee wellness. For example, explore how using smart solutions from Otomeyt are helping enterprises in talent development. This can help them add positive mental health efforts and keep a holistic balance of wellbeing for the overall workplace environment. Interestingly, leveraging technology in areas like skill assessment (with Otomeyt platforms like Oto_Code and Oto_Qualify) can remove a lot of time delays, stress, manual hassles, and confusion, thus positively impacting the employee experience.
As per a Gartner analysis, almost 16 percent of employers use technologies more frequently for employee monitoring – this spans productivity, employee engagement, wellbeing, and employee experience. The employee monitoring trend will be accelerated by new monitoring of remote workers and employee health and safety data collection. In Upwork's report, too, it has been seen that, alongside the changes in managerial style, the pandemic spurred changes in the use of the software. Managers have begun to look at corporate management software and project productivity software, ways to asynchronously collaborate and communicate on work, track progress and assign action items.
The KPMG report also said that organizations that can focus on shifting their technology capacity and investments to digital platforms will mitigate the impact of the crisis, allowing them to operate seamlessly now and in the future. All this is being done by intelligent enterprises and leaders already. They are investing not just in technology but in the right technology.
There is a rich and broad spectrum of strengths that the solutions from Otomeyt pack – and this gives a CHRO an unprecedented chance to have:
Data-driven decisions
Automated assessments 
Freedom from bias 
Ability to inject inclusion, equity, and transparency at every level
Compliance-friendly processes
A positive work culture
A favorable image among customers, society, and regulators
Compelling impact on workplace morale
Cascading effects on productivity, business growth, customer experience, and competitiveness
As they reach the board-room, the CHRO and all the five follow-ons are more confident, cohesive, and impactful than they were down there. The CHRO suddenly feels not awkward but sure of sitting beside the CFO, the CMO, and sitting across the CXO. They all have the reassuring hand of technology by their side. And there is, of course, HR Analytics – the wizard to translate everything for the CXO in the language of business goals. It is going to be a very fresh and very exciting meeting. The table finally looks complete and ready to take on the world – especially the one taking shape after the pandemic.