As any successful and wise business leader would tell you, the best crystal ball is not some fuzzy globe but a sharp microscope. Smart leaders plan the future based on insights that the rear-view mirror shares very generously – provided one knows where to look. This truth cannot be more relevant for HR in the current decade. With so many disruptions in the overall talent acquisition and talent development landscape, with so many new imperatives on diversity and inclusion, and so much competitive pressure for the talent pool – HR leaders have to tap the power of HR Analytics. They have to use HR data under an excellent microscope to distill insights. These insights will guide them better for shaping effective strategies in the areas of recruitment, talent development, and talent acquisition. Moreover, these insights will save them some costly mistakes that can have cascading effects in attrition, talent fatigue, inadequate training, and lack of morale. There are many benefits of HR Analytics:
Ability to recruit fast and with accuracy
Gap assessments for training and development
Proactive management of employee grievances and attrition
Alignment of HR goals with business goals
Cost-effective and time-effective HR measures
As per 'The State of HR Analytics Report 2021'- HR leaders are using HR Analytics for many advantages and areas.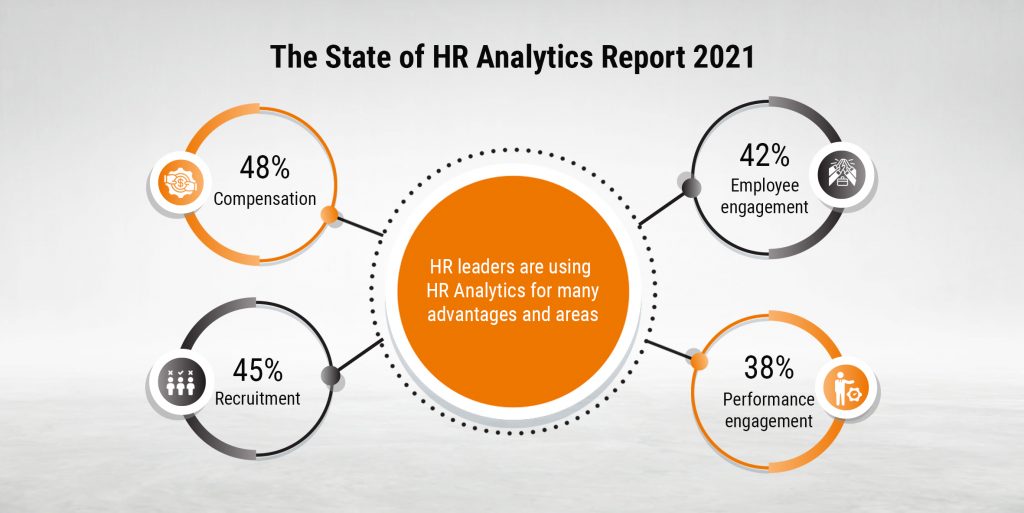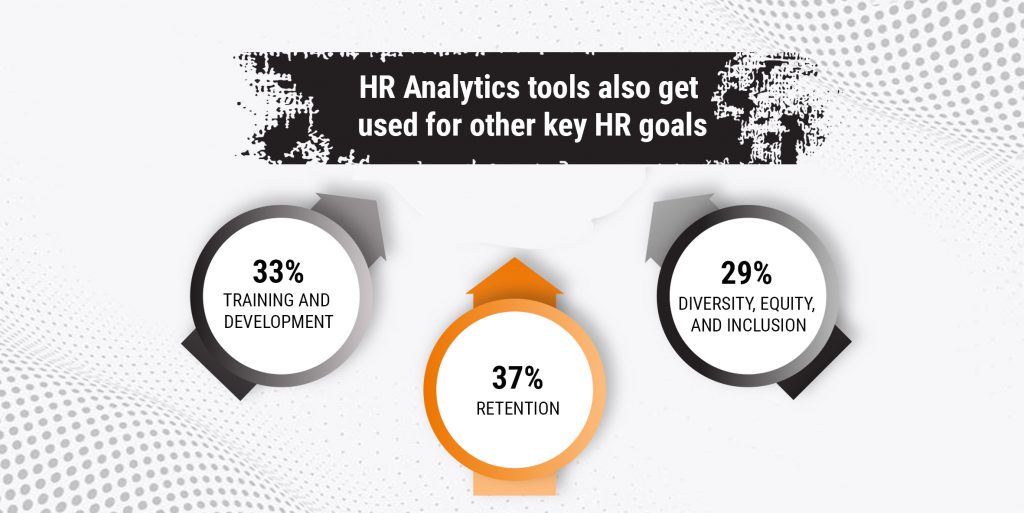 Great! But is HR Analytics easy?
As to the critical challenges of HR Analytics, one should bear in mind that the immense power of HR analytics hinges a lot on:
Timely availability of data
Confusion and hassles due to the need for pulling data from several systems 
Adequacy of cold and warm data
Access to real-time data for specific HR areas
Quality of data
Database and analytic architectures
Integration with core business processes
Visualization ease for decision-makers
Compliance angle of data
Responsible use of insights derived from HR analytics
'The State of HR Analytics Report 2021' also pointed out that as organizations focus more on issues such as pay equity and performance management, even compensation experts are expected to conduct more robust and insightful analyses with the data at hand. To do this practically, they would have to align with other HR experts who can "connect the dots" with other key business areas. These areas can be talent acquisition, performance management, learning and development (L&D), diversity, equity, and inclusion (DEI).

Many HR teams shared that they have to pull data from an applicant tracking system, learning and development system, performance management system, etc. More than a third of respondents pull data from more than three systems to create people analytics reports. And as many as 4 percent pull data from 12 or more systems. This is where the need for something seamless, one-stroke, automated, intelligent, and purpose-built for HR becomes accentuated – something that only a few solutions can deliver. Keeping these factors in mind, HR leaders can start forming well-mapped initiatives for HR Analytics. Again, the right solutions and industry-ready expertise would be vital here. For instance, HR Analytics can empower recruitment teams by giving them accurate assessment insights for hiring decisions. Many HR teams already do that with talent acquisition platforms like Oto_Code, Oto_Qualify, and Oto_Live.
HR Analytics is a tricky microscope. It can tell a lot to the human eye. But then, it is up to the human brain and conscience to ensure that these insights are not poured into the wrong vessels – like exploitation, prejudice, willful negligence, and inequity. Use the right technology and turn yourself into a wise business and HR leader by gazing at the future with the unique lens of HR Analytics.