Script a
Successful Tech Hiring Story
Make hiring decisions faster, easier, and bias-free
Cognitive Testing
Create a test with predefined MCQs, programming and subjective questions.
Pick questions from our massive library or collaborate with your project or IT team to fine tune questions.
Send easy invites to candidates to join the test with just an unique assessment ID, no social login required. Thus, avoid candidates dropping out.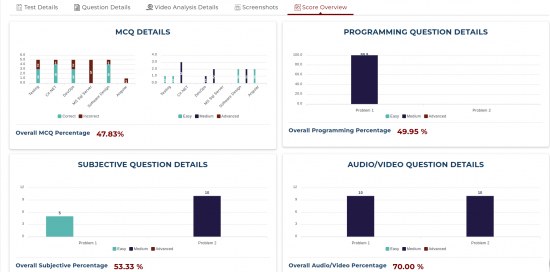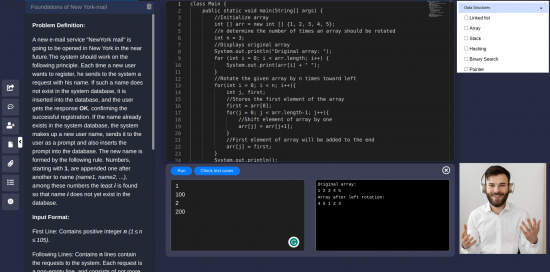 Dynamic Testing
With dynamic testing, you can take your coding assessment to the next level, where our AI-powered feature generates new questions with different difficulty levels in real-time.
With this, you get greater insight into the candidates' existing coding capabilities and ability to acquire skills or knowledge during the evaluation.
What more? You can even pick your question from our massive library in real-time.
Test Coding Proficiency with GCVS
Evaluate the candidate's coding capability on code reliability, maintainability, scalability, performance, code quality, and test cases.
Get a Global Code Verification System (GCVS) score for each candidate for filtering or selection and also test their future potential.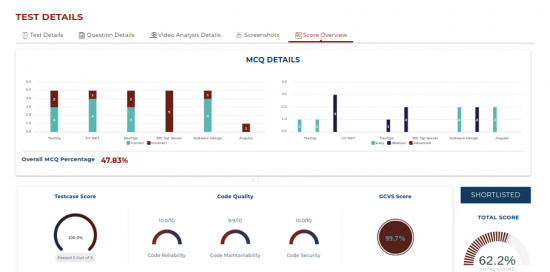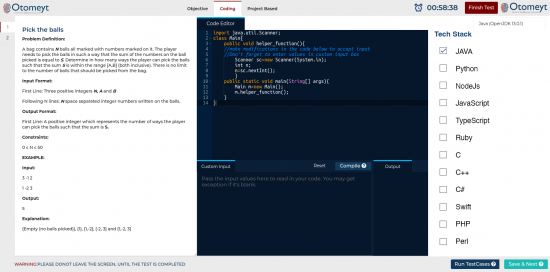 Assess Multiple Tech Stacks
Assess any technical skill including front-end, back-end technologies, API skills, Databases, Machine Learning, testing frameworks (Selenium) and many more.
Auto-generate your assessments.
Strong and expanding question library with object-oriented programming questions.
Request for a customized assessment if you have more or different questions.
20,000+ strong and expanding question library with object-oriented programming questions.
AI-Driven Candidate Assessment
Natural Language Processing (NLP) powered feature "Acumen" can create a fitting assessment specific to the job description.
In addition, it helps assess a candidate using his body language, expressions, and actions during the test and minimize personal bias during tech assessments.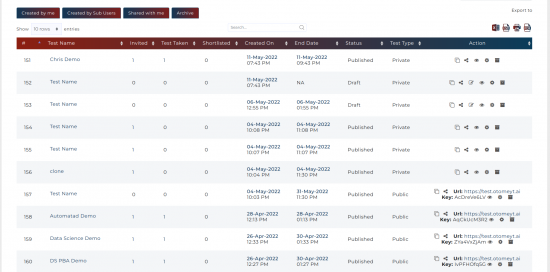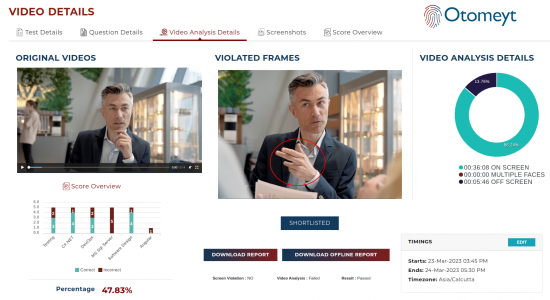 Video Analytics and Insightful Reports
Leverage powerful video analytics and insights to make an in-depth analysis and onboard the best tech talent.
Auto-generates scorecard for each candidate reflecting the ability to code to make quick hiring decisions.
Get online and offline downloadable reports.
Get screenshots, score overview, candidate feedback and track in depth video analytics easily.
Call only the most qualified talent for the interview. Save tons of development manager's time.
Overcome the challenge of hiring subjectivity. Make data-driven decisions.
Quick ATS Integration
Enables hassle-free and swift one-click integration with the current ATS platform. This increases recruiting efficiency in no time.
Integrates with your current ATS platforms that enable you to pool the talent from multiple sources.
Streamline the workflow of screening the candidates and the technical recruitment process for your hiring manager.
No need to use two different platforms for screening and testing.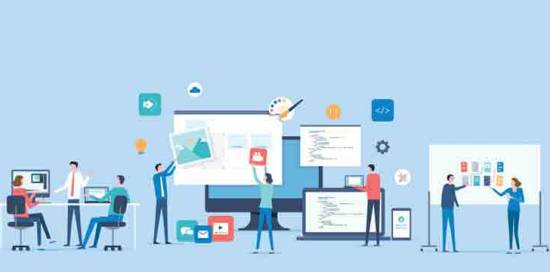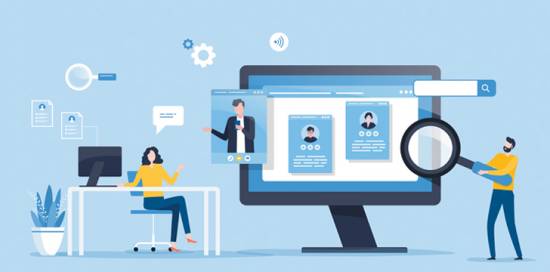 Fool-Proof Proctor
Automatically raises a flag on violation of given instructions. Advanced customized settings are available.
Ensures the authenticity of each coding test.
Warns candidates against unwarranted practices.
Compares codes to Otomeyt codes database for plagiarism.
Protect assessment integrity with features like location detection, eyeball detection, disable copy paste, capture screenshot, enable full screen and more.