It is a new HR avatar powered by the DNA of skill assessment platforms and automation in recruitment, and talent development. If HR was considered the backyard or talent orchard of a business some years back, there was some bitter truth in it. Often, HR was all about administrative processes around employees. It was not something that had a strategic seat at the business table. All it had to do was keep the talent-fuel tanks full – and nothing more was expected of it. But that backyard is now the front-face of every business. Every business is fighting the war of competition with a new weapon called talent. HR has now pulled a big chair in the strategic huddle, and it is not just taking care of hiring, recruitment, and talent development – it is turning these processes into strong competitive advantage.
The new and improved HR
The significant mutation that has spawned this new gene is called digital transformation. HR is now tapping automation, technology breakthroughs, artificial intelligence, and analytics with a never-before fervor. These forces enable HR to equip an enterprise with the best talent and keep this talent happy, well-trained, motivated, and committed. This is being done through three significant changes. First, legacy processes are being shaken and stripped apart to the very core of business value. Second, digitization of outdated processes is allowing HR to embrace agility. With that, many paper-based areas and manual tasks are getting upended; and rapid digitalization is gaining force. When all that is given the booster shot of cutting-edge technology advancements like Cloud, AR, VR, AI, IoT, Analytics, etc., the result is an enterprise racing ahead with digital transformation.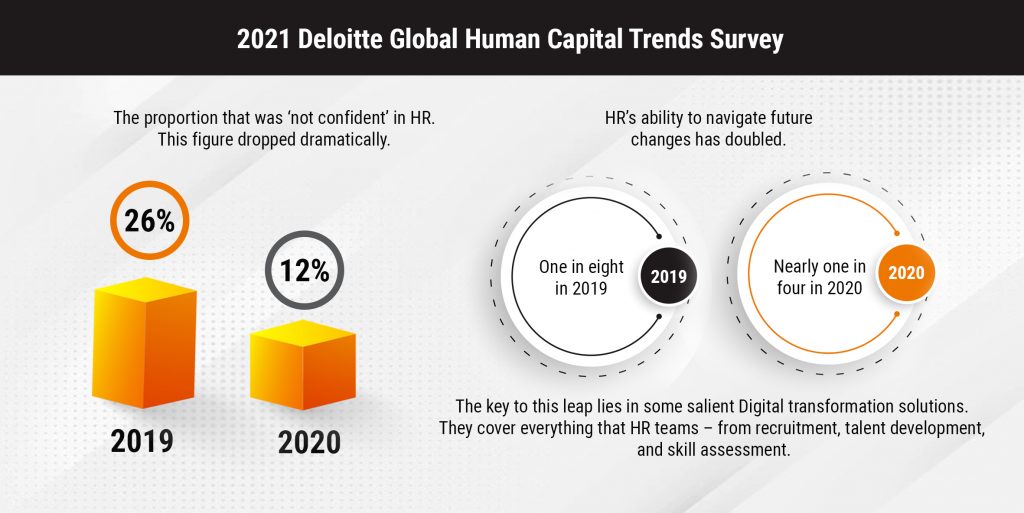 The digital transformation of HR
Tools and capabilities of many stripes are helping HR leaders to use automation for cutting down costs and time-windows of a lot of processes. The powerful People Analytics phenomenon enables them to make talent decisions better and faster. The advent of sharp Onboarding Software, skill assessment platforms, and coding assessment platforms is helping HR managers to make recruitment swift, compact, precise, and profitable. Then there are many other tools in the form of HR Chatbots, AI-Driven Recruiting, Video Interviewing, and On-Demand Training – that elevate the areas of recruitment, and talent development in an unprecedented manner. But this journey of effective digital transformation of HR is bound to be punctuated with challenges. To get past them, HR leaders need to invest in experts, partners, and solutions ahead of the curve. For instance, solutions like Oto_Code, Oto_Qualify, and Oto_Live are capable enough to bring speed and precision to the recruitment process without losing the delicate balance between the two imperatives.
With Oto_Code, you can transform your technical assessment process from elimination to "selection" and choose the best tech talent for building smarter teams. In addition, you can perform coding assessments with our easy-to-use, AI-powered recruitment platform like Oto_Code, which helps you identify top-quality tech talent without wasting time or resources on unqualified applicants.
Oto_Qualify helps you with non-technical assessments so that you can identify the right fit non-technical talent for your organization in any industry. With Oto_Qualify, you can assess the aptitude, skills, and personality traits you're looking for in a candidate. Furthermore, you can determine a candidate's potential before giving out interviews or making hiring decisions based on limited information.
Oto_Live can help you expand your talent pool by interviewing candidates from anywhere. It is a cutting-edge video interviewing platform. With Oto_Live, you can engage many candidates at once, transform candidate experience and move qualified talent to the next steps faster with an AI-powered best-in-class video interviewing platform for tech and non-tech hiring.
Digital transformation is not going in reverse gear ever. More and more organizations across industries are planning significant transformation this year. The top drivers for this path are increasing innovation, enhancing customer experience, more digital ways of working, cost-cutting, streamlining operations, and building resilience– all, incidentally, factors that are related to business. And HR has become critical for digital transformation success.
Today's era is about a new season of the HR soap opera. It is full of thrills, cliffhangers, and plot twists. But, like always, it is still about people. It is about empowering them; and helping an organization stay relevant, competitive, and growth-oriented.