Tech recruitment, for the longest time, was nothing short of a gamble. One could be lucky, or one could be taking a considerable risk. There was no way of determining when assessments, interviews, and tests were caught in a mysterious maze. Moreover, the sheer fragmented nature, time-sensitive pressures, and volume of tech recruitment were problems enough to turn the job into a nightmare for recruiters.
And then artificial intelligence (AI) arrived.
What artificial intelligence (AI) changed tech recruitment?
Suddenly recruiters could approach the suitable candidates without jumping all the unnecessary hoops of time, money, and effort. What's more, the process could now be less tedious and more personalized for the candidate as well. AI-based tools for sourcing started to help tech recruiters and talent acquisition heads find, and connect with talent with a never-before speed and efficiency. This was because of many advantages like:
Seamless scanning and identification of candidates that meet requirements through automated tools.
The use of predictive performance testing and skill assessments that ingest all levels of information covers everything, like current employees' experience, skills, education, and other qualities.
The giant leap of time-efficiency which mattered a lot when candidates had multiple competing opportunities.
Fast but accurate recruitment process. Now it could see a massive reduction in cost-per-hire and unconscious bias; and a jump in productivity.
The capability to process hundreds of resumes per minute – with fewer errors and high reliability.
Use of chat-bots, machine learning, and process automation to effectively screen a massive amount of data without human interference.
Enhancement of candidate engagement due to simplified scheduling and efficient interview process.
Better, real-time, precise, personalized, and continuous communication with the candidate during the recruitment process.
Use of predictive analytics and future talent planning in a long-sighted way.
How big is artificial intelligence (AI) in recruitment turning into?
According to an IndustryARC report, artificial intelligence (AI) in the recruitment market size was valued at $580 million in 2019, and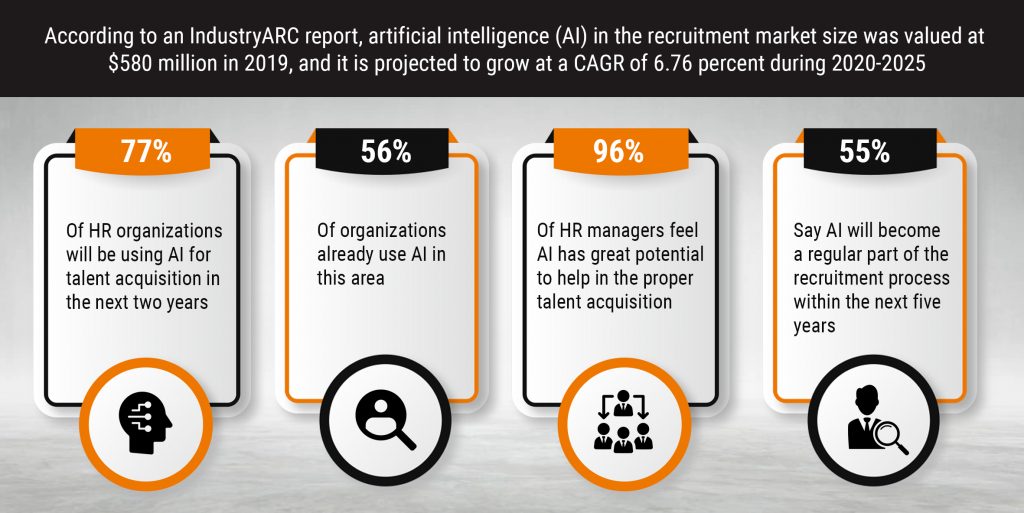 As was seen in the 2020 Human Capital Trends Report from Deloitte, AI technology is being used in the end-to-end recruitment process, and it is moving past the initial focus on talent sourcing. What's worth noting here is that AI does much more than supporting recruitment in resume-sifting or candidate-matching. It also provides additional valuable insights and improves the candidate experience through game-based assessments and video job interviews. It has a lot of promise in enhancing the objectivity of the entire recruitment process. But the report also cautioned that to apply AI, recruiters and HR experts require some understanding of AI, what it is, the promise it holds for recruitment, the ethics and legislation focused on the intersection of AI and bias in recruitment, and also what is needed to implement AI in your recruitment process.
How to use artificial intelligence (AI) smartly in tech recruitment?
Here's how intelligence and automation, driven through AI, can make recruiters' jobs easier and faster. Assessments and onboarding can be done with a new level of speed and precision through the use of cutting-edge AI-powered tech assessment tools like Oto_Code that equip recruiters with:
Automated assessments and coding tests
NLP-powered tests that align well with specific job descriptions
Swift and precise results for aiding decision-making
A comprehensive library of questions and coding tests
Automated checks for authenticity and a sound barrier against plagiarism
A versatile range and scale, of coding tests
Quick and accurate checks for code quality, scalability, and performance
A comprehensive evaluation of a candidate's capability across areas like coding capability on code reliability, maintainability, scalability, performance, code quality, and test cases
The ability for assessment of multiple tech stacks
Auto-generated assessments, in-depth video analytics, and reduction of bias
Streamlined and well-integrated workflow with other hiring systems and areas
Artificial intelligence (AI) is like a torch that points in the exact direction one needs to go about tech recruitment. It can be as good as a strategic weapon in the hands of wise and seasoned tech recruiters or talent acquisition heads. Master it soon. Conquer your future.