When a hiring process is discussed, the usual thrust is on process efficiency, speed, and the accuracy of selecting the right candidates for the job. However, another important aspect of a hiring process is the candidate experience. A candidate is the central component of a hiring process since he/she applies for a job, passes through the screening process, and gets selected via the interview process. Creating a hiring process that takes the candidate's experience into consideration can be a useful competitive advantage and help attract the best talent. 
What is candidate experience? and why does it matter? 
In the simplest terms, candidate experience is how candidates perceive and interact with your company's hiring process. When a candidate applies for a job, he/she assesses the efficacy and transparency in the hiring process. Based on this, the candidate may build a perception about the company.  Such perceptions about the company can become a key differentiator in attracting talent and retaining them later on.
"We see our candidates as invited guests to a party, and we are the hosts. It's our job every day to make every important aspect of the candidate experience a little bit better." – Jeff Bezos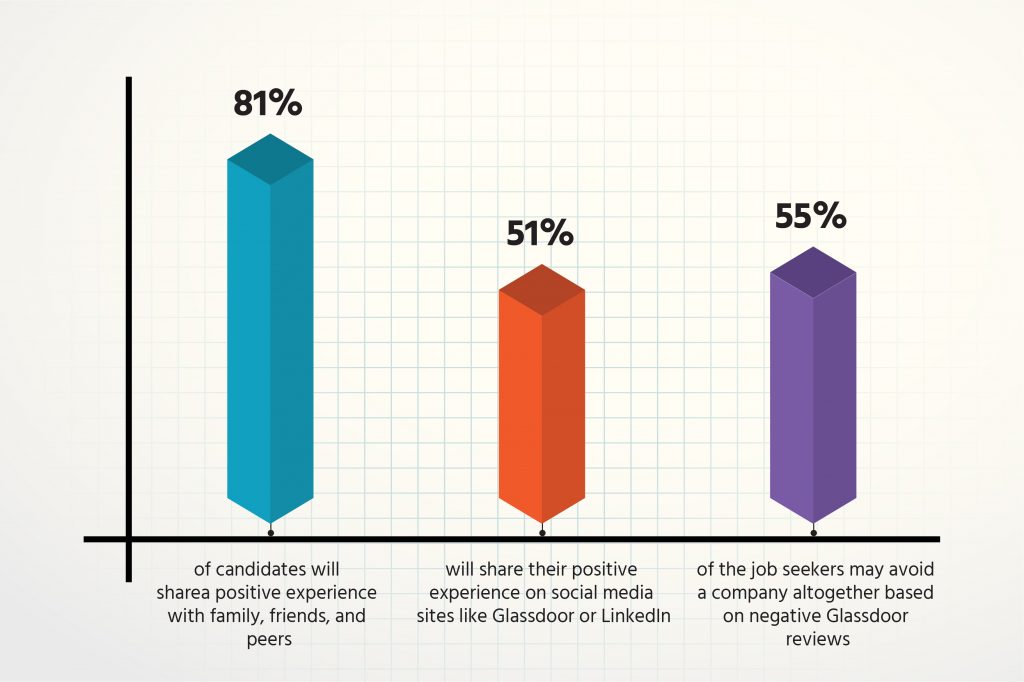 According to an IBM report, a great candidate experience can offer a range of benefits including,
Attracting the best talent
Recommending the hiring organization to others regardless of being selected or not
Better chances of accepting the offer at the offered salary
Individuals with good candidate experience are twice as likely to become paying customers of the hiring organization as those who don't have pleasant experience.
Higher retention rates
How to create a great candidate experience in tech hiring?
Here are the four simple steps.
Offer a mobile-first engagement: Engagement is the key to ensuring a great candidate experience. Gone are the days when tech candidates would send job applications and wait for days/weeks/months to hear from the company. In today's times, tech candidates would like to stay informed about the progress of their application (even if it is being rejected). Being a mobile-first generation, they expect the organization to drop a simple and timely message stating the status of their application which they could access through their smartphones. This can help create a positive image of the company and make the candidate more interested in accepting the offer. Naturally, several companies worldwide are making mobile recruitment as an integral part of their hiring strategy. 
Create the impression of being an ethical company: The employees of the twenty-first century are highly concerned about the culture and ethical values of the organization that they work for. When they apply for a job, they assess the culture of the organization by looking at the candidate experience. 
Offer a fast application process: Nobody likes an application process that takes too long to complete. While many companies feel they need to gather as much information about the candidates as possible, having lengthy application processes can turn many candidates away. While there are no market standards, try to target an application time of 5 minutes or fewer.
Adopt a bias-free and transparent tech assessment process: When it comes to assessing their tech or programming skills, the right candidates would like to be assessed in a fair and transparent manner.  This can be done when the entire tech skill assessment process is bias-free.  To do that, several companies world-wide leverage the benefits of AI-powered tech assessment tools like Oto_Code. The tool auto-generates your assessments and can assess any technical skill including front-end, back-end technologies, API skills, Databases, Machine Learning and many more. The hiring managers can get a GCVS score for each candidate for filtering or selection. Oto_Code can create a fitting assessment, specific to your job description and reduce personal bias to a great extent by leveraging AI's power. 
Most organizations have started using AI-powered recruitment tools to help improve the speed, efficiency, and candidate experience of the hiring process. Companies like Otomeyt offer cutting-edge tools to help make the tech recruiting process simple, streamlined, and candidate-experience-focussed.
"Candidate experience isn't an expense. Managing candidate experience bolsters your brand." – Stan Phelps
Finding the best talent is getting increasingly difficult with every passing year. While organizations are trying their best to attract the best brains around, it is important to remember that attractive salaries alone are not sufficient to find the best employees. By keeping candidate experience in mind while designing the hiring process, you can create the image of a brand that cares about its employees even before they are recruited. This can go a long way in creating the right image and finding outstanding talent in no time.