The new world of work is both promising and overwhelming. On the one hand, we have the explosion of technology, distributed workforces, remote working, and hybrid workplaces. But, on the other hand, we are facing trends like 'The Great Resignation', 'The Great Reset', 'Silent Quitting', and skill scarcity. Moreover, as new technologies have begun to drive mainstream digital adoption for all kinds of businesses, there is a huge need for digital fluency in many areas. This appetite builds up fast, leading to a massive gap in skilling, upskilling, and reskilling.
Upskilling- not a luxury, but an imperative
According to the World Economic Forum, "The world is facing a reskilling emergency. We need to reskill more than 1 billion people by 2030."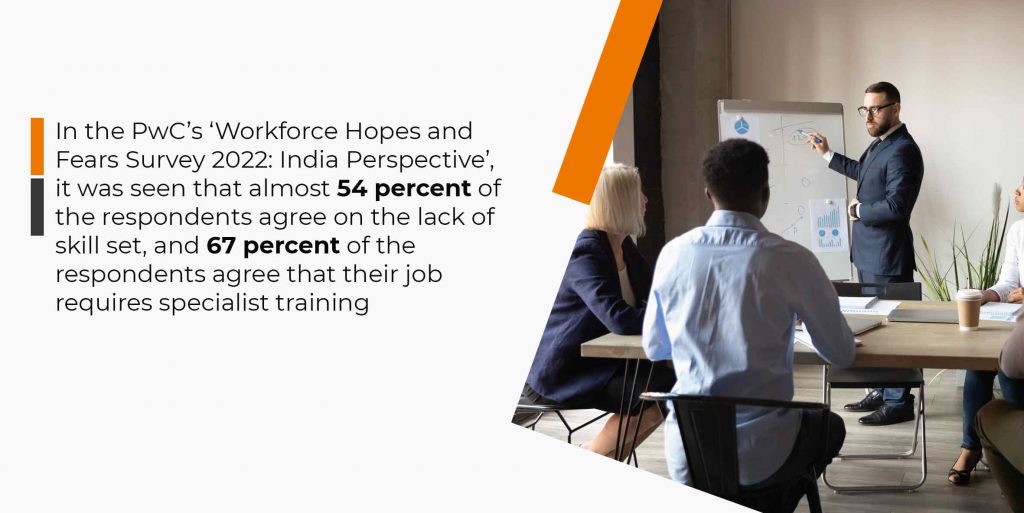 The skill development landscape is becoming very acute, complicated, and urgent – for sure. But what's surprising is that employers in India are addressing talent shortages through wage increases and automation. There is less focus on proactive upskilling. More than half of the respondents in India (and it is a significantly higher number compared to their global peers) are concerned about the lack of opportunities to work with or learn technological skills from colleagues, and an equal number of them also voiced concerns about not being able to receive training on digital skills from their organization. Fifty-one percent of the employees in India indicated that their employer is not imparting relevant technical or digital skills training needed for their career compared to 39 percent globally. This survey also observed that there is a focus on automation in the Industrial Manufacturing (IM) sector. In contrast, the Retail and Consumer Goods (R&C), technology, Communications, and Entertainment and Media (TMT) sectors are seen to use a mix of well-being and recruitment as well as wage increases to address talent shortages. In the Government/Public Services and financial services sectors (Gov/PS), wage increases are the predominant strategy, but the healthcare sector focuses primarily on recruitment.
In the current digital age, an enterprise cannot ignore the value of timely upskilling and reskilling, irrespective of the automation happening around. Even with the best technology, human augmentation and ROI can only emerge when the workforce is ready to use the tools in the right and optimal way. 
Get the skill advantage
It is a challenging task now to keep your workforce well-skilled while ensuring agility and productivity. An enterprise must devise a cohesive and well-mapped reskilling and upskilling strategy to develop a more robust talent pipeline. 
You would need an integrated learning platform like Oto_Guru. With solutions like these in your skill development arsenal, you can do a lot- like:
Enjoy the flexibility of recalibrating training programs at any point and implementing instructor-led training
Make training practical and actionable with a customized curriculum, virtual presentations, case studies, code tutorials, live demos, and interactive sessions
Accelerate curriculum to content cycle 
Create and curate content with industry experts
Build industry domain-wise content from SMEs
Embrace agility and speed with the public cloud weaved into the fabric of the training
Access quality digital content available through LMS
Conclusion
Skill development was never a footnote. It was important five years back, and it is crucial now. But what has changed today is the urgency about it. You must do it well to avoid losing on the competitive advantage that your peers are up to and also miss areas like employee motivation, loyalty, retention, fulfillment, and development. Upskilling and reskilling are tools that can amplify the value of your existing talent pool. This focus saves extra costs and extra hassles in recruiting fresh talent. It also helps you derive more value from your current talent investments. And simultaneously, it allows you to assure your workforce that every employee is achieving relevance and constant attention by staying with your organization.
It's a new world. New challenges. New realities and waves. But some old formulas still work like gold. So give it the Midas touch with the right tools.