Artificial Intelligence (AI) has been revolutionizing talent acquisition processes around the world. It has been a game-changer in sourcing candidates, ensuring diversity in hiring, recruiting remote workers, and creating an unbiased recruitment process. Soon, almost all aspects of the recruitment funnel can expect to receive a boost from AI-powered solutions.
AI and tech hiring
Here are some benefits offered by AI in tech hiring.
Increases the speed of hiring: Most recruitment professionals usually struggle for time since minor tasks take up valuable hours in a day – tasks that can easily be automated. In fact, in most cases, small administrative tasks like scanning resumes or sending acknowledgment emails, etc., can take up a lot of time. AI tools can boost the speed of hiring by managing these time-consuming tasks at a much faster pace. Hence, recruitment professionals can look at a larger pool of resources to find the right fit.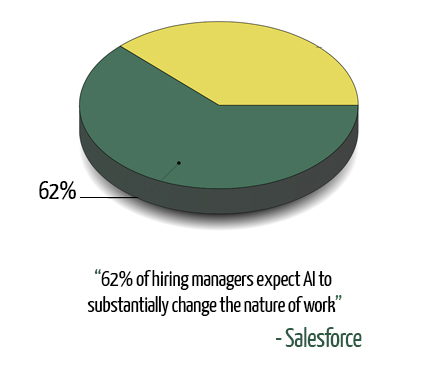 Reduces human bias: Diversity in the workplace is a global norm in the twenty-first century. Hence, HR teams need to have a clear inclusion strategy and tools to implement it. Human beings are biased for some or other reason. Most of us are not even aware of our biases until someone points them out to us. With AI, you need not worry about human bias because it selects candidates based on education and skills.
Analytics to improve the recruitment process and boost speed: Effective recruitment processes require analytics and a strategic approach. It also helps to find gaps in the organization's capabilities. However, running analytics can be a challenging task if people are entering data manually. This is where AI-driven tools can be helpful too. With automatic data capture, errors in data entry are minimized, resulting in more accurate results and efficient process changes. In the long run, these changes can help boost the speed of recruiting professionals.
Efficient assessment of technical skills: Talking about tech hiring, one of the primary requirements of recruiters is having the right tools to assess the technical skills of potential candidates. Otomeyt offers a technical assessment system called Oto_Code that helps recruiters assess any technical skill, avoid human bias, have a fool-proof testing module, and evaluate hundreds of candidates within no time. With AI-powered tools like Oto_Code, the tech hiring process can blaze fast.
AI-driven tools benefit the recruiter and offer candidates a fair chance to highlight their capabilities and skills. With the range of benefits provided, AI will soon change the face of tech hiring around the world.