Technology is changing human resource management (HRM).
If the CEO corner room is the vehicle's front-wheel-drive, then the HR function is like the back-wheel drive. If not for a robust and agile human resource management (HRM) inside it, an organization cannot stay competitive in the industry for long.
Human resource management or HRM is where an enterprise gets the talent it needs when it needs it and in a well-managed and well-stacked way. Without good talent, the goals of customer satisfaction, market competitiveness, and agility cannot be accomplished. And to keep this talent available, in good shape and form- that's the responsibility where HRM comes in. However, a lot of the traditional HRM spectrum has been composed of functions and processes that are repetitive, redundant, inefficient, and opaque. The influx of technology has, hence, been a much-needed booster-shot for HRM leaders and teams. The availability and evolution of multi-fold tools and solutions have started equipping HRM in making what they do faster, simpler, and closer to a competitive edge. This is why we can see that the market for HR technology is expanding and evolving at a fast pace. It was estimated as a $148 billion market ready to address the needs for the future of work. Almost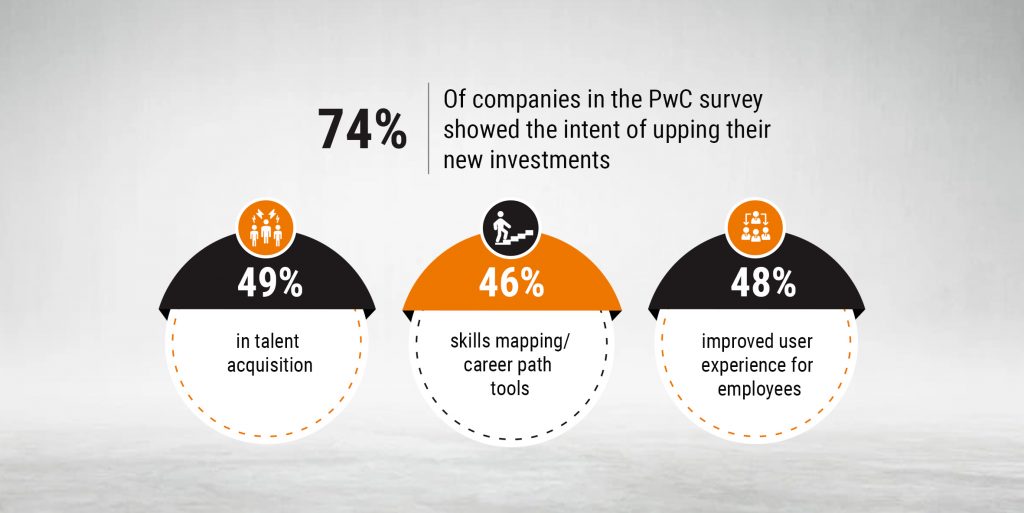 Modern technologies and tools have introduced groundbreaking shifts and innovations in the human resource management (HRM) space. As fresh approaches surge to the surface, our way of working is undergoing a fundamental reshaping unlike anything before.
Talent Acquisition
Talent Management
HR Staffing
Recruitment
Compensation and Benefits
Training and Development
HR Compliance
Workplace Safety
Let's see where and why technology is relevant for HRM – from choosing the right talent to putting them in the right direction, right up to ensuring their well-being in every dimension.
Can you survive the rough competition landscape and the unrelenting pressures of customer-centricity without having good-quality, timely and well-nourished talent by your side? Impossible! So having a long-term strategy and system of hiring, maintaining, and developing human resources is vital for a company. Talent acquisition is where HR managers can have a good direction and compass on identifying, selecting, assessing, and fitting candidates. They can align their actions as per immediate and long-term role requirements in various functions of an organization.
Using technology in the talent acquisition area injects a lot of speed and simplicity into the process. It helps to achieve an end-to-end approach that does not impede HR's broader learning, development, and retention plans. HRM can be assured of adequate engagement of candidates, cost-effective and time-effective hiring, and onboarding and customization by using technology in a smart way here. HRM can also achieve sufficient transparency, non-bias, diversity, and inclusion by using tech-enabled solutions. And all that is happening.
The pandemic has accelerated tech adoption and redefined the future of work and skills. Today, talent acquisition teams can use an innovative tool like Otomeyt to check code quality, scalability, and performance automatically. They can be sure of accuracy, comprehensive coverage, speed, customization, testing agility, and time-sensitiveness when they use such tools. Once a good resource is picked, the next part gets more accessible. But more so when one is using the right technology.
Today, as we win the war over a pandemic, we are still fighting battles around talent management. Organizations struggle through 'the great resignation' and the pervasive demand for 'hybrid work models.' That tells why the role of smart talent management is going to become even more pivotal.
HRM can deploy talent acquisition tools to workflows, develop training manuals, and learn about new-age approaches with a cohesive talent strategy. This helps HRM keep employees interested, onboard and safe – and we have recently seen how critical that can be. Technology can help here again. Cutting-edge skill assessment and video interviewing platforms from Otomeyt can bring in data-driven clarity and efficiency in this spectrum. They can ensure adherence to practices such as diversity, equity, and inclusion (DEI).
There are tools that can help to pool the talent from multiple sources and with a streamlined workflow. They can achieve a smooth integration with the current ATS platform. They can also allow HRM to reduce the overlap of two different platforms for screening and testing. HRM can enhance the impact of talent acquisition through smart proctoring, advanced customization, utmost authenticity, real-time corrections, and analytics. The leaders can also use heavily-sophisticated algorithms, AI tools, and NLP advantages to marry speed with precision without sacrificing context.
Just bringing in good talent is not enough unless HRM can put the right person in the right spot and leverage his/her competence in the right area. The use of automation, accuracy, real-time data, and the ability to cut time and costs – is what technology brings to this aspect of HRM with smart HR staffing.
Technology helps staffing to be unbiased while achieving that elusive best-fit of talent with the job. It also enables HRM to have a solid and sustainable people strategy. But, on the other hand, HR staffing can be full of wastage of time, with resume-clutter and a high propensity of errors or misfit choices. More so in the present milieu of remote workforces, distributed work culture, and gig-work. Having the luxury of remote proctoring, customized assessments, automatic test creation, mobile assessments, etc. then is quite advantageous for HR staffing. And a big step in this continuum is that of recruitment – especially digital recruitment.
Well-recruited people are assets. They grow in value like gold. Their graph always appreciates. But this graph starts when HRM can crack the recruitment aspect without delays, confusion, or misalignment. That's why digital recruitment is emerging as a better, faster, more accurate, and more relevant approach than what was used before. This helps HRM achieve talent-fit accuracy, increased hiring quality, time savings, and improvement at all stages of pre and post-hire talent acquisition. It allows HRM to use automation for offloading the repetitive, process-driven tasks so that these leaders can be more in tune with the candidate and the role – and in a more profound way. AI also makes hiring not less personal but more personal. HRM can finally make personal connections with candidates and be empowered with overall talent advantage through digital assessments, video interviewing, and online reference checking. An organization can cut downtime wastage, enhance accuracy and accelerate the hiring funnel here. And then, rest easy. Not for long, though, because this well-chosen and well-appointed talent also has to be appreciated – tangible and intangible.
Compensation and benefits are critical hygiene factors of HRM which cover the entire spectrum of financial, tangible, and intangible rewards for an employee. They include direct pay, insurance, stock options, other allowances, statutory contributions, leaves, bonus payments, etc. They are often determined through employee experience, tenure, job role, competitive parity, appraisals, and location-specific differences. They can also include indirect compensation like work-life balance, awards, recognition, training, and development opportunities. Using analytics and AI here can help to add accuracy, data-driven decisions, confidence, precision, and insights in the entire exercise. In addition, they can assure employees of fairness, timeliness, and a long-term orientation from their employer. Not to forget, tech tools help save time and create new levels of efficiency for HRM here.
So once your horsepower is picked right, is well-fed, and in the suitable courses, the next part becomes even more critical. It is essential to take them back to stables to rejuvenate their muscles. That's something where training and development turn into essential components of any HR function. They help the HR function to maintain relevance, fit, quality, and satisfaction of its talent pool. And the use of technology here can bring in accuracy and fairness in the deployment of training interventions. It helps enhance right-fit talent, align people strategy with broader business strategy, reduce guesswork, and make the whole process real-time but intuitive. It also helps HRM with fast and effective assessments with secure and live, intelligent remote proctoring, customized approach, and automation. This is very helpful when HRM needs the ability to execute remote and virtual workforces. Incidentally, if this is taken care of in the right way, the next part becomes smooth.
7. HR Compliance
The job of HRM is not just about keeping the talent happy, keeping the bosses happy, but it is also about keeping the regulators happy. Many new areas of concern have emerged in the last few years, spanning from bias, discrimination, unfair treatment to diversity, inclusion and unequal opportunity, etc. No wonder the current compliance landscape has become a lot stringent on these aspects, and rightfully so. Many new laws, special regulations, and amendments have come to the fore to strengthen the cause of employee diversity, inclusion, and fairness. So having a gap, a loophole, or a delay is not just a lousy impression spot for any organization but can also mean a heavy penalty. The use of smart technology like Otomeyt comes in very strongly here. With AI, HR can ensure unbiased decisions. HRM can find right-fit talent and achieve greater diversity by assessing aptitude, skill, personality, and potential without biases. Many regulations can be satisfied with a consistent and systematic focus on data – this is enabled with the use of secure and live intelligent remote proctoring, customized assessments, automatic test creation, mobile assessments, and flexibility to choose from hundreds of tests for several different job roles. But watching for eyes outside is very different from watching your talent from inside.
It is no longer enough to keep your workforce compensated well. It is also essential to ensure their physical, emotional, and psychological safety. That calls for the speed, breadth, precision, and real-time nature of technology. The right tools go a long way to help enterprises in ensuring comprehensive workplace safety. Technology can help make unbiased decisions so that HRM can spend valuable time focusing on the right-fit talent and transforming your people strategy. Good tools can assist a lot in reducing workplace problems, struggles, and handicaps so that employees are always mentally-healthy and productive.
Conclusion
As we have seen so far, HRM is an all-encompassing journey. A mother never sleeps – from the day the child is born to taking care of its growth, nourishment, life challenges, and safety. And technology can be a big help to help HRM here. We have seen how data and automation can help HR achieve accuracy and efficiency while cutting down on clutter, bias, distractions, noise, delays, dead-ends, and risks. Especially with tools that can bring:
The power of AI for accuracy and fairness in deployment
Enhancing right-fit talent
Aligning people strategy with broader business strategy
Reducing guesswork
Evaluating candidates across various domains and skills for identifying training and development needs
Fast and effective assessments with secure, and live, intelligent remote proctoring, customized approach, and automation
Ability to execute for remote and virtual workforces
Use of intuitive and real-time performance analytics for robust evaluation of training effectiveness
Domain-specific assessments powered with video, gamification, and personalization
Smart front-runners have already started using technology for its power and laser-sharp value. The PwC's Human Resources Technology Survey 2020 unravels some top significant issues driving HR technology decisions.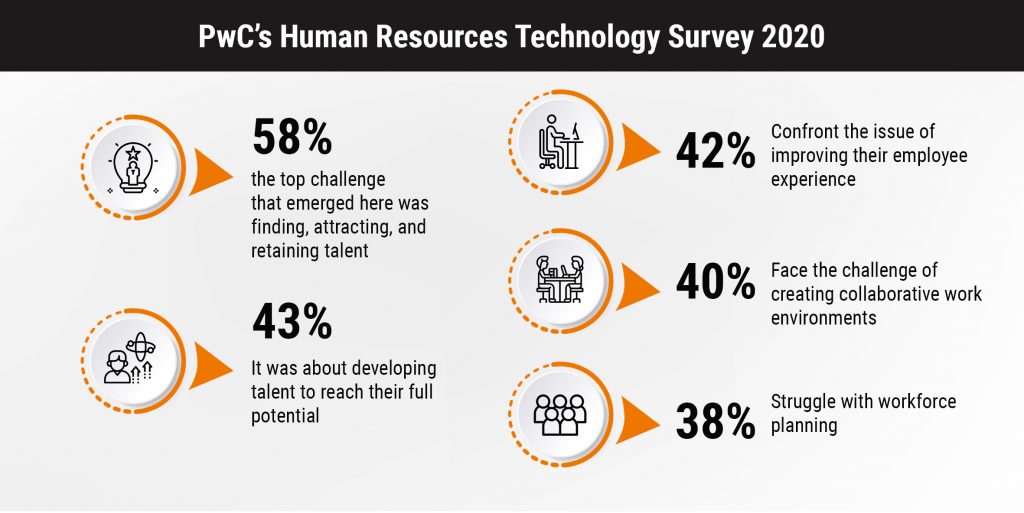 According to a Sage report,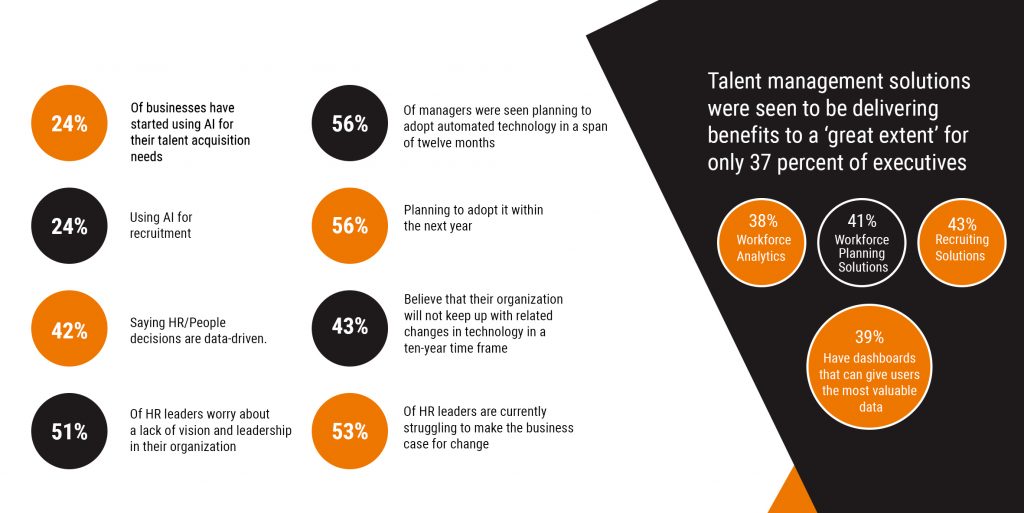 What's more disconcerting is that managers who are expected to use HR systems are two times less likely than the C-suite to say that they are effective on a range of business outcomes. If only 27 percent rated HR tech as very effective for changing behaviors at work and if 82 percent struggled with adoption challenges, then we are still a long way from tapping the true power of technology in HRM.
Maintaining talent quality, productivity, and diversity along with an enhanced workforce experience – all that can be done better and faster with technology. But only when technology is embraced at the right time and without any hiccups. We are already standing at the doors of a future where wastage of time and talent would just not be tolerated. It is a future where diversity, fairness, engagement, and speed will not be extra choices but big imperatives and the actual drivers.
It's time you make this decision without delay or confusion. Choose a tool that assures an in-depth analysis to help you onboard the best of talent. Pick something that brings speed and cost savings but not at the cost of simplicity and relevance. Choose something like Otomeyt that brings in not just one advantage but many:


Unbiased decisions – without expending too much time
Ability to focus on the right-fit talent
A solid and sustainable people strategy
Use of AI for adding precision and quality in hiring
Savings in wastage and resume-clutter because the managers can reach directly to the proper fit
A vast array of domains like English Communication, Qualitative Aptitude, Logical Reasoning, Capital Markets, Investment Banking and more through Multiple Choice Questions (MCQ's) and subjective based questions
The convenience of doing all this remotely with secure, and live, tools
Add-ons like intelligent remote proctoring, customized assessments, automatic test creation, mobile assessments, etc.
Flexibility to choose from hundreds of tests for several job roles
Seamless integration with HRIS and ATS
Injection of performance analytics
Quick analysis, and comparison, of candidate pool against robust metrics
The setting of easy benchmarks to know who to hire next
Unprecedented savings in costs, time, and without any unconscious bias – thanks to a data-driven hiring strategy
Gamified assessments
Aptitude and specific skills tests along with the facility of video interviewing
Domain-specific assessments
Assessment tools for any industry, function, and role
When you use something as solid and multi-dimensional as that, you can be sure of making your enterprise run smoothly on the competitive lanes of today's world. It would be an all-wheel drive with the best horsepower. The race has already begun. Get going!