Do you know what smart recruiters were doing when they had a lot of extra time during the pandemic? Nope, they were not watching Netflix. Nah, they were not rearranging cabinets of resumes. And definitely, they had no water coolers to gather around for some industry gossip.
They were using this downtime in the best way possible. Many of these future-centric recruiters were taking care of their appetite for learning – and as soon as the pandemic hit last March. As per recent LinkedIn survey observations, they more than doubled their normal learning consumption in the following months. They invested their time in talent advisory training, virtual interviewing, being productive while working remotely, virtual onboarding, and internal mobility. They were grooming themselves to be better talent advisors and to think 'outside the box. They took some steps back, did a lot of reflection and introspection, and did an audit of what worked in the past and what will change in the future. That's where they also turned to technology.
Assessing and rethinking talent strategy is where the smart leaders started thinking of how to integrate new talent acquisition tools into workflows, develop training manuals, and learn about new-age approaches.
We all know that talent management is a crucial pillar of any organization's success. This became all the more underlined when companies struggled to keep employees interested, onboard, and safe during the pandemic. This was an echo sound for smart talent managers. As a result, talent management is going to be a lot more strategic than it ever was. And as companies struggle through 'the great resignation' and the pervasive demand for 'hybrid work models,' the role of smart talent management will become even more pivotal.
Technology can help as the much-needed savior in this new paradigm.
Tech – why and where?
Companies are waking up to the unfamiliar landscape shaped by the need for a resilient workforce and well-etched practices such as diversity, equity, and inclusion (DEI). These factors are reflected in hiring processes in a big way.
But how does that when companies across the spectrum confront lengthy hiring cycles? Many enterprises also lack data-driven and tech-enabled hiring processes, and this is a significant talent acquisition challenge.
Reliance on traditional approaches, like physical assessments and face-to-face interviews for candidate selection, will not be enough to power the much-needed traction of continuity.
What companies need is a new toolkit. Talent acquisition can be injected with intelligence, real-time analytics, automation, agility, and accuracy. For instance, some practical tech assessment tools like Oto_Code can improve talent management in many following ways. 
Improvement in recruiting efficiency 
Ability to pool the talent from multiple sources and with a streamlined workflow
Smooth integration with the current ATS platform
Reduction of overlap of two different platforms for screening and testing
Smart proctoring – automatic flag actions on violation of given instructions
Advanced customized and utmost authenticity of each coding test
Automatic and real-time alerts and warnings candidates against unwarranted practices
Safeguards against plagiarism 
NLP-Powered Features where Natural Language Processing capability can automatically create a fitting assessment specific to a job description
Algorithms and models that can help to shrink personal bias
Allow assessments based on body language, expressions, and actions taken during the test
Apt mix and use of Video Analytics and Insightful Reports
Impact of In-depth analysis to help in quick and profitable onboarding
A vast question library with object-oriented programming questions
Auto-generated scorecards for each candidate reflecting the ability to code to make quick hiring decisions
Effective filters so that a company can call only the most qualified talent for the interview, saving tons of executive time
Tech – the ultimate booster shot
A lot of reports on talent management corroborate the unmistakable shift. Technology adoption is happening across geographies and industries. And it is on a large scale. It is also long term and not a stop-gap arrangement. Using technology is becoming deep-rooted, robust, and sustainable.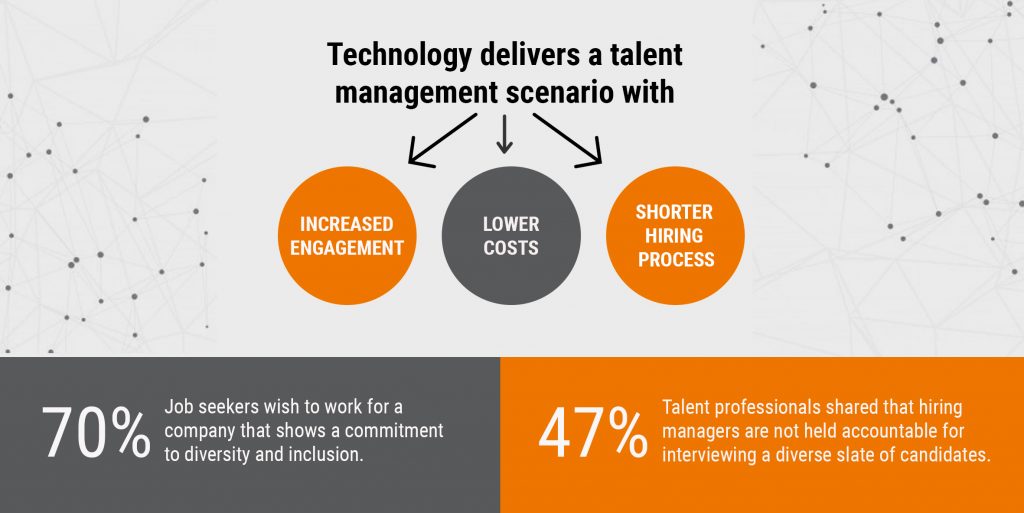 As a result, they would need technology to ensure that they meet the organization's goals and the needs of employees and other stakeholders when they hire and manage talent. 
The No. 1 skill for recruiters to embrace in 2021 is adaptability, as per LinkedIn's survey. Adapt well and adapt fast to technology. It's there to jump-start your own goals and chop your limitations.
It's time to show which kind of talent manager you are – the smart or clueless ones.