We often hear CHROs and HR managers struggling to manage recruitment costs. This typically involves managing the entire hiring process and calculating cost per hire to optimize recruiting.
Cost per hire is the most critical metric to be considered in recruitment. It refers to and measures the amount it costs a company to hire a suitable candidate. Starting from the advertising spending, software fees, candidate's travel costs (for personal interviews), relocation charges to the recruitment team's administrative expenses (in-house or hired), and other associated expenses, cost per hire includes everything it takes to fill a job opening.
The cost per hire varies depending on the company size, job designation, leadership level, industry demand, and recruitment team's efficiency. For instance, the cost per hire for software and tech-based roles goes higher than marketing or sales because of higher demand for tech professionals. Similarly, it is way lesser when hiring a candidate at entry-level than at a C-suite or even mid-senior level.
Calculating cost per hire (CPH)
To understand whether your cost management is significant enough, we must consider all the elements that make up the cost per hire. Looking at each element, it can be easier to identify any area for improvement and determine the most reasonable cost.
Internal recruitment costs: These are the company's expenses towards the internal staff/employees and the expenses towards the recruitment process. Internal costs include the following.
Salaries of HR staff–hiring manager, recruitment trainees, and so on,
Employee referral bonuses and
Fixed costs–establishment and utilities.
External recruitment costs: These are the company's expenses incurred towards external parties/vendors to facilitate the recruitment process. External recruitment costs include the following.
Agency fees–of hiring a recruitment agency,
Advertising spend–job boards, online ads, paid campaigns, etc.,
Tech fees–software programs, tech support needed for recruitment,
Job fairs, events,
Travel costs–paid to candidates to travel for interviews,
Relocation costs–paid to candidates to move to the job location and
Signing bonuses.
To calculate cost per hire (CPH), you need to,
Add up all internal and external costs and
Divide the sum by the number of hires (within a time period–monthly/quarterly/annually)
CPH = Total Internal Recruiting Costs + Total External Recruiting Costs / Total Number of Hires in a Time Period
Optimizing your recruitment costs
When you add all the above costs, it often comes down to a massive load on the company's annual budget. HR faces a lot of pressure to keep the cost per hire under check. But cutting corners on the recruitment budget may result in the poor quality of hires. The best way to optimize the cost per hire is to adopt smarter recruitment ways so you get better results at a lesser cost.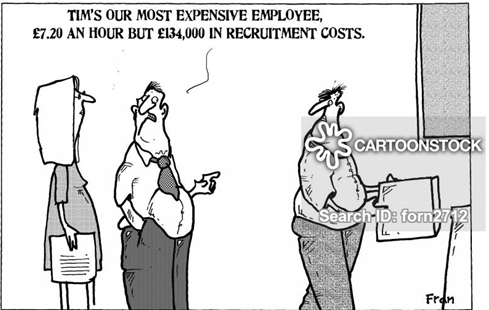 Track your source of hire
By understanding which sources are most cost-effective, you can evaluate where you should invest while sourcing candidates.
Do a cost analysis within HR
Every division and position within HR comes at a cost. Compare and analyze the same for each job role/position or process to identify areas of improvement. For instance, if you need to cut down some layers of interviews or reduce manual processes, etc.
Use free job boards, if possible
When posting on job boards, you can look for free job boards, which allow companies to post their jobs for free and many candidates even explore such sites. Instead of only choosing paid job boards, you can balance out with the free ones. For smaller companies, just opting for free job boards also work.
Leverage employee referrals
Employee referrals are perhaps the most evergreen tactic for recruiting new candidates. It's a win-win for both companies and employees. All you need is a structured referral program with an innovative incentive so you can save time, effort, and money on hiring. And you also get quality hire, since employees also have a reputation to maintain.
Automate your hiring process
One of the smartest and best ways to optimize your cost per hire is to automate your hiring process. And it's not just using any standard recruitment software. For automation, technology has a lot more to offer than applicant tracking system (ATS) and skill testing software. The future-ready recruitment software, powered by AI, uses machine learning at its best to devise a scientific process of sourcing, screening, sorting, and evaluating candidates. The tracking and testing programs are also integrated within the software and interviewing options, giving you a complete, one-stop recruitment solution. This is not only advanced in method but remarkably cost-efficient and timesaving.
Finding the best talent and keeping the costs at optimum can be quite a challenge. But it doesn't have to be. What you can do is find efficient methods and improve your hiring system. It all starts with measuring the right metrics and CPH is one among them.