We have stepped into an age where hybrid work models, flexible work, work-from-anywhere, and gig economies are now integral parts of a recruiter's life.  And, every company needs a solid and steady pool of skilled tech professionals to keep their engines running. That makes the life of a recruiter ambitious and puts them in the spotlight, but it is also a life that is becoming dotted with new challenges. They now have to hire with heightened attention to diversity,  inclusivity and privacy and without compromising on the best talent that their organizations need to build a competitive edge.
There is no way recruiters can ignore these new realities. Significantly, India's job market surpasses pre-pandemic levels, with a 19 percent uptick vs. Oct '19.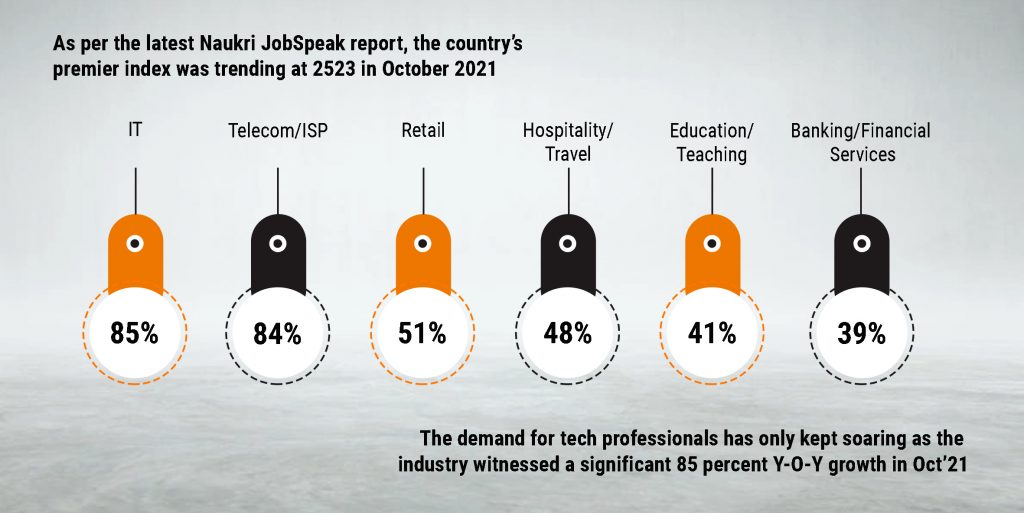 And due to the disruptions and social distancing needs induced by the pandemic, a big chunk of this talent pool would have to be recruited beyond the traditional cubicle.
Signs and signals
As per the UK Recruitment Index 2021 by the Association of Professional Staffing Companies and Saffery Champness,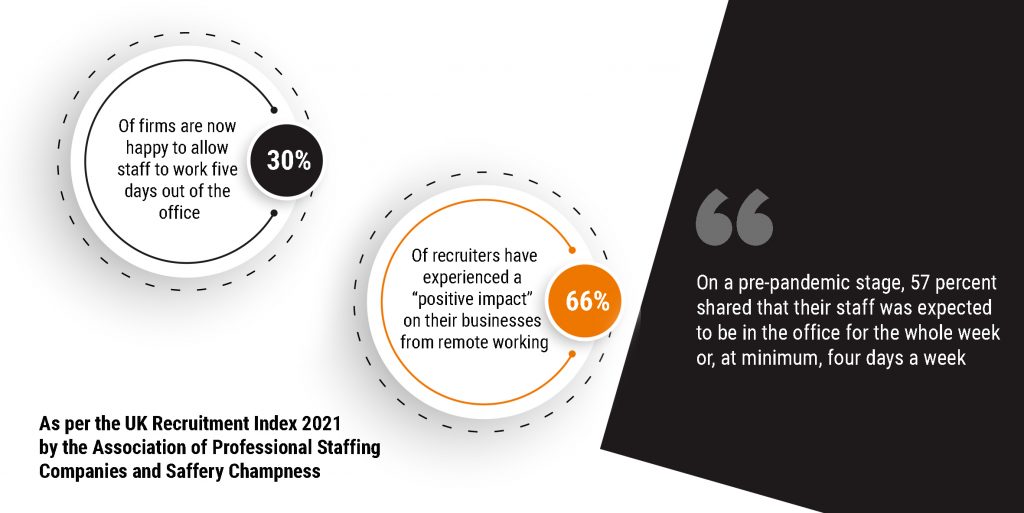 But now that new technology allows them to monitor staff performance and reduce some of their fixed costs via home working, a lot has shifted to remote models. 
Yet, there are concerns around. First, the pressure on recruiters has grown manifold since the pandemic hit the world. There was a mad spree to get the right talent to turbo-charge businesses in a digital landscape. No wonder hiring in Q3 2021 was seen as more significant than other quarters in 2021. As per figures in GlobalData's latest report, 'Hiring Trends & Signals Quarterly Report Q3 2021', it was noted that hiring jumped in Q3 2021, with over 5.3m job closures and another 3.7m jobs open for application. And when we look at this from a region-wise lens, we see that India, the UK, South Africa, and Brazil are leading hiring activity, with the active jobs index far surpassing pre-Covid-19 levels. In terms of sectors, Q3 for hiring growth areas mainly was in insurance, aerospace, defense and security, and food service, as companies leaned towards digitalization and automation. It looks like companies want to surpass pre-COVID operations and offset the impact of the pandemic with increased job postings.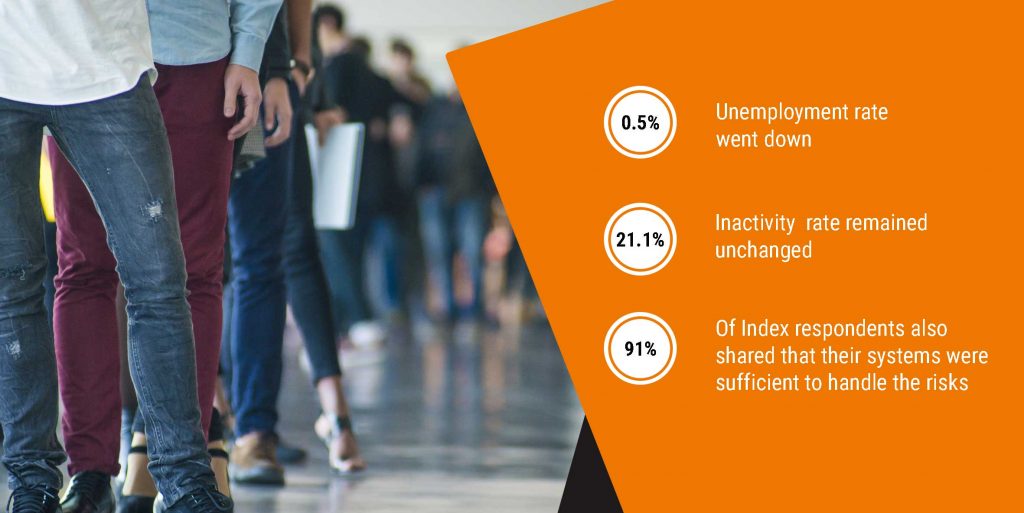 That's not all. Recruiters also face the challenge of ensuring diversity and security while doing the tight-rope walk on budgets and timelines.
In a survey of over 1,500 talent professionals at the LinkedIn platform, one out of 2 talent professionals expects their budgets to decrease.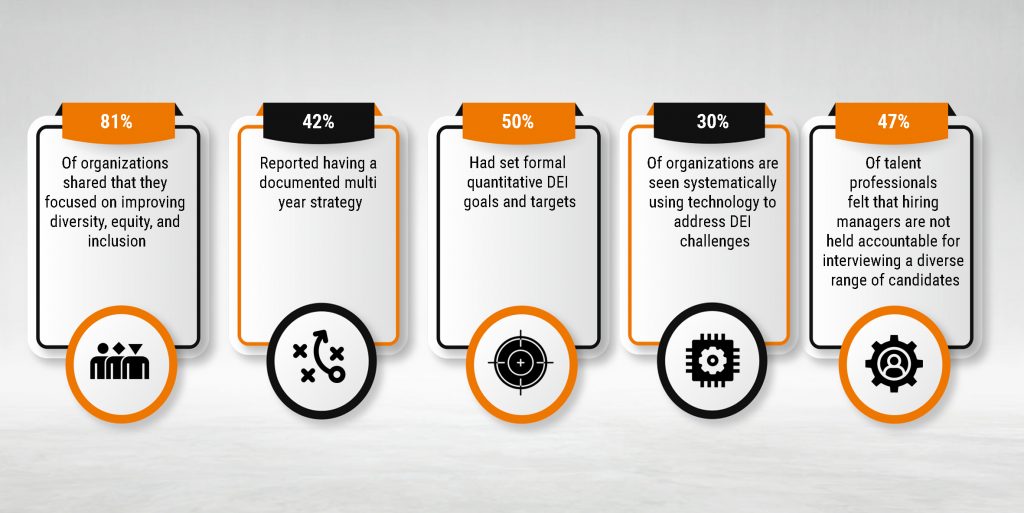 That's not it. Recruiters also have to fight the increased preponderance of fraud now that most of the processes and evaluations are done remotely. A recent study by KPMG unveiled how individuals desperate for jobs are submitting fictitious personal and educational information. In addition, they are likely to lie about their qualifications and professional experience, which heightens the need for organizations to be on prevention and fraud detection mode to pre-empt these recruitment and employment frauds.
When e-commerce companies are trying to rope in executives for their growing functions and businesses, the report cited that many individuals could lie about their education qualifications. They could also lie about their chequered past. There is the possibility of submitting fictitious personal and educational qualification documents by candidates as there is increased demand and shortage of workforce in many areas.
The scenario gets extra challenging when assessing and hiring for tech skills. Hiring teams struggle to find qualified full-stack developers, machine learning engineers, DevOps engineers, systems architects, and data scientists. Like 'full-stack developer,' the role ambiguity makes the job description extra challenging to define. That- combined with the unique blend of required skills – adds to the hardship for a hiring team.
Ways to break the impasse
Any recruiter working to rev up the talent quality and availability will be enveloped in many challenges. This complexity gets even more deepened when one is hiring remote tech talent. Here are some ways to help you emerge as a successful and effective tech recruiter despite such challenges. 
Don't hire remote developers without a thorough vetting process: Thankfully, this can be done well and quickly through AI-enabled tools that can help you do assessments and proctoring in an automated and speedy way.
Do make sure that the person or company you are hiring has an established track record in the industry: Testing the skills is one of the ways to do it. You can use automatic proctoring capabilities and report generation features of Oto_Code and other Otomeyt tools so that you can be sure of candidate credibility. Also, there are advanced customized settings and mechanisms for ensuring the authenticity of each coding test. It also warns candidates against unwarranted practices. It compares codes to the Otomeyt codes database for plagiarism. You can also draw from a large pool of questions suitable for various skills and assessment formats.
Do conduct skills-based tests and code reviews: Start using tools like Oto_Code to do all this with precision, personalization, and job context focus. Oto_Code can assess any technical skill, including front-end, back-end technologies, API skills, databases, machine learning, testing frameworks (Selenium), and many more. It can also auto-generate your assessments. It supports you with a strong and expanding question library with object-oriented programming questions. You can also request a customized evaluation if you have more or different questions.
Start using video interviewing tools to communicate or interview remote candidates: Please don't underestimate how important it is to see each other's facial expressions and body language. This is highly significant in the wake of frauds and proxy efforts that are going on in the industry, as indicated by experts and reports. Tools like Oto_Live can help you in this direction.
Don't overlook diversity but maintain tech capability checks through rigorous testing: You can use advanced tech assessment systems like Oto_Code to check code quality, scalability, and performance with absolute accuracy. This is supported with a Global Code Verification System (GCVS). You can evaluate the candidate's coding capability on code reliability, maintainability, scalability, performance, code quality, and test cases. You can easily make decisions based on a GCVS score for each candidate for filtering or selection. You can assess Multiple Tech Stacks. You can also test the future potential of the candidate. With NLP Powered Feature "Acumen," recruiters can now create a fitting assessment specific to your job description. This helps to cut down personal bias. These tools are great at reducing unintended bias.

Create a great candidate experience: Tools like Oto_Code allow you the luxury of only calling the most qualified talent for the interview, saving tons of dev managers' time. These tools are also hassle-free and swift integration with the current ATS platform. This increases recruiting efficiency in no time. It also integrates with your existing ATS platforms that enable you to pool the talent from multiple sources. This allows the recruiter to streamline the workflow of screening the candidates and the technical recruitment process for your hiring manager. There is no need to use two different platforms for screening and testing. When the process is compact, fast and free of friction, and injected with gamification and AI, it automatically becomes highly engaging for the candidate. It helps the recruiter with a customized assessment specific to the JD while it also lets your candidates code in the language of their choice. One can test on over 300 technologies easily and without delays.
Take decisions that are not too late or confused. And then communicate expectations: Solutions like Oto_Code also come with a rich set of video analytics and insightful reports. This gives you an in-depth analysis to help you onboard the best. Leverage a 20,000+ strong and expanding question library with object-oriented programming questions. You can use auto-generated scorecards for each candidate reflecting the ability to code to make quick hiring decisions.
The future is going to be exciting for recruiters and tech talent. The role of recruiters during the pandemic-led stress was highly acknowledged and respected in the industry. So now is the time to emerge confident about taking care of all these expectations and opportunities. With technology there to help you, you don't have to worry too much.