Recruitment has undergone a massive shift due to COVID19. Deploying automation has become a prerequisite, for thriving in the intense competition for top talent. It is time the HR innovates and adapts well to the challenge. Recruiters are now switching over to online recruitment tools for remote hiring.
Otomeyt, a platform that provides AI-enabled tech assessment tools has ushered in a radical tool for recruiters. Called Duo_Code, the solution is a one-of-its-kind video interview platform for recruiting the best coders.
The company has put a well-rounded solution on the HR table with Duo_Code. A live pair programming tool that helps recruiters understand the candidate's real-time problem-solving ability as well as a video interviewing environment. It is specifically designed to help recruiters hire with the same efficiency, outcomes, speed, and comprehensiveness of interviews as they did earlier.
Duo_Code bridges the gap of virtual interviews with augmented and well-crafted features that add to the overall experience and goals of talent acquisition.
Looking to invest in a video interview tool for online recruitment? Find out if they have these 10 features of Duo_Code.
Multiple Benefits on a Single Platform:
Creating tests, manual and automated options, video analysis, and more. All the pre-interview, interview and post-interview areas are stitched well and enabled for virtual interactions.
Test in over 300 Technologies:
Candidates can code in the language of their choice.
Analysis of Interview Scorecard:
Capture feedback against a consistent set of skills.
Pre-employment assessments:
20,000+ strong library with object-oriented programming questions. Additionally, you can also request for a customized assessment if you have more or different questions.
Multiple Choice Questions in Duo_Code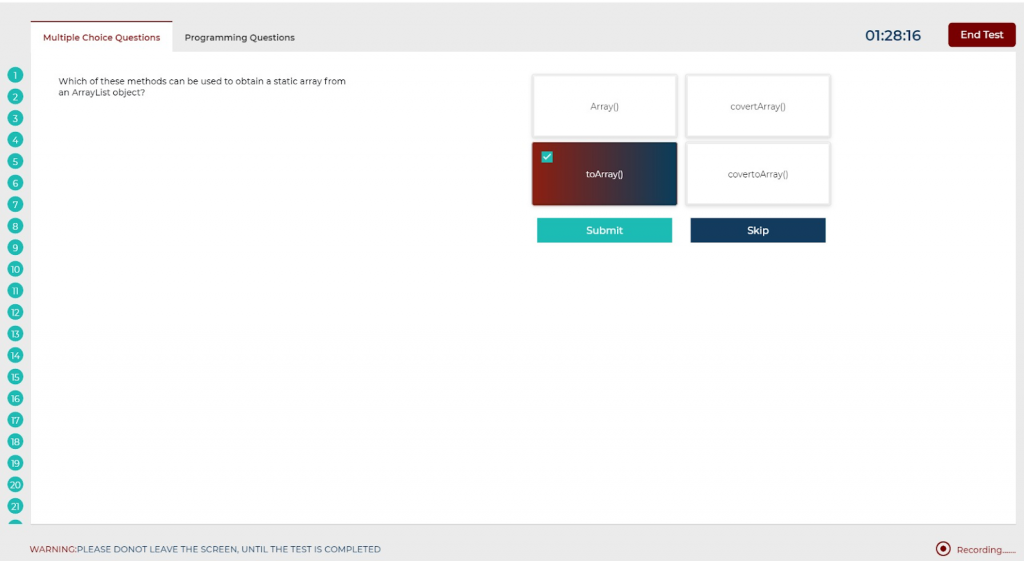 Programming Questions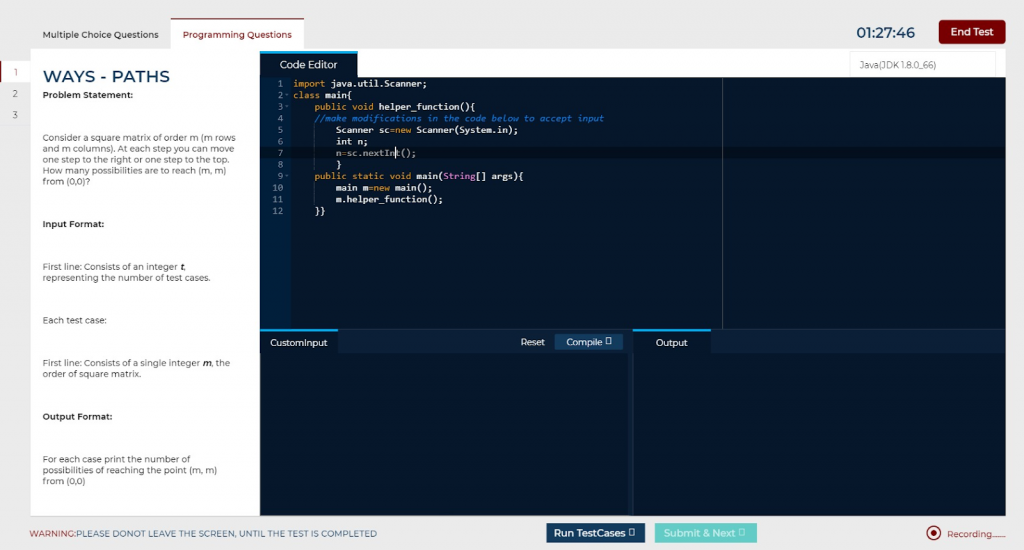 AI-powered Video proctored Interviews:
Video interviews where it automatically evaluates candidates' body language, voice emotion and answer relevance. The scores help in making informed hiring decisions.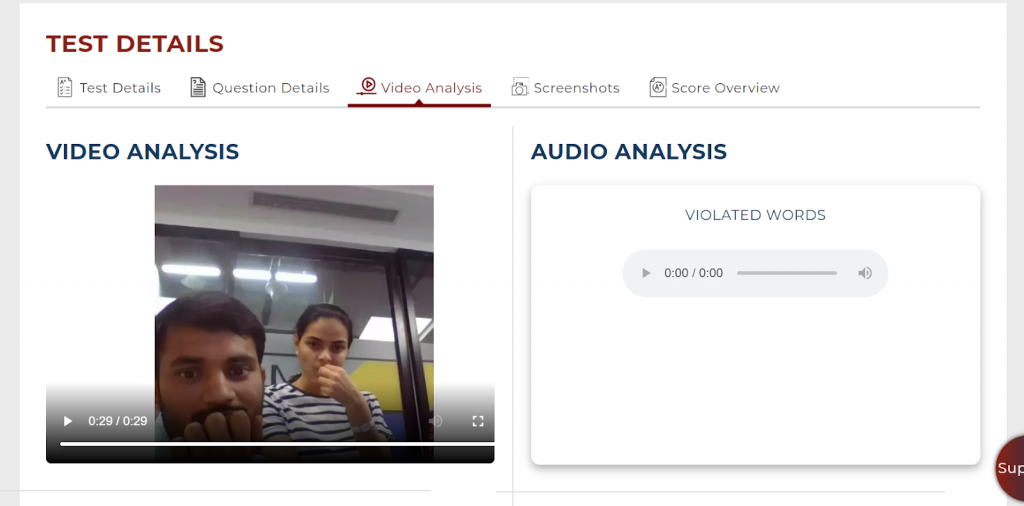 Seamless Audio / Video / Chat:
Built within Duo_Code, no plugins required. Compatible for 1:1 or panel interviews.
Test Cases to Code:
Run pre-built test cases available on the platform or you can customize using different problem statements.
Real-time console:
Execute code with REPL, an interactive terminal.
Ready Results:
Auto-generated scorecard for each candidate reflecting the ability to code to make quick hiring decisions.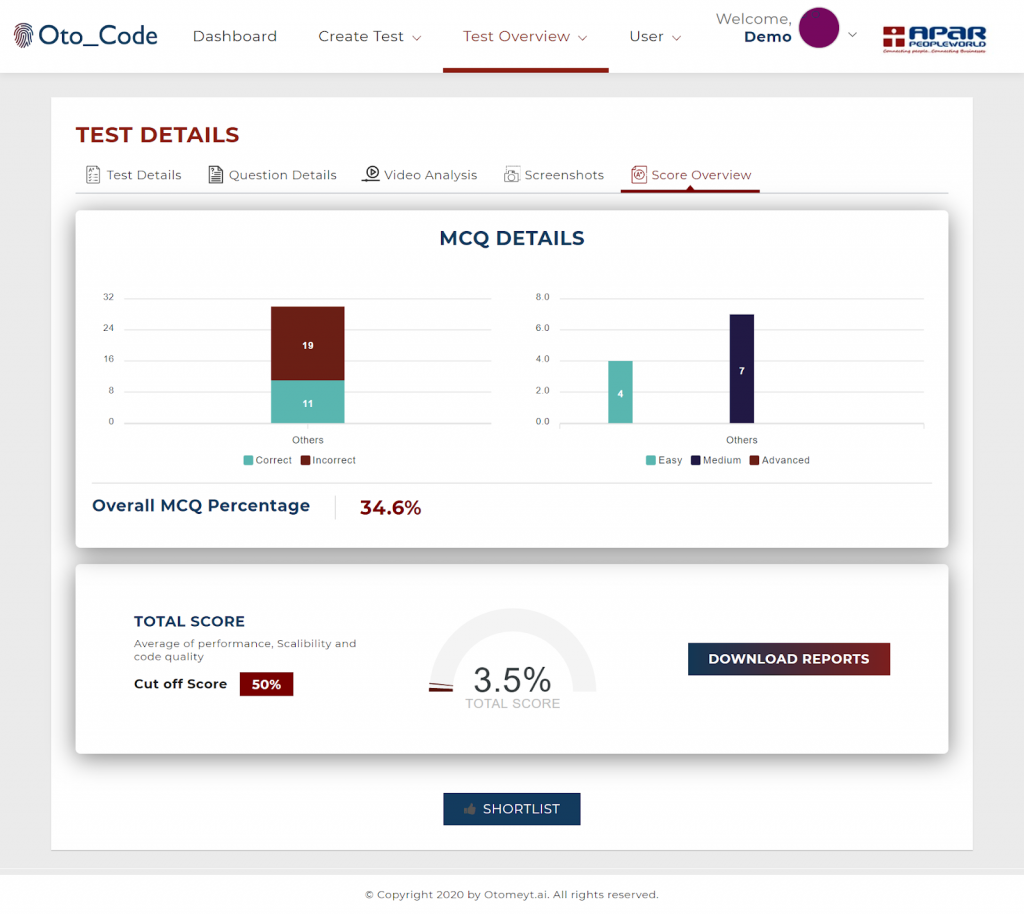 Scope for Zero-plagiarism:
Fool-proof proctoring with checks for plagiarism and violation of test rules. Ensures the authenticity of each coding test and hints if any unwarranted practices.
Otomeyt has been a formidable player in the talent technology space and champions in the realm of AI-driven HR tools and suites. With Duo_Code, recruiters can scale hiring efficiency, saving project initiation time without compromising on the outcomes.