The year 2021 is going to be an explosion of tech innovations and activity. As businesses hit the reset button on the 'New Normal'; many will accentuate their investments done in the pandemic year. The gains derived from remote models, distributed architectures, pervasive cyber-security, and cloud applications would be tapped with a new force as we move forward. And that translates into a lot of appetite for people who can keep these cylinders running. We would need talent that is wired for this new world. It would be a landscape where the technology industry would need brains that can design innovations and software for a new paradigm. It would also need people who can manage, monitor, and safeguard these innovations.
"Most good programmers do programming not because they expect to get paid or get adulation by the public, but because it is fun to program." ― Linus Torvalds, Linux
Checklist for developer hiring
So if you are looking for a developer, here are some fundamentals that you should revisit to strengthen your tech talent advantage. 
1. Be clear about the exact proficiency you are looking for.
Do you need an architect or a ocder? Would you be needing a full stack developer or a niche-area candidate?
Is it a DevOps expert or some RPA/AI/ML expert that's needed for your current project? What kind of domain specialist do you require right now?
Do you want a cloud-native expert to fuel your cloud investments in the right direction? Or an API expert for integration of a digital deployment?
Have clarity. Then translate this clarity into specific job requirement-briefs. This should help you filter any redundant applications out there. It would also help candidates to know whether they should invest time in this opportunity. This is where an advanced tech recruitment tool like Oto_Code would help. It can intelligently capture requirements and convert them into job maps. Moreover, it can help you to easily upload the job description (JD), get a customized assessment specific to the JD, draw from a large pool of questions suitable for a wide range of skills and assessment formats and let the candidates code in the language of their choice. 

2. Reduce the administrative part of the interview and concentrate on the insightful part. You do not need to do all the legwork that can be handled by automated tools and chatbots. Let technology take care of initial checks, assessments, reference confirmations, and other areas. This would save you a lot of time to be spent on the actual interview part, where you can know more about how well the candidate fits your needs and culture. Oto_Code's powerful video analytics and insightful reports can help you onboard the best. You can leverage its 20,000+ strong and expanding question library with object-oriented programming questions. It auto-generates scorecard for each candidate reflecting the ability to code thus enabling you to make quicker hiring decisions and save a lot of time and resources. Further it helps to reduce unintended bias and bring transparency.
3. Talk for today, hire for tomorrow – Do not look at just degrees or certifications or the ability to complete an immediate project. A good developer asset would have great psychological capabilities like creativity, instinct, user-experience empathy, and the big-picture mindset. Also aspects like discipline, work ethic, and rigor – can be easily assessed through a variety of unstructured data that AI can churn and analyze for you. Tech recruitment tools like Oto_Code are powered by Natural Language Processing (NLP) capability. It helps to assess a candidate using his/her body language, expressions and actions during the assessment test.
Hire competitively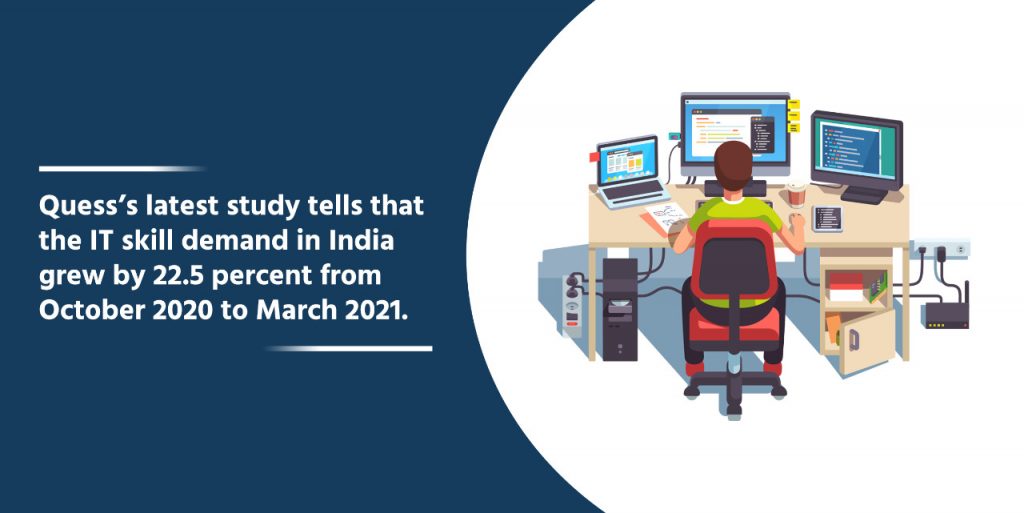 The top 5 digital skills that emerged here were – Full Stack, React JS, Cloud Infra Technologies, Angular JS and  Android Developers. Also, Burning Glass, which collects and analyzes millions of job postings from across the country, shows strong sustained demand for categories like software developer, project manager, network engineer, systems engineer, business analyst, Java specialist, cybersecurity engineer, and BI analyst. So it is a ripe time to hire, but also a competitive one. To stand out among the crowd and attract the right developers, you need to make the brand strong and attractive. That begins at the hiring stage. A hiring process is much more than a process that leads to the next stages of recruitment. It is a key whirlpool where you can lose outstanding talent as easily as you pick the wrong talent. 
"The secret to successful hiring is this: look for the people who want to change the world." – Marc Benioff, Salesforce
So add care and prudence- as much as you can. Inject intelligence, speed, and engagement to your hiring process. Get the right hands on the ship's deck today. A brand new journey begins soon.