Talent acquisition is no more the long pipe, one-sided and myopic track that it used to be. As the world reshapes itself to new realities and challenges of the post-pandemic paradigm, talent would be at the core of any enterprise's business advantage. The talent will fuel every new goal, propel every existing strategy, and accelerate an organization's digital transformation journey. Without the right set of skills, competencies, and hearts in your enterprise, you would not be able to survive and lead in the new digital milieu.
In the 2021 Deloitte Global Human Capital Trends survey, we can see that the proportion of HR executives who were very confident in HR's ability to navigate future changes doubled, from one in eight in 2019 to nearly one in four in 2020.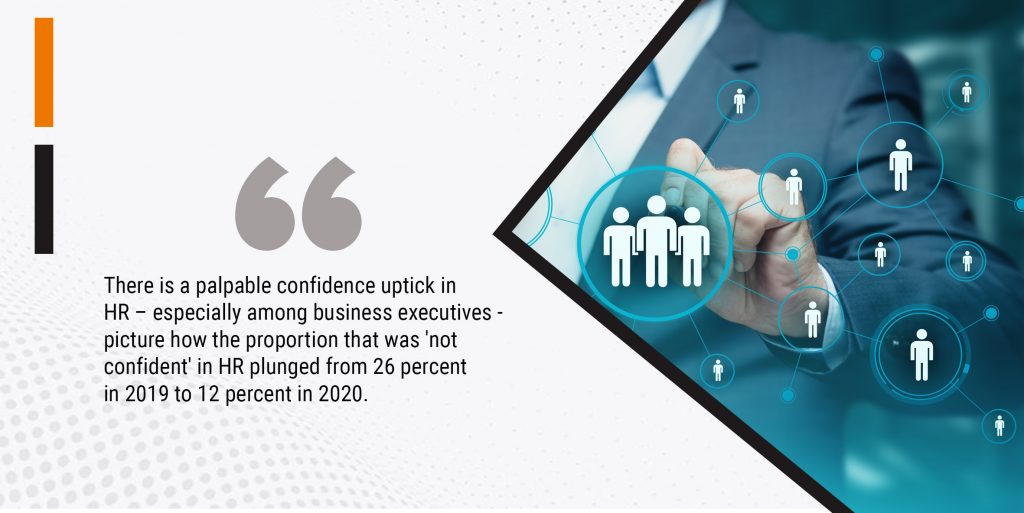 Also, executives who were very confident in HR's ability to navigate changes in the next three to five years were 2.9 times more likely to report that their organization was ready to adapt, reskill, and assume new roles. They were also 2.6 times more likely to strongly agree that their organization's changes during the pandemic empowered workers a lot. Especially in areas like successfully integrating the demands of their personal and professional lives. These were also 2.2 times more likely to report being ready to make or pivot investments for changing business demands.
At the same time, the demand for skilled workers is growing – about seven in 10 employers globally are struggling to find workers with the right mix of technical skills and human capabilities.
The skills shortage problem is no longer a temporary one or an easy one. It has become a crisis-level priority for CEOs;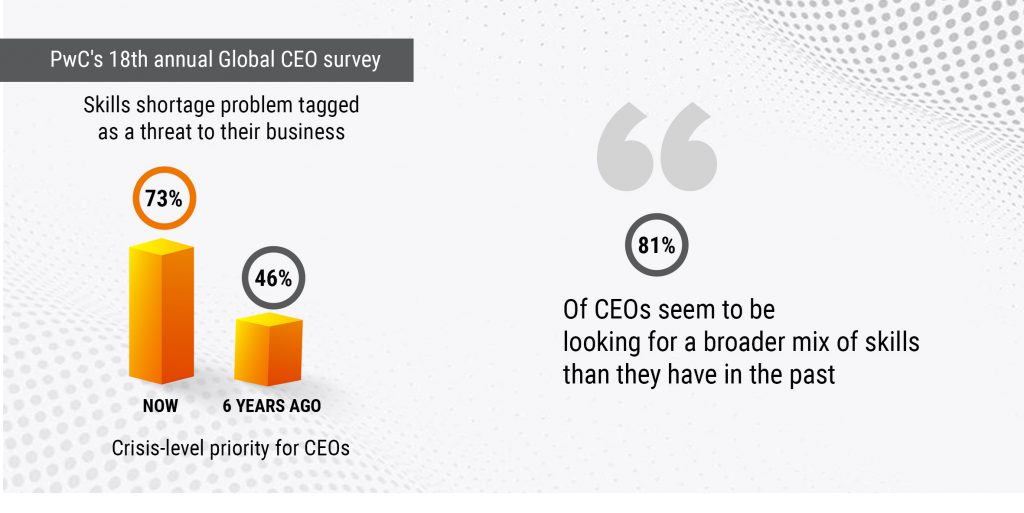 Businesses are in dire need of hi-tech innovators and 'hybrid' workers who understand their sector and complex digital technology.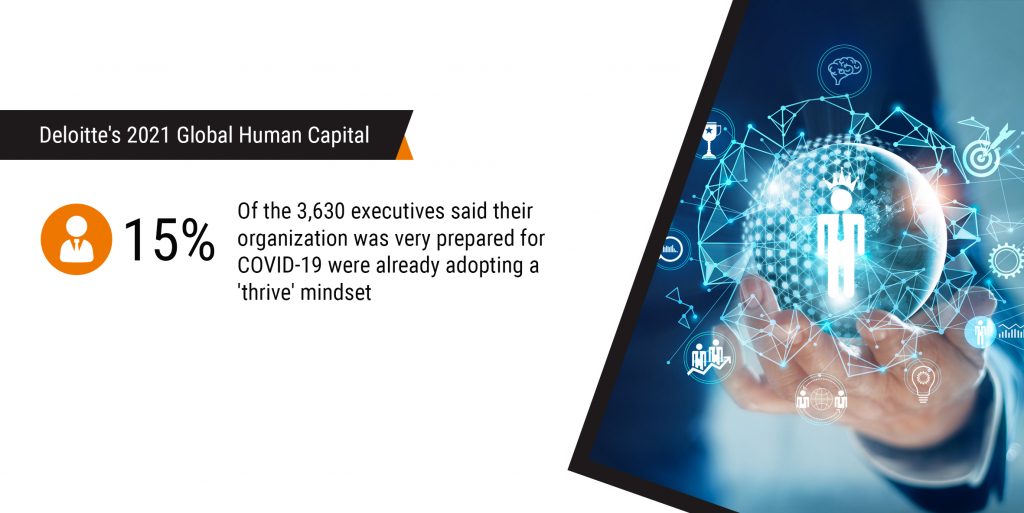 Trends research – those who said their organization was very prepared for COVID-19 were already adopting a 'thrive' mindset. No wonder organizations are considering the future of their relationship with workers since those who adopted a 'thrive' mindset were three times more likely than their peers to bring human strengths to the fore—leveraging worker adaptability and mobility to navigate disruption.
Also, workers are reconsidering everything from who they want to work for—with 40 percent of the global workforce seen considering leaving their employer that year—to the role they expect employers to play in supporting their purpose and values. Almost 86 of executives believe workers will gain greater independence and influence relative to their employers in the future.
This re-shuffle is happening when employers are realigning their approaches to talent scouting and acquisition.
Looking at Glassdoor's Job & Hiring Trends for 2020, it's easy to observe that employers are preparing for a shift in the candidate pool size by shifting toward higher-quality candidate channels. That meant channels that deliver more well-matched candidates and a higher hire-to-applicants ratio. As to the view from the candidate side, they are looking for compact time windows and better engagement.
As we can see, the very meaning of business strength will change a lot – and hinge strongly on the quality, loyalty, and timeliness of an organization's talent pool. Talent would be the X factor that every advantage, strategy, and ambition would sooner or later boil down to. That underlines the realm of 'talent acquisition' with a new connotation. The urgency, gravity, and implications of a future-proof talent acquisition strategy get even more etched as organizations gear up for the next competitive frontiers.
How can hiring the old way work and help when everything else about talent is changing? Hiring is being upended because the goals, expected pace, and engagement imperatives are changing fast and irreversible on the talent poolside. Enterprises cannot afford to hire in the same outdated way – slow, disoriented, fragmented, exhausting, tedious, shallow, manual, inefficient, and unidirectional.
Hiring has to turn fast, agile, engaging, exciting, prompt, precise, and intelligent – that's where it will have to embrace digital levers, augmentative technology, Cloud, AI, and automation. In addition, we will need to move towards sophisticated and sharp talent acquisition tools.
What are talent acquisition tools?
Talent acquisition tools help in redefining the hiring process for any job or role. They add speed, remove friction, elevate engagement and add intelligence to bring in the most-fit resources – and in a faster way- into your enterprise. They streamline the entire candidate engagement process – right from application and evaluation, qualification, selection, and onboarding. This is done through cloud-based workflow management tools, Secure and live intelligent remote-proctoring and customized assessments, and automatic test creation with the flexibility to choose among a plethora of options. They bring in the ability to integrate with coding and other assessments to pool the talent from multiple sources. This results in a well-integrated workflow of screening the candidates and a technical recruitment process for hiring managers. These tools also wipe away a lot of heterogeneity from the system. They make the entire acquisition process cohesive and holistic – leaving no blind spots or gaps in any way.
Talent acquisition tools that help you hire faster and better
Here are some salient tools that can turbo-charge your hiring strategy with an unprecedented speed and accuracy – without side-lining employee engagement.
Applicant Tracking System (ATS)
Video interview platform
Coding assessment platform
Non-technical assessment platform
An applicant tracking system or ATS builds up from an automated set of applications and resumes that fit specific job descriptions and job specifications. It empowers HR teams with automated hiring strengths across pooling, filtering, assessing, and interviewing stages for potential candidates. They can be granular and real-time based on assigned filters as required for current recruitment goals. By injecting a robust ATS in the crucial stages of recruitment and human-resource mapping, one can leverage a host of advantages:
Robust and real-time visibility into every applicant and their unique path of progress
There is a good set of documentation for previous assessments, background checks, references, and pre-screening interviews
Transparency and fairness are assured due to such platforms' automated and non-opaque nature
Removal of bias and discrimination from the recruitment process
Mitigation of delays- as much as possible
If required, quick alerts on critical issues, lag periods, and applicant turnover
Control of fragmentation and development of a holistic HR process where recruitment is not a standalone process but well-integrated into overall HR strategy and candidate's journey
High level of candidate engagement and involvement
Fewer chances of attrition or disillusionment on the part of applicants
Fast and goal-oriented recruitment processes
A data-driven hiring strategy that leads to minimal costs and maximum impact
The choice to deploy an ATS is wise, but one must ensure that just any applicant tracking system would not do. Therefore, it is essential to find a solution that can streamline and empower the entire tracking journey with intelligent, laser-sharp, time-tested, vertical-specific, and real-time automation. Moreover your ATS should be easily compatible with other hiring tools and provide a seamless experience. This also helps you convey to CXOs and CFOs that this investment will reap tangible benefits in the form of reduced recruitment time, optimal impact of budgets, availability of competitive talent, productivity enhancement, and a high level of talent retention.
A video interview platform like Oto_Live helps in many ways. It combines the best of both worlds. It blends the advantages of in-person interviews with virtual technology in a smooth and well-stitched manner. So while one can save time and do the interview from any location – with a candidate from any region across the globe- one can also tap the hard-to-dispense-with benefits of eye contact, non-technical chat, emotional rapport, and listening to the subtext. It is a model that can fast-track job interviews without shortcuts on understanding the candidate well, which happens best in a one-to-one scenario. When one opts for a hybrid video interview solution, one gets to enjoy:
An immersive interview experience
A better grasp of the applicant's psychology and emotional areas apart from technical aspects
Complementary support to existing virtual tests and other assessment alternatives
A deep conversation model that helps both sides to understand each other and assess prospective scenarios in a better way
Location-agnostic and time-zone friendly models
Integration with other HR processes and platforms in a seamless way
A wide berth of options in terms of assessment of skills, aptitude, behavioral aspects, loyalty, integrity, and job-specific parameters
High levels of candidate engagement
A higher pool of candidates with a good ratio of selections because of the depth and precision of interviews
Low candidate drop-off rates
This is an area where the enterprise can access ready-to-play coding assessment platforms that are both mature and agile for the new set of needs. As a result, they can assess skills in potential employees without any patches, roadblocks, sloppiness, and delays, like the Oto_Code platform- that can help you conduct fool-proof coding assessments and select the best tech talent. With Oto_Code you can:
On-board best tech talent with speed and precision
Build the smarter tech team
Use the time advantage of the most advanced tech assessment system
Check code quality, scalability, and performance with absolute accuracy
Evaluate multiple parameters without any extra hassles – candidate's coding capability on code reliability, maintainability, scalability, performance, code quality, and test cases
Test the future potential of the candidate
Get a quick and composite Global Code Verification System or GCVS score for each candidate for filtering or selection
Assess any technical skills, including front-end, back-end technologies, API skills, Databases, Machine Learning, testing frameworks (Selenium), etc.
Auto-generate your assessments
Use a strong and expanding question library with object-oriented programming questions
Request for a customized assessment when one needs to do that for different questions
Tap the precision and depth of Natural Language Processing (NLP) capability for generating a fitting assessment, specific to your job description
Remove bias and opacity from the process
Also include other factors like body language, expressions and actions taken during the test
Combine and empower these assessments with robust video analytics and insightful reports
Enjoy an in-depth analysis along with auto-generated scorecards
Use a tailor-made approach that lets you assess for each candidate as per their ability to code so that you can make quick hiring decisions
Call only the most qualified talent for the interview, saving tons of dev manager's time
Automated and real-time proctoring to maintain integrity and authenticity in the process
4. Non-technical assessment platform
Tap some assessment solutions that can give a recruitment team multiple strengths of precision, pace, fast responsiveness, and simplicity. This can be done for both:
Hard skills assessments – technical areas like product knowledge, industry experience, and an understanding of the tools that are vital to the job.
Soft skills assessment – the human and creative set of skills like patience, ability to think over one's feet, compassion, the ability to empathize with a customer, the ability to negotiate in a challenging situation in a win-win way, and the prowess to soothe a customer no matter what level of frustration one is dealing with.
All this is possible when one opts for a bright and intelligent platform like the Oto_Qualify that packs many features:
Real-time assessments
A comprehensive library of tests and questions
Ability to test many skills
Well-documented and data-driven approaches
AI-enabled tests and assessments
Auto-generation capability for assessments
Automated and accuracy-oriented evaluations
An experience that is engaging and smooth for both the sides 
Bias-free assessments due to the use of data, AI, and machine learning
Natural Language Processing (NLP) capability for generating a fitting assessment, specific to your job description
Tests that can take into account factors like body language, expressions and actions taken during the test
Support from robust video analytics and insightful reports
Assessments that are holistic and tailor-made and not vague or vanilla
The implications of talent acquisition are not the same anymore – not in the new world we are gearing up for. As per PwC insights and recommendations, businesses need to confront some new priorities for ensuring workforce strategy is fit for the future. Chief among them are:
Building trust and purpose
Rebuilding trust and redefining employer brand to attract and retain tomorrow's workforce
Planning for the workforce of the future
Developing dynamic workforce supply/demand models to prepare for the workforce of the future
Creating digital 'talent exchanges'
Embedding human analytics and Maximising the potential of digital 'talent exchanges' to promote a better match between talent 'buyers' and 'sellers'
All these and more need a better and more-poised hiring game-plan than ever. It's better to start injecting analytics, speed, automation, engagement, and intelligence in your hiring models before your desired talent drifts away to other options and pastures. The world is not falling, but it is being reborn. Your hiring strategy needs to do the same.