"To truly unleash the potential of HR, we must get back the 12 hours a week that are lost unnecessarily to endless, mundane tasks." – Jen Stroud, HR evangelist and transformation consultant, ServiceNow
Although the recruitment process is way more advanced than ever, there is still a long list of tasks that are repetitive and managed manually. Such tasks are time-consuming, cumbersome, and affect the overall productivity and recruitment efficiency, impacting the bottom line. This is where a cloud-based workflow management system has a significant role to play.
By transforming the recruitment process into an automated, structured format, a cloud-based workflow management system reduces the complexities and tediousness of manual intervention or even outdated, on-premise software. Thus, you can execute your recruitment process tasks effortlessly and more efficiently.
From recruitment to employee onboarding, and managing performance, cloud-based workflow management systems ensure process accuracy and work speed, reduce errors, save costs, reduce process gaps, and also boost employee morale.
Cloud-based workflow management and recruitment
Recruitment is not just finding talent from the market and hiring them. It's a complex, long-drawn process, deep-rooted in scientific assessment and evaluation of candidates so you can find the best talent for your company.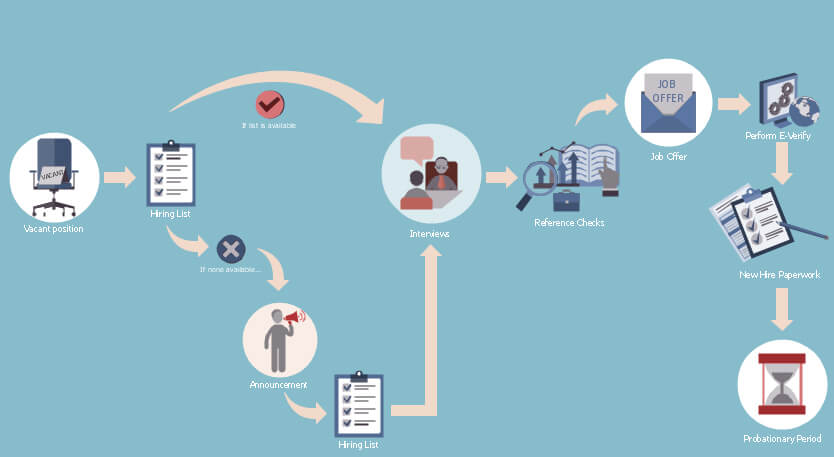 Typical recruitment workflow
See how a well-designed, automated workflow system can enhance your recruitment process results?
Better control and management of data
Imagine the volume of data you handle every day as a recruiter. And the bigger the staff size gets, this volume keeps increasing. Even your standard storage and sorting system falls short. Eventually, with so much data to collate and access, something is bound to get lost at some point. You may lose out on some important candidates and outstanding talent. With a structured, cloud-based system, you can easily organize and access your data. Cloud platforms are more secure and let you access from anywhere, so you have better control over the information you handle. You can also choose who else can retrieve the same, thus keeping confidential information safe. Thus you can streamline the very first step of recruitment.
Seamless collaboration to arrive at the right decision
Hiring a candidate is a team effort and decision. While as a recruiter, you know if the skills are a match, you also need to understand from the other organizational members whether the person is also an excellent cultural fit. From the first stage of scouting talent and getting them on board, you will need to consult your team members, managers, HR leaders, etc. at every step to ensure the chosen candidate is the right fit. Now, imagine manually running from one person to another to get their feedback. It could be quite challenging and may cause unnecessary delays in the hiring process. With a cloud-based workflow management system, you can easily share the information with everyone involved in the decision-making process. Each relevant member can add/edit information, update content, and share thoughts on a common platform, making it a collaborative exercise, wasting no one's time.
Structured onboarding process
Recruitment, as we said before, is not just finding the candidate and offering them employment. You also have to get them on board through a proper process. With an automated and structured system, you can optimize the onboarding process, inform relevant stakeholders, and ensure consistency and accuracy within the HR team. Also, when the new hires see such an organized work environment, it creates a good impression of the organization while motivating them to follow suit. All this eventually culminates into better productivity.
The need for a robust process infrastructure has been a long-standing one for organizations of this generation. More so now, with companies relying heavily on a remote and virtual work set up. Among some business functions, process-heavy ones like HR need a well-structured workflow system to boost recruitment efficiency.