Recruitment is a significant part of any enterprise's success. Here, an organization gets its most vital competitive advantage – a rich and sharp talent pool. But to get to this talent pool, recruiters and talent acquisition heads have to make sure that candidates find it attractive, simple, and worth their time to go through this entire process for that organization. After all, any average recruitment process is full of stages, documentation, assessments, interviews, and post-hiring aspects.
EX – The new dartboard for recruitment
The challenge, then, becomes two-fold. On the one hand, HR teams have to select the brightest candidate as per an enterprise's need and the candidate's long-term potential. But, at the same time, they have to make a complex exercise exciting and engaging for the candidate. Employee engagement is not something to be kept at the back-burner. It all starts with recruitment.
Some recent data from Gallup 2020 engagement meta-analysis show that employees have 12 basic engagement needs, and meeting them can lead to median percentage differences for companies: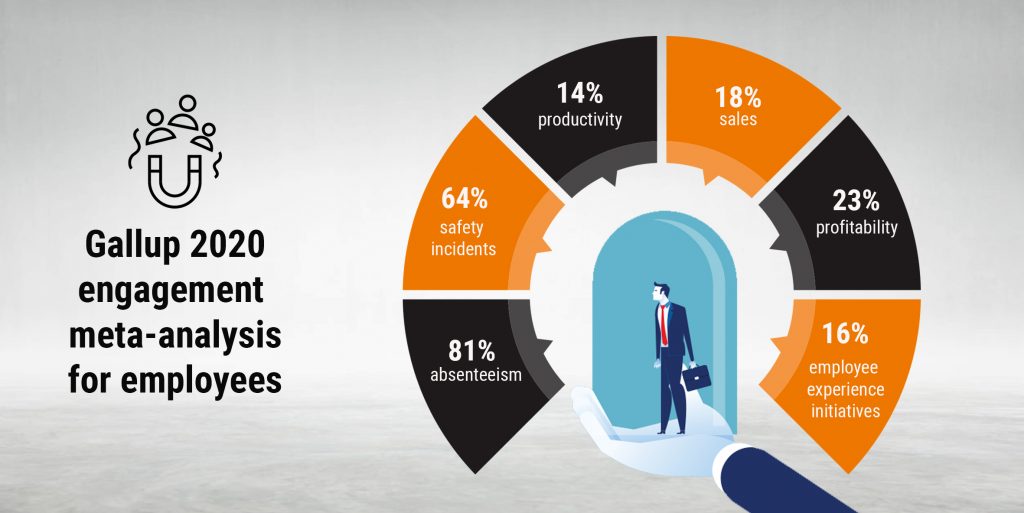 And employee experience is becoming a top priority for organizations. As per some Korn Ferry Research data, more than a third of HR leaders expect employee experience to be the most critical factor in their HR strategy within the next two years. They also expect 16 percent of HR budgets to be directed towards employee experience initiatives.
Enter gamification
This is why gamification has been gaining so much attention lately. Today we find increasing recognition of gamification systems as a method to architect human behavior to induce innovation, productivity, or engagement. With gamification, any tedious and mundane process can be injected with fun, exciting elements, progress checks, rewards, and personalized engagement for a person or a team. This new approach gives a fillip to a time-consuming and flat process like recruitment too. It helps recruiters and talent acquisition heads to:
Reduce boredom and fatigue from the many levels a candidate has to go through.
Add interactions and more opportunities for the candidates to converse and engage with the organization or prospective colleagues and managers. This helps establish connections, elevate a collaborative atmosphere right from the onset and deepen the inclination to join an organization.
Find more avenues of testing skills and competencies through clever games and challenges.
Make the testing closer to a real-life job context through strong simulations.
Strengthen the process with precision, personalization, insights, and context.
Accelerate the process, reports, and action.
Save time, costs, and effort for both sides.
So if you are a business leader hoping to pick the best talent without spending a chunk of your calendar in the processor without tuning out candidates through all the red tape – it's a good idea to try gamification. As a recruiter or talent acquisition head, you can enrich your process with many new insights while adding candidate engagement like never before. Moreover, you can do all this in an automated way which is enabled with artificial intelligence, automation, and cloud capabilities. This makes the gamification choice advantageous from experience and from the angles of cost-savings, time-savings, flexibility, scalability, and customization.
The catch in the game
However, just switching the gamification button will not yield these magical outcomes. One needs a deep and careful choice to be made here. As the Mordor Intelligence report rightly pointed out, there is a growing need to design thoughtful programs, which some companies have failed to consider before taking this approach. There is little doubt that gamification packs the potential to revolutionize the entire recruiting, onboarding, corporate leadership training, and HR compliance, but what is critical to achieving the best results is the aspect of game design. Incidentally, the absence of thoughtful experiences and negligence here is anticipated to result in 80 percent of companies' efforts.
You need a solution that does not sacrifice the fundamental objectives to be achieved in the blur of fun. A solution should help you and the candidates to focus on the skills being tested or on the areas of focus without getting lost in the flurry of who is winning and what rewards one is getting.
Gamification is going to underline the future of recruitment deeply. The new digital age is a place where we interact with our devices and apps in every part of our lives – from booking a cab to paying for the tax to ordering a burger. So we are becoming habitual to simplicity, speed, and engaging environments at every screen we tap and every door we knock at. The same engagement should be echoed when candidates come for interviews and take tests. One of the ways to do that well is through a robust online assessment platform like Oto_Qualify that enriches, and transforms, your recruitment process. Oto_Qualify is an AI-powered non-technical assessment platform that helps you make unbiased decisions, spend valuable time focusing on the right-fit talent, create a great candidate experience and transform your people strategy.
You can change the game. To win here. With gamification.