The aim of human resource management (HRM) is all about dealing with people and providing businesses with the finest human capital available. Because human resource management (HRM) makes a difference in recruiting, employee development and boosting worker skills, technology has become the lifeblood of the new face of HRM. As a result, keeping up with the latest developments in the HR technology area is critical for forward-thinking companies talent acquisition heads and CHROs.
This article narrows down the significant technology developments that are altering how human resource management (HRM) is conducted globally. It also contains a list of top HR software solutions that an organization can employ to build smarter teams, boost efficiency, correct pay, and overall business success. Many organizations now have HR technology solutions that enable users to handle numerous activities, such as recruitment, payroll, benefits, application tracking, learning and development, talent management, etc. Managing these areas effectively has several advantages for the organization, including improving business operations and employee experiences to make them more dedicated and engaged.
The following are the top 5 emerging technologies that are redefining human resource management (HRM).
Artificial intelligence (AI)
Cloud computing  
Big data  
Blockchain 
Virtual reality and augmented reality (AR and VR)
Talent management is a fast-paced process with many last-minute adjustments, requests to track, and positions to fill. Artificial intelligence is being actively used by hiring teams to streamline personnel management. Artificial intelligence is one of the most important human resource technology developments of the future. Most monitoring activities are automated, giving managers more time to plan, strategy, learn, and concentrate on personal growth. AI is also gaining traction in the screening process, where AI recruitment solutions help organizations obtain a significant productivity advantage. Take, for example, talent assessment platforms like Oto_Code and Oto_Qualify. These AI-powered platforms can help you shorten hiring TAT, reduce subjectivity, and increase the team's productivity. Thus, saving tons of resources and building an incredible team. Oto-Code helps in coding assessments which checks code quality, scalability, and performance with absolute accuracy. Whereas, Oto_Qualify helps in non-tech assessments to find the right-fit talent and achieve greater diversity by assessing aptitude, skill, personality, and candidate's potential without biases.
Onboarding is an essential step in increasing the HR team's ability to recall and work effectively. Candidates who go through a well-organized and informed onboarding process are more likely to stay with the company. Recruits may ask various questions, and AI for HR responds to all of them so that workers do not have to do it manually. In addition, artificial intelligence in HR enables procedures to be tailored to the needs of specific workers and their responsibilities to be segregated. AI also keeps track of the company's vital contact information and other essential functions such as legal document verification.
For increased advancement, relevant skill set information depends on their job description. AI in HR technology analyses data and notify the HR team of employees' training needs. This ingenious method boosts employee productivity and brainpower and helps them learn more quickly and efficiently. In addition, they can teach specific programs and skills to employees to self-learn and execute according to the company's needs.
Many businesses nowadays face a gap between the many aspects of human resource management (HRM). Talent managers must rely on several technologies to automate hiring, onboarding, performance review, and payroll. Cloud-based HR technologies assist in improving HR technology accessibility by allowing all team members to access critical workplace data at any time. The advantages of cloud talent management systems as one of the current HR management trends are numerous. They reduce the possibility of human mistakes during data entry and reduce the time it takes to perform day-to-day tasks. In addition, cloud computing encourages dependency and collaboration among the team, thus, saving time and money. Also, in comparison to a distributed toolkit, they are more versatile and easier to upgrade.
Cloud HR software has transformed human resource functions, making them more efficient and generating better outcomes. Less paperwork, higher employee involvement, round-the-clock information access, real-time and accurate evaluations, cheaper and faster solutions, and a better overall sense of workplace security are just a few of the beneficial improvements brought about by cloud-based HR software.
Because of the numerous advantages that cloud computing provides in the HR department, HR professionals must play a crucial role in deciding which technology should be used by their company. Making the proper decision will result in several advantages, while driving the wrong decision will spell disaster for the company. A few critical factors will stay constant regardless of the platform.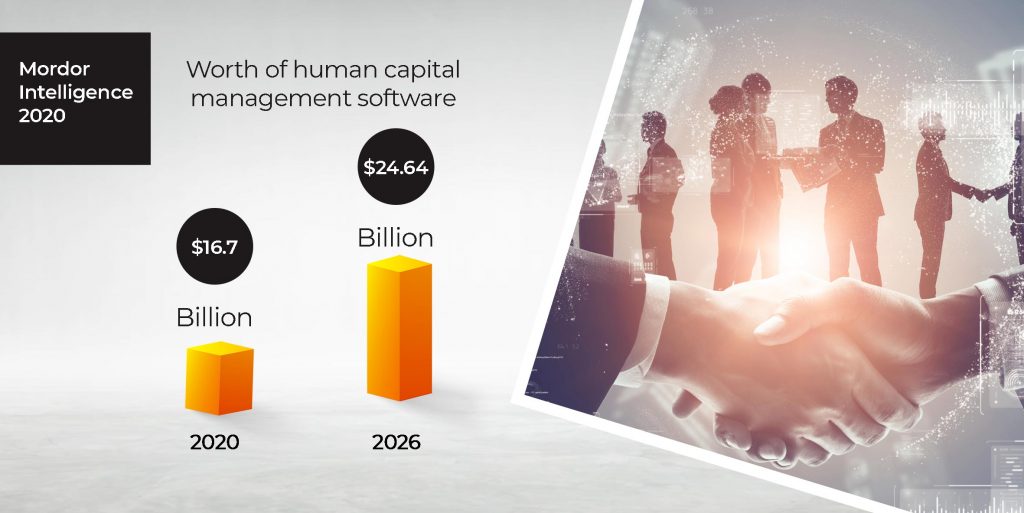 Data has evolved into a powerful tool for enlightening and informing businesses. Organizations deal with a lot of information on their employees' demographics, behaviors, and performance, among other things. Performance management, learning and development, recruiting, incentives, employee engagement and retention, and many more HR areas use data analytics. In addition, workflow and operations are optimized across the organization by centralizing data. Implementing cloud technologies benefits a variety of corporate processes, including product creation, labor management, and business integration. This is why the majority of businesses are moving to cloud-based apps.
Sorting relevant data and analyzing it provides companies with strategic insights resulting in better decision-making. For example, charting and measuring employee performance may assist in analyzing their overall contribution to company objectives and recommending potential career paths that are appropriate for them.
HR managers may use big data to get a fact-based picture of their current workforce and spot upcoming trends. Furthermore, analytics assist recruiters in evaluating potential workers and allowing them to make more informed risk management decisions.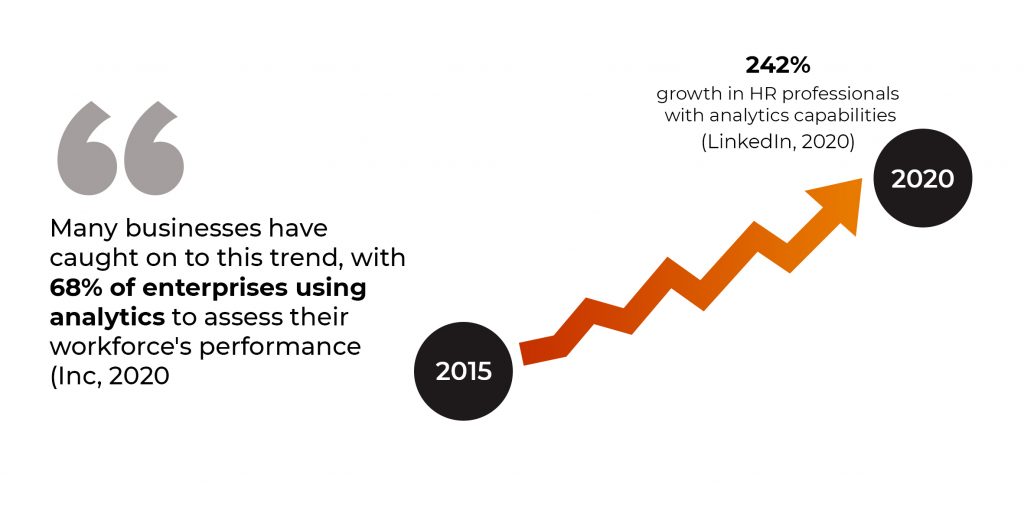 Experts are already banking on blockchain's promise in every industry. According to Gartner research, blockchain will unlock 3.1 trillion dollars in commercial value by 2030. Its primary value propositions of distribution, encryption, and decentralization will provide businesses limitless options for mixing technologies to reap their advantages and rethink how employees, vendors, and businesses connect, communicate, create, and exchange value.
By tokenizing candidates' identities, blockchain is used to conduct background and job history checks, reducing the risk of fraud. Apart from functioning as a database for human resource staff, storing employee data on a blockchain offers the highest level of data privacy and confidentiality. Finally, blockchain is used to execute smart contracts that grant immutable rights and responsibilities as the gig economy grows more prevalent in the post-COVID age. For example, using blockchain to ensure automated payment distribution whenever workers finish their given responsibilities might improve employee satisfaction and retention.
Small firms face a tough time locating and recruiting the proper people, so anything that will assist them in doing it more successfully and efficiently will enhance their production. AI-powered technology Oto_Qualify helps an organization make better, unbiased decisions and spend valuable time focusing on the right-fit talent to transform people's strategy. Other high-potential sectors for blockchain applications include payroll and VAT, where SMEs focus more on servicing customers and developing their operations by minimizing administrative burdens. The first step toward blockchain for multinational firms is to create blockchain-based corporate currencies or "coins" that they can use to move value internationally and deal with their supply chains without the hassle and expense of third-party reconciliation. Central banks would eventually join the party, providing their blockchain-based means of exchange to facilitate conversion into "official" currencies.
Virtual reality and augmented reality both can change the way people interact with the world. Firms use this value proposition to improve their learning and development results by using 360-degree walkthroughs and immersive experiences that imitate real-life scenarios and provide workers a more nuanced grasp of how to deal with them more effectively.
As businesses become more globalized, with subsidiaries based worldwide, virtual reality has the potential to bring people together and enhance cooperation. While existing communication methods can often leave collaborators feeling isolated or dehumanized, virtual or augmented fact allows us to reimagine a collaboration paradigm in which sensory aspects take center stage.
Employer branding is enhanced through virtual and augmented reality. Initiatives like a virtual tour of the company during recruit onboarding assist them in having a better knowledge of the workplace. In addition, employee collaboration is increasing owing to virtual reality, which has enabled the establishment of an interactive conference room where people of the same organization discuss ideas while working in far-flung locations.
Organizations should expect increased productivity, more significant innovation, and, most importantly, a sense of adhesion and strengthened commitment inside the structures by reactivating a sometimes-degraded relationship between the teams. 
Conclusion
Before AI-powered mobile applications and cloud computing, HR was defined by mountains of paperwork and a never-ending battle to stay on top of compliance, hiring, and stacks of employee data. By simplifying activities, HR technology has considerably increased productivity, accuracy, and even employee morale.
As the technology supports human resource management (HRM) functions by simplifying administrative work, a lot of time and resources are saved. This will create a more significant strategic influence on the business.