Finding and recruiting the right talent has become an uphill task.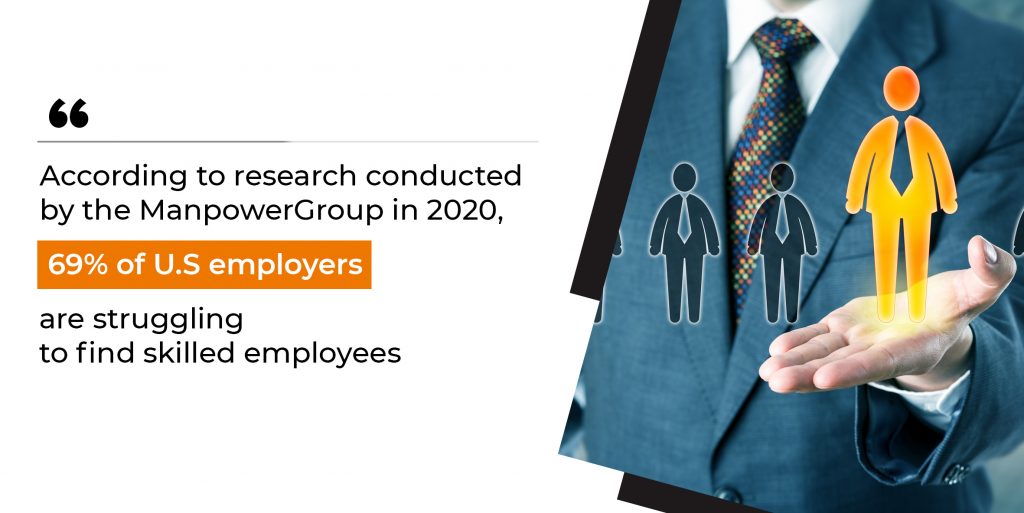 Such reports are not just restricted to the United States. Worldwide, organizations across sectors are struggling to find highly skilled employees. A survey conducted by Los Angeles-based management consulting firm Korn Ferry suggests that by 2030, there will be a shortage of approximately 85 million tech talents. This shortage equals a whopping $8.5 trillion in lost annual revenue. But luckily, these days recruiters and talent acquisition heads can reach out to a wider talent pool spread across different geographical locations. 
These days, talent is not just restricted to a particular national boundary or university. It is present widespread across the globe. With the advent of the digitalization of education in recent years, employees have been able to nurture their skills irrespective of their geographical boundaries. This has enabled organizations to source their employees from a global source pool.
Few organizations still prefer the traditional route of hiring employees – i.e., off-campus recruitment, university interviews, in-house recruitment, word of mouth, and referrals. These methods are not the most effective solutions and productive use of time. An organization needs to be aware of the fact that others organizations, too, are competing to onboard the best talent. But recent technological developments have acted as a catalyst and have empowered recruiters and hiring managers to switch to efficient recruitment methods, i.e., remote hiring.
Remote hiring has several advantages to offer. Here are a few top ones. 
1. Reduced overhead costs: Reduced overhead costs help both – the organization and the employees. Organizations can better manage their budgets which in turn helps them to offer competitive salaries and benefits to their new employees. This creates a win-win situation for both the stakeholders.
2. Sourcing talent irrespective of geographical boundaries: Hiring remotely offers talent acquisition managers a broader pool to recruit employees. In addition, selecting talent from other nation-states and geographies provides them an advantage against organizations who prefer scouting for talent from their local area. This results in organizations competing with each other for the limited talent in an area.
3. Higher productivity: For recruiters and hiring managers, visiting multiple campuses to scout talent may have some advantages. But it comes at the cost of reduced productivity and a considerable wattage of time and resources. Remote hiring via advanced video interviews platforms is a scalable and highly effective method of recruitment that enables higher productivity and time and cost savings.
Though remote hiring is efficient, saves time and resources, sclable, and increases the company's productivity manifolds, it has its own set of challenges to deal with. Here are some of the top challenges. 
1. Large number of applicants: Remote hiring enables recruiters to hand-pick skilled employees from a bigger talent pool. This entire process can be cumbersome for recruiters and a huge drain on their attention. They have to go through several applications and ensure that the process is fast, objective and impartial for recruitment to be effective. To address this challenge, recruiters and hiring managers are engaging and recruiting talent better and faster than ever before with advanced video interviewing platforms like Oto_Video. The platform is helping them gauge technical skills, soft skills, body language, and culture fit early in the process, reduce time and resources spent on interviewing by up to 70% and accelerate the process by almost 80%.
2. Varying time zones: Remote hiring enables recruiters to recruit talent across varying geographical locations. It helps hire the best talent but comes with its challenges. Due to varying time zones, it often becomes difficult for hiring managers and candidates to sync at the same time. Therefore, it becomes essential that asynchronous recruitment methods are available to the recruiters. Asynchronous video interviews can be leveraged by using platforms such as Oto_Video. The asynchronous interview helps the candidates answer pre-loaded on-screen questions and share a recording of their responses with the recruiters.
3. Evaluating the interview process: Feedback is an integral part of any remote-hiring recruitment and skill assessment process. It becomes even more important when the process is spread across multiple roles, departments, locations, and time zones. Without the right technology, recruitment becomes time-intensive and lacks the feedback to make the entire process objective. Using video interview platforms like Oto_Video, recruiters can download and analyze interview reports online. They can even record the entire interview, which allows them to get feedback on the recruitment process at their own time and convenience.
4. Difficult with skill-assessment: Organizations look for candidates with specialized knowledge. However, evaluating such skills in an unbiased and impartial manner without systems and processes becomes challenging. Using video interviews, companies can conduct live interviews wherein the candidates can be gauged on their tech skills simultaneously. Such platforms help recruiters check the candidate's coding skills and get instant digitized feedback on their skills. Video interview platforms like Oto_Video offer features such as a discussion room, whiteboard, and in-built code editor to help organizations with tech and non-tech recruitment and skill assessment.
5. Recruiting the 'real' talent: Impersonation is a widespread phenomenon in the recruitment process. This is every recruiter's nightmare. Using advanced AI-driven video interview platforms like Oto_Video, recruiters can make their entire remote hiring process foolproof. The AI-powered ID verification ensures the recruitee's authenticity.
Conclusion
The demand for talent is increasing at an unprecedented rate. To keep up with the demand, recruiters have to embrace engaging and efficient recruitment and skill assessment methods, such as remote hiring via video interviews. Though remote hiring has its own set of challenges to deal with, advanced video interviewing platforms such as Oto_Video can help overcome these challenges and supercharge the entire hiring process.