Though most of us were initially exposed to Virtual Reality (VR) and Augmented Reality (AR) as gaming technology, their applications are rapidly developing. Immersive technologies are already being studied and tested in various industries and applications. Unsurprisingly, the market size worldwide is skyrocketing.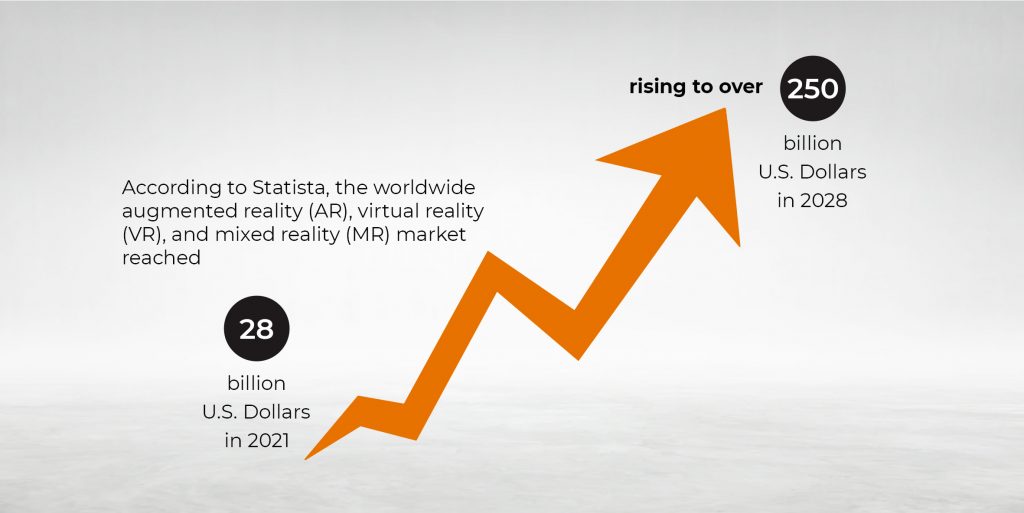 While both VR and AR are forms of extended reality, VR immerses the user in a digital environment, while AR casts a digital overlay onto the actual world. Therefore, virtual reality (VR) and augmented reality (AR) are interchangeably used. Users view the real environment, but a computer adds virtual features.
We are only beginning to realize the potential of VR and AR in the realm of recruiting. For example, they might be used to boost recruiting by assisting organizations in attracting and engaging individuals and possibly aiding better hiring decisions. 
What is VR and AR recruitment?
Virtual reality (VR) and augmented reality (AR) are two of the most talked-about technology developments. These two technologies are now used in the recruitment process and represent extended reality. Finding the appropriate candidate with the proper abilities who is a good fit for the role is essential for a successful recruitment process. This multi-step process entails revising multiple resumes and CVs, conducting job interviews, and ultimately choosing the strongest candidate and providing them with the necessary information to begin working. VR and AR can help create a more engaging and immersive process and can be used to streamline the recruitment process, create virtual workplace tours, and onboard and train the candidates.
Advantages of using VR and AR in recruitment
Organizations have been developing virtual reality experiences to aid their recruitment efforts over the past few years. As companies find new and exciting methods to utilize this approach to finding talent, it is predicted to expand in popularity.
Streamline recruitment: HR managers and staff may use virtual reality to improve the recruiting process by interviewing more prospects, even those who are stationed elsewhere. Furthermore, candidates may use VR to explore the workplace and take an official tour to learn more about the profession's requirements. As a result, HR managers can connect with them more effectively in a simulated environment. Simultaneously, virtual reality helps managers conduct more interviews without wasting business resources.
Use of gamification: Gamification is a virtual tool that aids in the search for the ideal match. It's a terrific approach to eliminate the application forms and replace them with games to measure skills. As a result, the relevant candidates may not lose interest and show effort and commitment. In return, the HR professionals can gauge actual skills and abilities while increasing the chances of recruiting able candidates.
Immersive experiences: HR managers may utilize virtual reality to build an immersive and powerful evaluation after screening applications, allowing them to choose the best candidate. When combined with artificial intelligence, different HR virtual reality solutions may produce a realistic worksite experience that helps new workers experience the job's genuine nature without squandering corporate resources, exposing themselves to risk, or exposing the firm to litigation.
Applicant assessments: Recruiters can view and analyze the genuine potential of applicants without having to rely on false resumes when using virtual reality in recruiting. Recruiters can examine how applicants would perform in various scenarios, independent of what is listed on their CVs. Talent trials and exams reveal which candidates are qualified for the position and which are not, allowing recruiters to make the best selection possible. At the same time, new hires may not be well-trained for the position, putting them in jeopardy if they make a mistake.
Training and onboarding: A new employee must have the greatest onboarding experience possible. This may be accomplished by using virtual reality. New workers can virtually experience the company's rules. Instead of figuring it out for themselves, individuals may truly investigate and experience the organization's principles, ethics, and culture. In addition, VR may be utilized to develop a virtual training program once an application has been authorized. Virtual reality simulations in a safe setting are the ideal training tool for new workers to learn the nature of their jobs without putting themselves at risk or wasting business resources. It's also a fascinating instructional tool that allows employees to get a feel for every facet of the job in a stress-free setting.
Office tours: Using virtual reality to demonstrate what it's like to work for the firm gives potential employees a personalized and free-flowing approach to learning more about an organization. It is safe to consider that VR and AR are popular methods of building brand identity. In addition, new candidates would want to work for a firm that uses cutting-edge technology. As a result, recruiters may utilize this technology to amaze fresh talent and entice the best-qualified prospects to join the team. 
Recruitment is evolving, and virtual reality (VR) with augmented reality (AR) are two advanced technologies that appear more crucial than ever in this space. So take your hiring to the next level with quicker adoption.