Cloud technology has been here for more than a decade now. Today, almost every company and industry are leveraging next-gen cloud technologies to scale day-to-day functions and accelerate business growth swiftly. In this scenario, it is impossible to avoid technology in the HR domain.
HR and recruitment are not merely a back-office function. Cloud HR software is changing the world of HR departments by making it super-efficient and offering better results. Now, the HR function works round-the-clock, enabling easy access to information and insights, real-time assessments, faster hiring, digital leave management, remote onboarding, etc. 
What is cloud computing?
Simply put, cloud computing is the power of delivering multiple computing services like software, storage database, networking, servers, analytics, and intelligence over the cloud (internet). Cloud computing aims to offer flexible resources, economies of scale, run infrastructure more efficiently, and reduce operating costs.
Most businesses are moving towards digital transformation after the recent pandemic outbreak because it has indicated the importance of cloud infrastructure, applications, and data storage systems. According to Gartner, over half of spending across application software, system infrastructure, and business process services will shift to the cloud by 2025. It also estimates that two-thirds of the IT spending will be on cloud computing, up from 57.7% in 2022.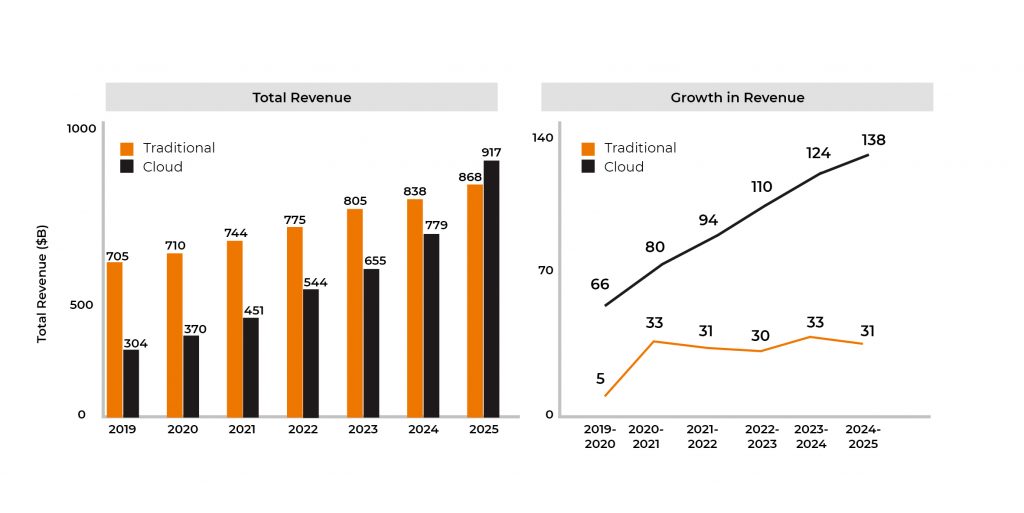 Benefits of cloud computing in HR
Recruitment: Providing top recruitment experience for candidates and talent acquisition teams is one of the top priorities for HR professionals today. Imagine a virtual series of file cabinets with categorized information based on specific needs. These files and documents can be easily retrieved, updated, and shared with proper recording and time-stamping process. Isn't it amazing? Cloud computing promises you the same. Further, it helps to conduct remote assessments and scale your hiring quickly. Take, for example, skill assessment platforms. With cloud-based coding assessment platforms like Oto-Code and non-technical skill assessment platforms like Oto-Qualify, the entire screening process can be streamlined. Such AI-powered cloud-based platforms help you make intelligent hiring decisions without hassles and bias and enable hiring at scale.

Innovation: With cloud computing, access to innovation is much easier. Unlike on-premise software, cloud infrastructure does not demand the presence of software developers and service representatives. Since the cloud is accessible anytime and anywhere, employees can quickly share ideas within the cloud community. Moreover, cloud HR software can stay ahead of the technology trends. It is more convenient to adapt and update new solutions like recruitment, payroll, training and development, talent management, etc.

Automation: On average, each corporate job opening attracts 250 résumes, says a Glassdoor report. There is a lot of pain in screening and recruiting the best fit from the lot. Without any surprise, the HR department is loaded with a lot of data, and every minute, the data is increasing with the activities like candidate applications, payroll, talent management, and more. While the task of collecting, organizing, and retrieving the data was completely manual in the past, cloud computing has changed the scenario. Whether it is about storing the candidate applications, screening resumes, messaging shortlisted candidates, scheduling interviews, or onboarding employees, the cloud-based HR platforms help in automating the entire process and makes it much easier and better for the HR department.
Compliance: The right information at the right time to the right user is very important in organizations. No matter what information is required, it is essential to have access in just a few clicks. With cloud-based HR software, all the data of employees can be stored in a centralized location without any requirement of a filing system. Further, moving to a cloud can help HR professionals to check the relevance of the staff information and also mitigate process compliance-related concerns. An integrated solution can strengthen your process compliance management and generate comprehensive reports at specific intervals.

Data security: Technology cannot exist without good security. Since most of the information is stored digitally, it is important to rethink the security of the data. The data stored in the HR department is highly confidential and needs to be managed with all the security measures. With a cloud-based HR solution, the security measures are already embedded in the cloud technology and protect the information properly. The cloud HR software safeguards the information with stringent data security policies along with the general data protection policy (GDPR) compliance.

Training: Implementing regular training and development programs is a lengthy process for HR departments, but at the same time, it is essential to keep employees in sync with the latest trends and technologies. While most companies outsource training and development requirements or shift to e-learning methods, the need for in-person training has already passed. The digital training and development solutions have also eliminated the hassles of manual training for every new employee. The modern cloud-based skill assessment and video interview platforms like Oto_Video and a central repository of training material in different media formats in the cloud can take your digital training and learning processes to the next level. 
Conclusion
Cloud computing in HR has tremendous scope to increase business efficiency and security. Considering the benefits, it makes a lot of sense to leverage cloud computing in HR operations. While it helps in providing a holistic view of HR functions, access to readily available data, making intelligent decisions, and much more.