Artificial intelligence (AI) has transformed business processes drastically. Whether it is shopping or searching online, using Alexa or Siri, most of us have knowingly or unknowingly experienced the power of artificial intelligence (AI) in some or the other way. The role of AI began with a rule-based automation system, and now it can simulate human interactions.
What is AI?
Artificial intelligence (AI) refers to the machine's capabilities to learn, understand, and make decisions, like a human brain. In a nutshell, AI combines robust datasets and computer science to enable problem-solving in multiple domains. AI-powered technologies are used in businesses to identify, select and train the best talent, improve customer experience, streamline business processes, increase productivity, boost revenue, and drive business growth. Some of the ways companies are leveraging artificial intelligence (AI) are:
Helpdesk chatbots for customer service
Facial recognition technologies 
Smart personal assistants like Alexa
Personalized recommendations on platforms like Netflix
Improving business operations
Delighting customers with smart devices and more
Let us understand the growing importance of AI in today's business landscape.
AI adoption is growing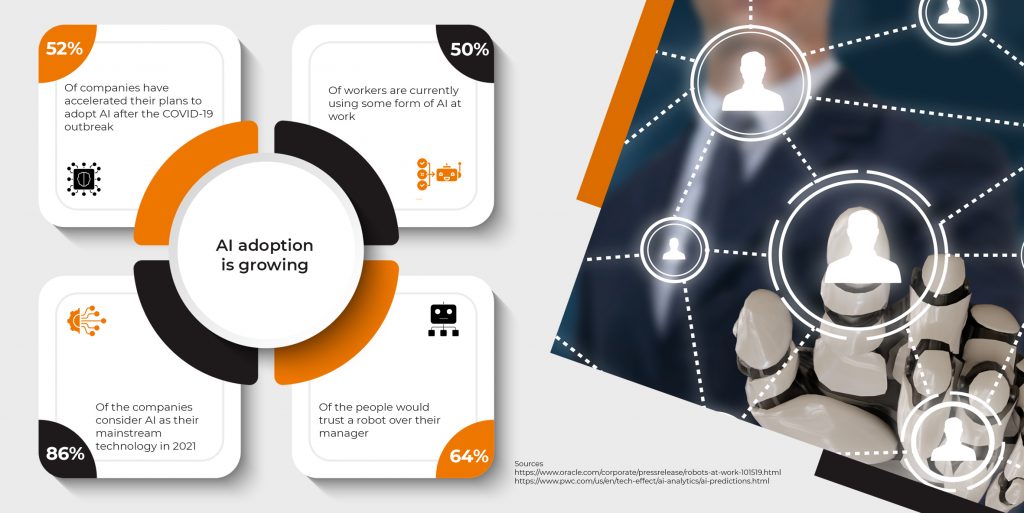 Businesses worldwide have already acknowledged the mettle of artificial intelligence to streamline and automate their business processes. As companies rapidly adopt AI, human resources are at the center stage of this revolution. From industry leaders like OYO to startup companies like Lendingkart, HR technology is helping companies in reducing costs, improving efficiency and productivity, and aiding in learning and development. All thanks to artificial intelligence, HR departments can now take on dynamic business challenges and enhance operational capacity to influence the bottom line of the business positively. 
How is AI reinventing HR?
Candidate screening: AI technology helps screen potential candidates by gathering the necessary candidate information, asking for preliminary information, and assessing the candidate before conducting the HR interview. AI also helps respond to the candidate's queries, fill out the application, assess candidates in record time, and ultimately screen candidates efficiently. Take, for example, talent assessment platforms like Oto_Code and Oto_Qualify. These AI-powered platforms can help you shorten hiring TAT, reduce subjectivity, and increase the team's productivity. Thus, saving tons of resources and building an incredible team. Oto-Code helps in coding assessments which checks code quality, scalability, and performance with absolute accuracy. Whereas, Oto_Qualify helps in non-tech assessments to find the right-fit talent and achieve greater diversity by assessing aptitude, skill, personality, and candidate's potential without biases.
Employee onboarding: The onboarding process is a crucial aspect of the employee experience. Although employees possess cognitive intelligence, they still need to adapt to the new company culture and work environment. The engaging AI chatbots can ease this manual process, answer repetitive questions, and save a lot of time for HR staff.
Employee training: AI helps identify the skill gaps and develop efficient programs to train employees based on their specific needs. AI tools have revolutionized training by capturing and analyzing staff analytics. It helps identify possible bottlenecks, determine the needs of employees, and offers seamless learning and development experience with the help of AI chatbots. Take, for example, Otomeyt's talent development services. It provides an integrated training platform with proven learning methodologies to improve the effectiveness of your skilling and upskilling initiatives and future-proof your organization's workforce. From Bootcamp skilling to expert skilling, it uses AI-powered platforms to assess, train and interview candidates/employees.
Automation: There are endless administrative tasks in the HR department that consume a lot of time of HR staff. Tasks like email follow-ups, documents, compliance management, payroll management, and performance analysis can be cumbersome. Thanks to AI, most of these laborious tasks can be automated and accurately performed.
Decision-making: AI can help HR professionals tackle daily decision-making with ease. For example, it is challenging to analyze thousands of leave applications. But AI can handle a huge chunk of the data, analyze the requests based on leaves history, and make smart decisions. It can help you identify and select the right candidate using data and build effective teams. For example, platforms like Oto_Code, Oto_Qualify, and Oto_video provide powerful insights about a candidate that can help you make your hiring decisions faster and better.
Employee benefits: AI is extremely helpful in managing employee benefits and implementing the related process. Most companies are leveraging AI to understand the interest of employees, facilitate communication between teams, feed chatbots with frequently asked questions with answers, and gather employee feedback to analyze employee benefits.
Workforce forecasting: Employee turnover is one of the biggest challenges for HR professionals as it is challenging to retain the workforce in the modern business world. AI can help to retain employees by analyzing employee engagement and performance levels constantly. This allows companies to forecast the employees who are at risk of leaving and taking the required corrective actions.
Virtual interviews: AI-powered online video interviewing platform cuts the time and cost and helps you assess candidates' soft skills, motivation, proficiency, and expertise in a single step. It can take your remote interviewing altogether to a different level. Take, for example, Oto_Video. It can help you conduct synchronous or asynchronous interviews with ease. It lets the candidates take interviews from any device, anytime, from anywhere. You can conduct group discussions and personal interviews at scale. Further, the platform comes with inbuilt features like live coding, whiteboarding, screen sharing, and digitized feedback during the interviews. 
Wrapping up
Today, digital transformation, adoption of disruptive technology, and data analysis have become extremely common in every department and industry. But the HR department has always been hesitant when it comes to digitization. But the adoption of AI is now inevitable. With the evolving job market, AI-based HR solutions can help increase employee productivity, enhance job performance, streamline, and automate repetitive tasks. It will help the HR team to focus on more critical tasks like strategic decision making, nurturing talents, launching innovative campaigns, and more. So don't wait to take your first step towards new-age HR powered by AI.