Plug in the right technology and enjoy the beautiful transformation of your campus recruitment impact.
The paradox of the box – do you know it? Well, many workplace activities – from brainstorming, team-building, appraisals, and Boardroom discussions to fresh hiring – have shrunk into that small box that the pandemic made us adapt to. We became used to doing meetings- both random and crucial- on a screen. Like many other business functions, HR, too, adjusted itself to the imperatives of the remote way of working.
And yet, despite its many advantages, this screen had its flip side too. Hiring through a box comes with several struggles and setbacks. First, you can see only so much when doing a virtual interview. You can build a limit to the engagement on a platform that connects a candidate and a recruiter – both sitting miles away from each other. Additionally, there are issues of wasted time, inaccuracy, vague assessments, inadequate evaluation data, latencies, disconnect, disorientation, and poor immersion.
Hiring from the box – saves time, but can it also bring in the right candidate with better engagement and speed – especially in a high-volume, less-time, high-stake scenario like a campus placement drive?
Does the answer lie in the technology you choose to deploy the power of technology for your campus recruitment process? And in – how do you deploy it?
What to look for?
As a talent acquisition head or a recruiter, your primary goal with any recruitment exercise is to pick the best talent – at the right budget, at the right expense of time, and faster than the competition does. For this to happen, especially with tech roles, one has to be armed with a robust solution. A recruiter needs a solution that marries simplicity with precision and leads it all to an ever-lasting impact.
Like a tech assessment platform that can help you approach a candidate with the right questions and garner assessment accuracy. Something that can create a test with predefined MCQs, programming, and subjective questions, for instance. Something that can pick questions from a massive library or collaborate with your project or IT team to fine-tune questions.
Not just that, a good solution will also help you get speed and accuracy in the other areas of non-tech assessment. With tools and features that reduce time and elevate precision, you would be able to assess non-technical skills with ease. All this has to be done while also saving valuable time and without any propensity towards bias. A solid solution helps recruiters to make unbiased hiring decisions and avoid expensive mis-hires. This allows recruiters to transform the people strategy while also bringing in greater diversity by assessing aptitude, skill, personality, and potential without biases.
Through non-technical assessment platforms like Oto_Qualify, recruiters can then evaluate the candidates in various domains like English Communication, Qualitative Aptitude, Logical Reasoning, Capital Markets, Investment Banking, and more through Multiple Choice Questions (MCQs) and subjective-based questions. Recruiters can assess freshers or experienced candidates remotely and leverage robust features like live intelligent remote proctoring, customized assessments, automatic test creation, mobile assessments, and flexibility to choose from hundreds of tests for several different job roles.
Video interviewing platforms like Oto_Video have the ability to enrich the quality and results of your campus hiring video interviews. This means high engagement- but enriched with the ability to assess a person holistically, without leaving vital signs in the shadows. Such platforms can integrate analytics and reporting well with these video tools so that your decision-making gets fast, actionable, and powered with deep insights.
Campus hiring- the emerging tech playground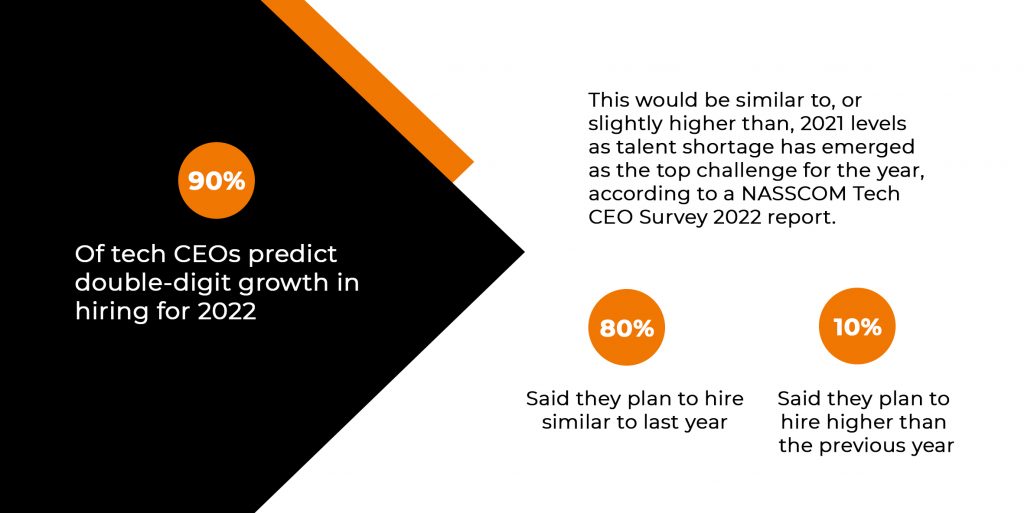 This is a verdict from 130 CEOs belonging to large, medium, and small IT firms, GCCs, and start-ups. Most organizations here were Indian companies, followed by GCCs and MNCs. The industry is already amid a considerable talent war and records attrition, especially in the tech and digital fields.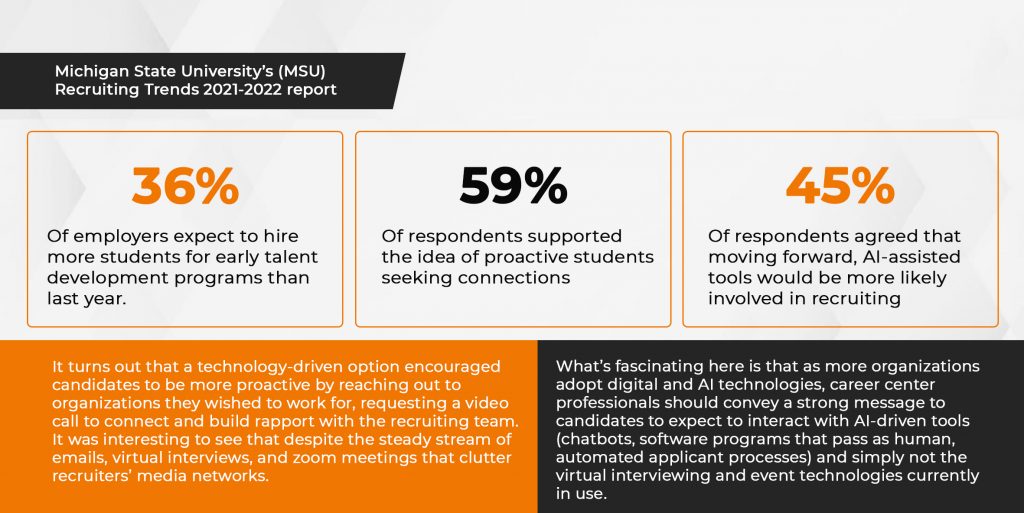 An old rule in college recruiting is that it takes seven interviews (based upon a full on-campus interview schedule) per offer.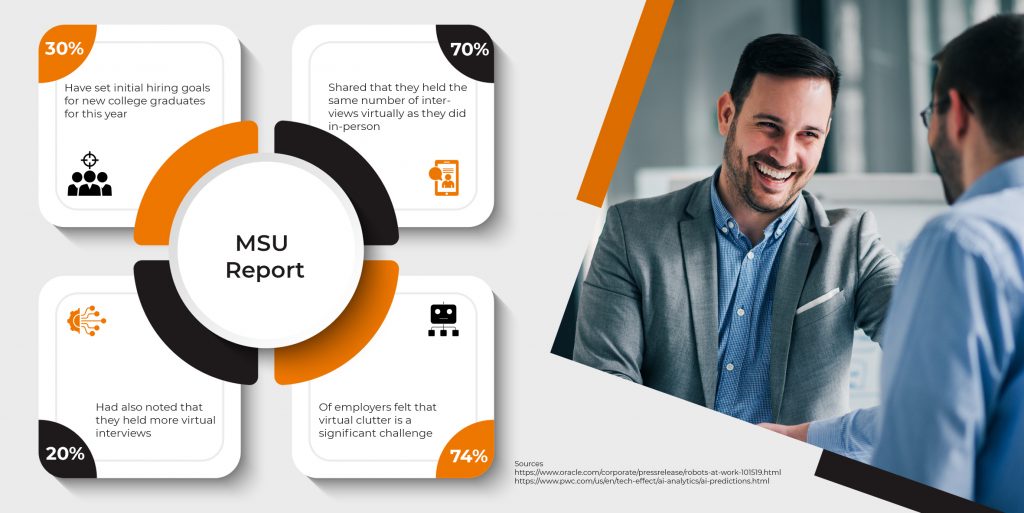 What's worth noting is that student awareness of the digital environment (appropriate background, minimal distractions, appearance) is a significant issue that can interrupt the efficacy of a virtual interview.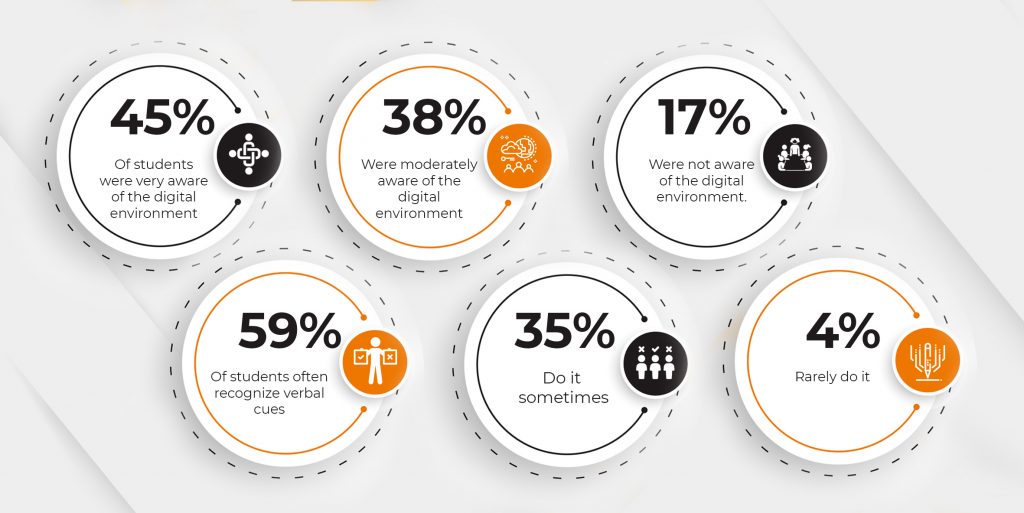 That means that a good campus recruitment process should be aware of the possibilities and expectations of a virtual platform for effective campus hiring. Then, choose a technology platform that does much more than ticking the 'virtual' box. It should also help you get faster, deeper, better, and closer to the exact candidate that your organization needs.
Pick the platform that does it all. Think out of the box.