Finding quality, fresh talent through campus placement drives has become challenging for recruiters and talent acquisition heads. They have to visit multiple campuses at various locations and choose a handful of the best candidates out of many. In the process, they incur massive expenses and loss of precious time. Further, several recruiters fail to minimize recruitment bias or enhance the candidate experience.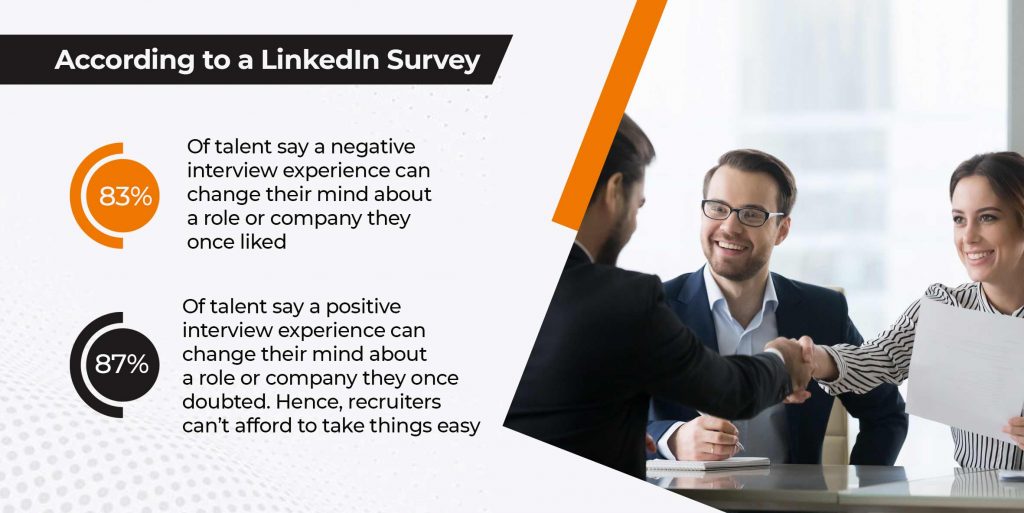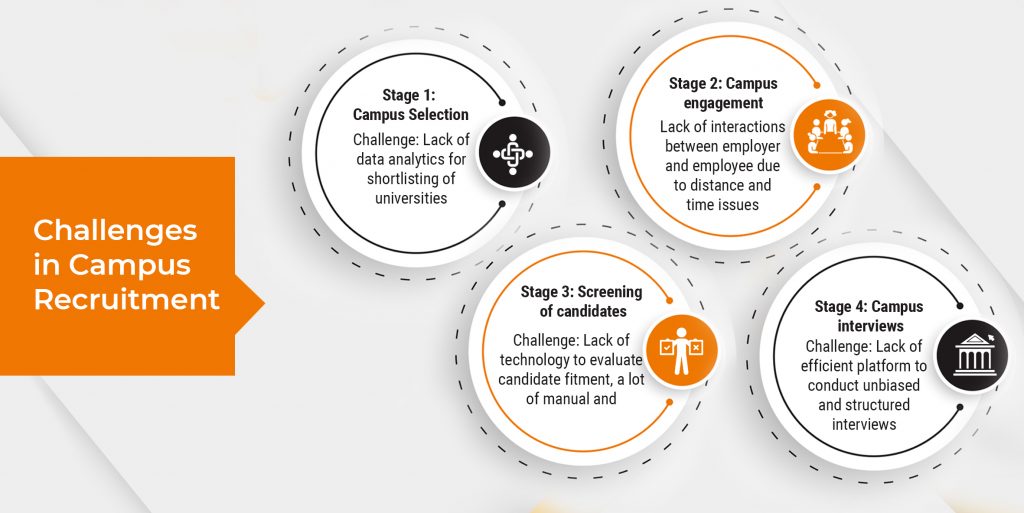 Thanks to 360-degree virtual campus recruitment solutions, all these aspects are about to change, and recruiters can now accelerate their campus placement drives to find top talent from campus swiftly.
Virtual campus recruitment has become the new normal
As organizations are responding to many immediate changes to adjust to the new normal, it is also time to change the campus hiring activities. To bring such change, virtual campus hiring solutions have become a one-stop solution for several recruiters. Such solutions are not only helpful for the organization but are the most preferred choice for job seekers as well. In addition, Gen Z workers expect their employers to embrace the latest technologies for recruitment, training, and routine work. Hence virtual campus recruitment solutions have become a new normal in hiring. 
How does a 360-degree virtual campus recruitment solution help?
According to research, over 70% of universities do not plan career fairs in the upcoming years. In addition, after the COVID-19 pandemic, campus recruitments are not likely to go back to their conventional processes. So, it is time for recruiters to consider virtual solutions to solve the branding, technology, quality, and diversity issues caused by the crisis.
Take a look at how an all-in-one solution can help you solve the most pressing challenges of campus hiring:
Sourcing of candidates: Due to intensive travel, shortage of time, and social distancing norms, it is getting impossible to visit campuses to meet and connect with candidates. Career fairs, diversity development programs, and super days are almost gone. Today, the sourcing and mapping of candidates are expected to get done quickly without moving to any other place. With the right technology platforms, you can find the right talent and achieve greater diversity by assessing technical and non-technical skills, aptitude, and personality without bias. It helps you to evaluate the candidates remotely with customized assessments, automatic test creation, online proctoring, and flexibility to choose from hundreds of tests for varied job roles.
Virtual talent assessment: Employing talent assessments such as behavioral, aptitude, and personality tests have always been challenging for organizations as it is a very time and effort-consuming process. But at the same time, this process is critical in understanding the candidate's core technical skills and cultural fitment. The modern digital platforms help evaluate the candidates' technical and non-technical skills. It also enables you to customize the assessments based on job requirements. It is a straightforward process to set the test, send it to candidates, collate data, measure results, and attain better visibility for each candidate.
Conducting video interviews: Hiring the best candidates from the campus is full of challenges like skill shortage, wrong job fitment, etc. In addition, the lack of time in today's fast-paced world makes it challenging to conduct offline interviews. It takes time, effort, and money to arrange the interview process, especially for campus drives. The online video interview platform can be a great solution to connect with the best candidates and scoop them up before the competition. It helps expedite the recruitment process, conducting the first screening faster with on-demand interviews, gauging the soft skills, cultural fit, and body language, and reducing the time and cost spent on interviews. What more? – You can leverage the inbuilt features like live coding, whiteboarding, screen sharing, and digitized feedback during the interviews for cutting-edge assessments. 
Get started with virtual campus hiring now
If you are still stuck with the conventional campus recruitment method and facing the above challenges as a campus recruiter, get started with a full-fledged recruitment solution to combat to attract and engage fresh talent. Choosing a virtual campus recruitment solution can help you build a strong brand, engage with potential candidates, provide opportunities to attract top talent, conduct technical and non-technical assessments, manage the online recruitment process, and much more. Start your free trial to leverage an all-in-one campus recruitment solution to improve your hiring process and future-proof your business.