Why are companies looking towards technology to add speed, relevance, involvement, and candidate impact in their campus placement drives? And how?
After being uprooted, shaken, and rebuilt most greatly during the pandemic, the world of talent management is now trying to find new bearings in a somewhat stabilized atmosphere. Yes, hiring has started to pick up well. And yes, there is enough demand and supply for new campus hiring. But there are a lot of challenges that both recruiters and fresh candidates deal with as they try to reorient themselves to some new-world realities.
Campus hiring is up. But so are the challenges around it.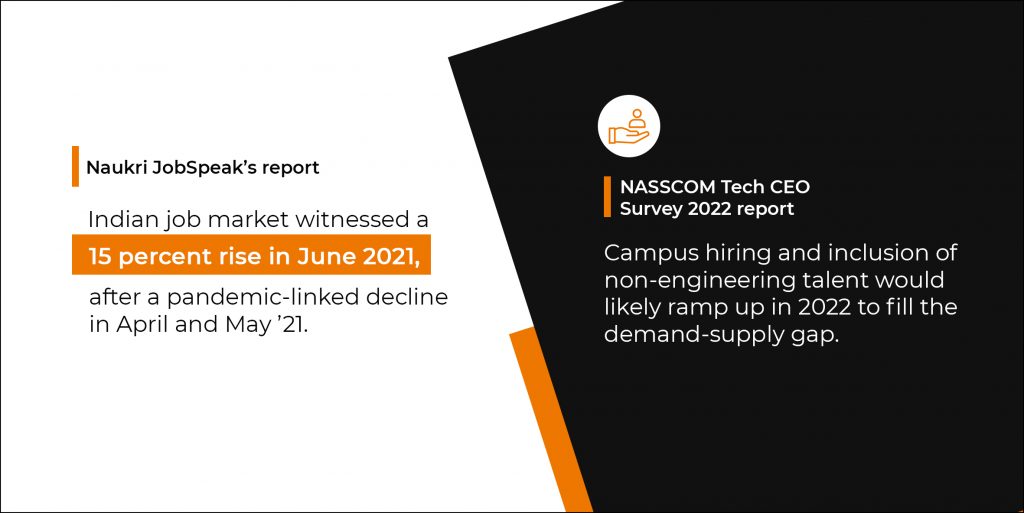 Similarly, a Michigan State University's (MSU) Recruiting Trends 2021-2022 survey shows that Associate and bachelor hiring benefits by double-digit growth,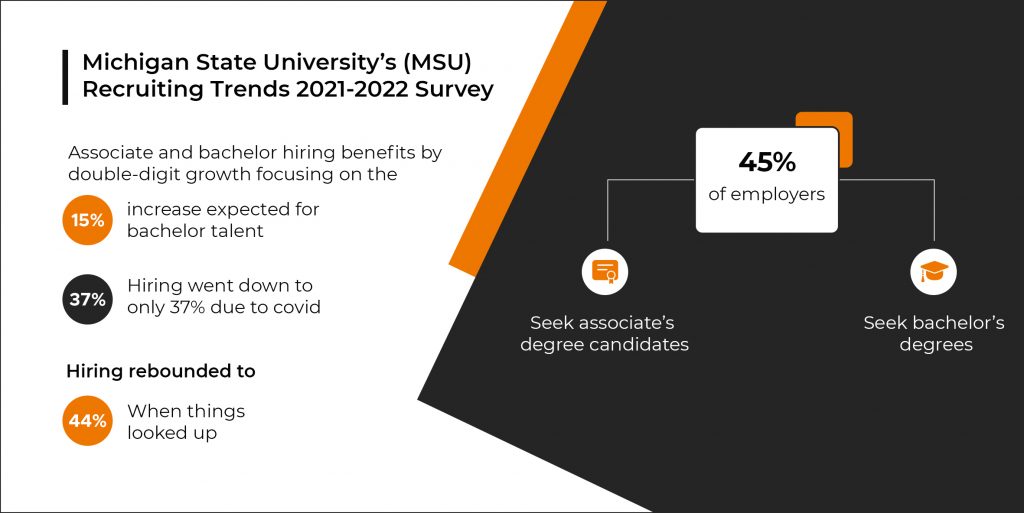 So that sounds nice, doesn't it! So, we are back to the campus's happy, anticipation-packed, thrilling air as recruiters flock again for campus recruitment!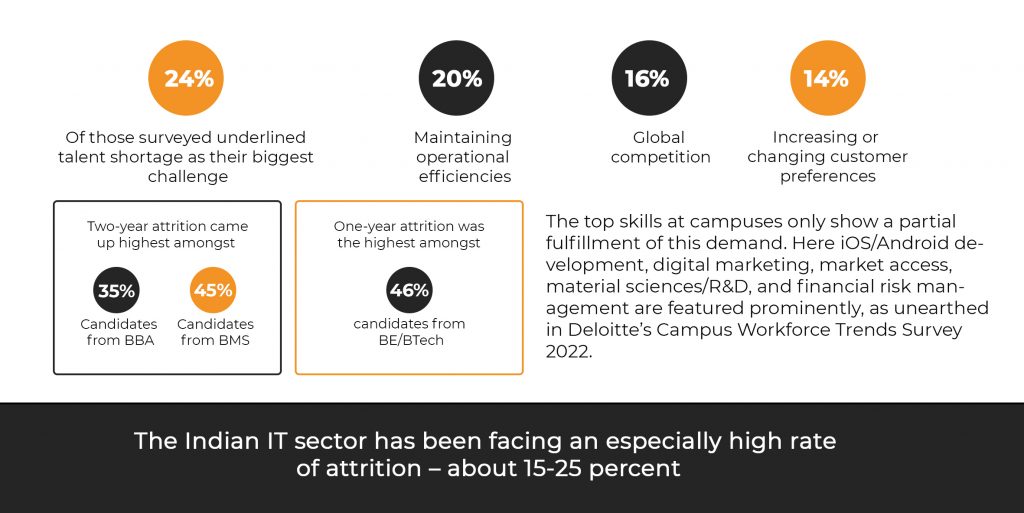 Isn't that worrisome?
The missing piece- and a call for technology
Talent acquisition heads and recruiters are struggling to hire fast, hire the exact candidate it needs and hire efficiently. Especially as people have become used to a different way of living, studying, and working during the pandemic. That means they would need help from advanced technologies that can endow them with speed while reducing all the digital clutter that can mess with the core intent of good campus recruitment.
Thankfully, the campus recruitment process is no longer helpless in front of gaps, delays, or ineffective efforts. Today, advanced virtual platforms are tremendously helping recruiters across multiple dimensions. They are enabling them to make their strategy sharp and effective. With the new-age sophistication of technology that these platforms provide, recruiters can overcome campus recruitment challenges across several college campuses spread across different geographical locations.
Interestingly, recruiters are using technology for tech assessment and non-tech evaluation.
For instance, with platforms like Oto_Code that leverage AI, recruiters can evaluate programming skills faster and better than ever.
In addition, they can do cognitive testing with platforms such as Oto_Qualify without sacrificing speed or accuracy.
Such platforms improve engagement, get deeper candidate insights, and achieve holistic assessments. In addition, such well-packed solutions can help to assess a candidate using a person's body language, expressions, and actions during the test and minimize personal bias during tech assessments.
They also bring in redefined MCQs, programming, and subjective questions. There is also the feature of dynamic testing, where one can take a coding assessment to the next level. Here, an AI-powered feature generates new questions with different difficulty levels in real-time. All this brings extraordinary insight into the candidates' existing coding capabilities and ability to acquire skills or knowledge during the evaluation.
Talent acquisition managers and recruiters can evaluate the candidate's coding capability on code reliability, maintainability, scalability, performance, code quality, and test cases. They can also avail of a Global Code Verification System (GCVS) score for each candidate for filtering or selection and test their future potential.
Such digital platforms empower talent acquisition managers and recruiters to assess any technical skill, including front-end, back-end technologies, API skills, Databases, Machine Learning, testing frameworks (Selenium), and many more such areas. They can also add personalization here. A good solution is also packed with Natural Language Processing (NLP) powered features to create a fair assessment specific to the job description.
As the MSU study unfolded – the number of virtual interviews per job offered extended compared to the number of in-person interviews – about seven interviews per offer. In an era where we got used to Zoom boxes for our work, meetings, and study groups – one cannot dismiss the need for using innovative technology to augment video recruitment. Here one can gain powerful video analytics and insights to make an in-depth analysis and onboard the best tech talent. The auto-generated scorecard for each candidate would be a great add-on provided by some solutions. They will help recruiters make quick hiring decisions, download online and offline reports, get screenshots, score overview and candidate feedback, and track in-depth video analytics easily. For example, with cutting-edge video interview platform  like Oto_Video, you can: 
Expand your talent pool by interviewing candidates from anywhere
Assess and hire the best candidates across multiple campuses efficiently
Engage many candidates at once, transform candidate experience and move qualified talent to the next steps faster
Conduct synchronous or asynchronous interviews with ease to avoid scheduling headaches
Leverage the inbuilt features like live coding, whiteboarding, screen sharing, and digitized feedback during the interviews for cutting-edge assessments
Derive powerful insights for making better hiring decisions
Imagine the ease of calling only the most qualified talent for the interview. Imagine all those tons of development managers' time saved! A good solution can also help recruiters get past the challenge of hiring subjectivity by using data-driven decisions.
Technology – you are hired!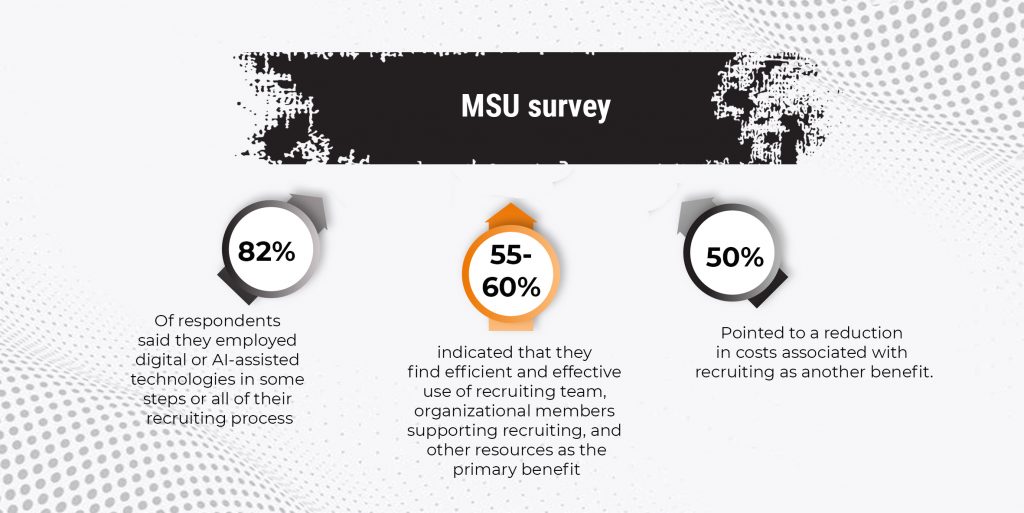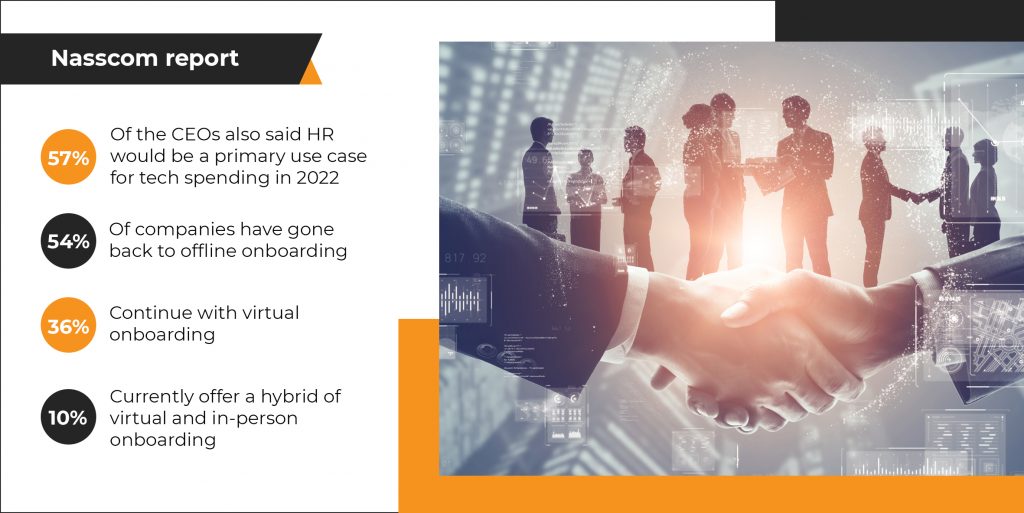 It's not hard to deny the charm that the virtual talent assessment process and virtual interviewing have cast on campus recruitment today. Technology is becoming an integral part of every recruiter's radar during campus recruitment.
The question is – which one will you recruit to hire the next best talent?