Virtual recruitment in tech is now ubiquitous. But just until a few years back, it was still something that companies used only as an extra tool instead of an essential way of hiring quality developers. But the umpteen advantages and utmost ease of virtual recruitment have proven themselves in a sure-shot way in recent times. Companies have realized what they can accomplish by using technology for virtual screening, virtual interviews, and virtual meetings. They are doing all the HR processes at reduced costs, with extreme flexibility and simplicity, and above all, adding speed and convenience in the life of their employees – current and in progress. These tools also make the various aspects of the employee experience very engaging and personalized. Now they can enjoy the entire experience with the same connection, with the same impact but without having to travel miles or investing too much time in doing so.
Barriers ahead
However, this new-and-improved HR approach is not without its set of challenges:
How to evaluate a complex set of skills?
How to streamline the entire process in a visible, one-dashboard, and compact way without a scattered experience?
How to arrest hidden costs and lost opportunities for candidate assessments?
How to make this process rigorous yet simple to use – especially for candidates because they may have different device formats, bandwidth availability, and literacy levels in the use of such tools?
How to reskill HR in a new area?
How to deal with resistance to change?
How to handle heterogeneity and confusion that comes with the use of technology in a traditional area?
But there are tools out there that can take care of these same challenges. In addition, they can help HR teams to stay ahead of these barriers with virtual recruitment and use technology to their advantage.
Answers around
When one uses such tools in areas like video interviews and social media recruiting, one gets to add precision, personalization, and speed to the entire space – and that too, in a Capex-light model because of Cloud and AI. An intelligent tech skill assessment platform like Oto_Code can be handy to make sure that you can quickly check a candidate's coding capability on code reliability, maintainability, scalability, performance, code quality, and test cases. You can also cover a wide range of technical skills, including front-end, back-end technologies, API skills, Databases, Machine Learning, testing frameworks (Selenium). Plus, you can test the future potential of a candidate. Facilities like auto-generation of assessments make the entire process very compact, fast, and self-service-ready. The assessments can be customized as per the job or skill or candidate quality in context. HR can eliminate bias and assess a candidate using their body language, expressions, and actions taken during the test. The availability of real-time data, video analytics, and insights boosts HR teams with new power and precision when using this technology. Automation, real-time proctoring, and analytics also add the much-needed element of authenticity.
So virtual recruitment comes with all its pros and is addressed for all its cons when you do it the smart way – by using a good tool. 
Opportunities close-by
Virtual recruitment is emerging in a pervasive and robust way across all industries and regions.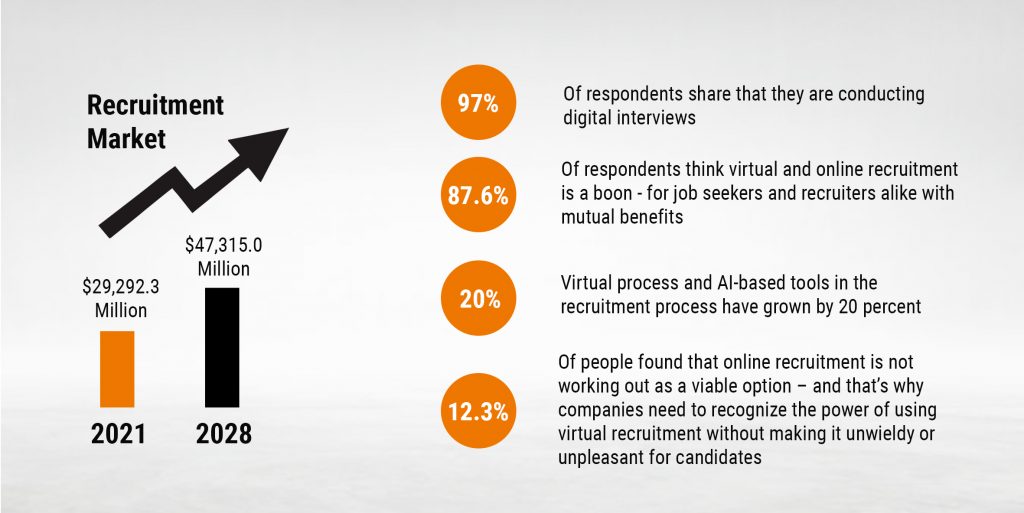 Have a solid and well-directed approach with virtual recruitment and make the most of this new shift. It's not going away. Leverage it well. Make your recruitment experience smooth, swift and efficient.