In the last couple of years, we have witnessed a paradigm shift that ushered in how people interact. To be precise- in the area of 'where' they interact. Pressed hard by social distancing imperatives and nudged further with the need to 'still collaborate', people found a new savior in the form of video meetings. So naturally, recruiters and talent acquisition heads also wanted to leverage the advantage of video meetings in the recruitment process. But they wanted a platform exclusively built for recruitment purposes beyond standard video meeting features! Not just soft skills, they also wanted to assess technical skills and draw powerful insights to drive decisions.
The modern video interviewing tool also manifested quite firmly in recruitment. Now recruiters could continue to drive their organization's productivity and competitiveness by interviewing candidates sitting far away. Moreover, with 'work-from-home' turning into mainstream reality, 'hire-from-home', powered with video interviews, also became an indispensable recruitment capability. With that, video interviews became quite compelling for and popular among technical recruiters as well. Now the recruiters could recreate the same human interaction environment, depth of questions, coverage of tests, and a candidate's attractiveness – as they could with in-person assessment. They could evaluate the same candidate from multiple angles, with other people in the virtual meeting room, and without expending duplication of time and money. They could also simultaneously test technical abilities and soft skill areas. In addition, some advanced platforms made simulation and real-time assessment possible.
Here's a glance at the vast spectrum of video interview assessments that have emerged in the recent past:
One-way video interviews – With the recruitment team dominating the screen and controls.
Two-way video interviews – With both the recruiter and candidate having an equal share of participation and controls.
Live video interviewing – Real-time interaction between the evaluation team and the candidate.
Asynchronous – Candidates can receive questions via email or video, which can be answered with the flexibility of time and place.
Synchronous – The evaluator and the candidate are present simultaneously while questions are shared and answered in real time. Here, candidates share a recording of their answers to pre-loaded on-screen questions.
Panel and group interviews – Interviews that encompass more than one evaluator in the meeting.
Structured Interviews – Rigid paths and flow as mapped beforehand with negligible room for spontaneous changes.
Audio Interviewing – Use of audio questions and answers.
Best practices for video interviews
A lot of the success and efficiency of these interviews, however, would hinge on the strengths of an enterprise in video interviews. This calls for a fine balance between speed and engagement, which platforms like Oto_Video can quickly provide. They can help you supercharge your video interview. With these tools, a recruiter can conduct face-to-face interviews with extreme simplicity and time convenience.
Oto_Video comes equipped with ultra-smart features like white-boarding, live coding, screen sharing, and digitized feedback. Such tools help a recruiter evaluate technical skills with faster and more precise assessments. Apart from bringing in accuracy with well-designed questions and in-depth assessments, this solution also allows evaluators to look at a candidate's potential. They also bring a proactive lens to diversity, inclusion, and bias reduction.
With the help of this platform, many recruiters have been able to hire tech talent from multiple campuses – easily and swiftly. These are done in a fair way, with high customization strengths that make the lives of the recruiting teams so much better and easier than before. Functions like advanced reports also help to filter only the best candidate – saving a lot of precious HR time in assessments. Plus, these video interviews can be done from any device at any time- this makes the lives of candidates very easy and simple as well.
What's even more fascinating is that an organization can also power through lateral hiring areas. Thanks to tools like an in-built code editor and whiteboard that can enable managers with faster skill testing of experienced or senior professionals. It's pretty useful for people who may not be comfortable attending assessment tests. Now an organization can get past the challenges of varied time zones and long lead times that come with lateral hiring. These are not small things – but big inflection points for an enterprise today – with digital competitiveness becoming the hallmark of success.
Conclusion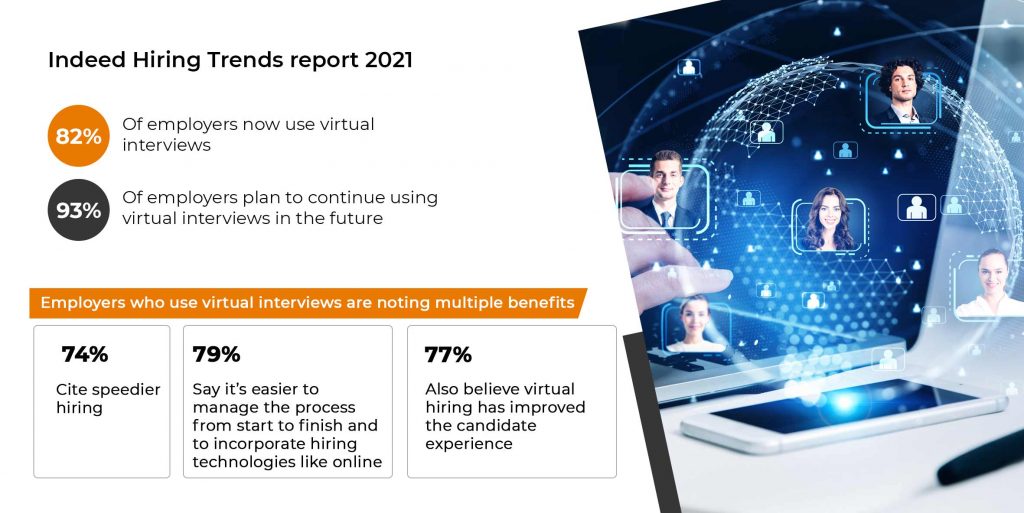 after all, applicants can interview from anywhere, and many report feeling less intimidated than they do during in-person interviews.