IT and technology recruitment is constantly evolving. Today in several job advertisements, remote or hybrid working is listed as a key benefit. Companies have started including flexible hours and remote working into their employee packages. You cannot attract top tech talent if you're not offering as per the market expectations. Remote working has widened both the talent pool for employers and the potential opportunities for candidates. In remote tech recruitment, both recruiters and candidates prefer a streamlined process. Unsurprisingly, more and more tech companies are adopting robust processes and advanced technologies in their tech recruitment.
For tech recruiters and talent acquisition heads, streamlining their hiring processes has become imperative due to severe tech talent shortage in the market.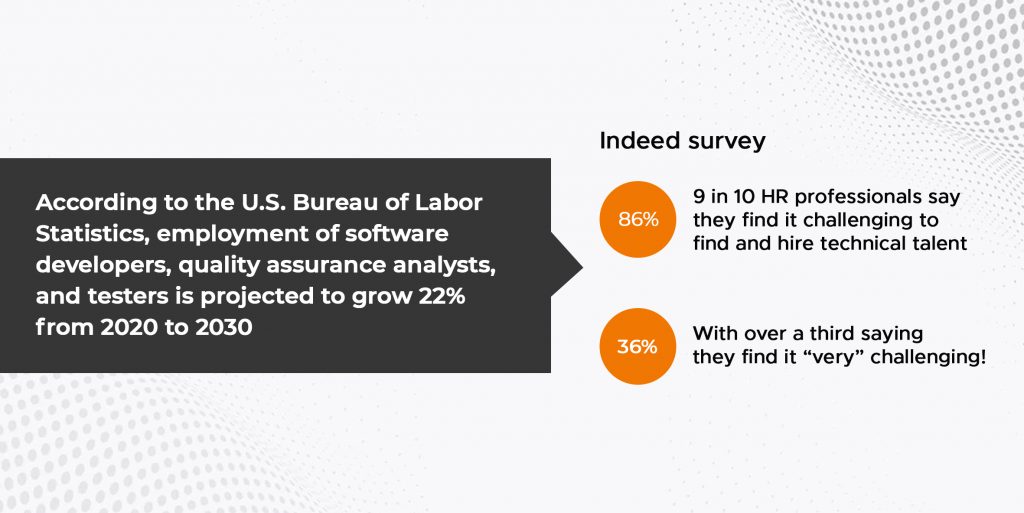 To overcome this challenge, today, tech recruiters are embracing remote hiring to widen their talent pool and use cutting-edge skill-assessment and video interviewing platforms. Such platforms help them streamline their tech hiring process, enhance candidate experience, minimize bias, select qualified candidates and increase employee retention.
During the interviews, candidates must exhibit their abilities to perform the job rather than just telling the interviewer they can, as in the adage "show, don't tell." Contrary to popular belief, the purpose of the technical interview is not to trick candidates with cryptic questions or brainteasers. Instead, it will look at how people approach difficulties in the actual world. Video interview platforms like Oto_Video can help you achieve this by helping you streamline your tech hiring process and select top-notch tech talent from a wide talent pool spread across several geographical locations.
Supercharge your remote tech-hiring with video interviews
In-house tech recruiters frequently get overworked and anxious when scaling up or looking for high-equality tech talent faster. This is more evident if your operations lack a dynamic structure. There are drawbacks to overloading your tech recruitment team with work. Applicants may not receive timely or accurate communications, interviewer comments may disappear or require the recruiter to follow up, which may delay things, and excellent candidates may easily fall through the cracks. These problems can be resolved by using cutting-edge video interview platforms like Oto_Video, which frees up the recruiter's time to focus more on activities with a more excellent added value to the hiring process. In addition, automating the remote hiring process can speed up the recruitment time and deliver more value at a minimal cost by streamlining recruitment processes like sourcing applications, assessing tech interviewers, and onboarding.
Apart from all the features mentioned above, the best functionality of a video interview platform like Oto_Video is the ability to conduct comprehensive coding skill assessments during remote interviewing. 
Move qualified tech talent to the next steps faster
A technical skills assessment is a test you provide to candidates to ascertain whether or not they are qualified to perform the duties of a particular position. These could include duties involving the essential hard skills needed for the position, like coding, problem-solving and logical reasoning. The technical skill assessment becomes necessary during the interview because you can recruit someone confidently if you can see how capable and effective they are at their jobs. This lowers the possibility of a mis-hire, verifies candidate applications, and guarantees the applicant is current.
Here are some top functionalities of video interview platforms that can widen your talent pool, engage many candidates at once, transform candidate experience and select the best talent. 
In-built code editor: Recruiters can leverage a ready-to-use built-in live coding environment during the video interview and personalize the coding environment as per their preference. Further they can enable screen sharing, and digitized feedback during the interviews for cutting-edge assessments.

Virtual whiteboard: Recruiters can collaborate with the candidate live with the trackpad-friendly whiteboard tool and have active discussions while collaborating on the code. Through such intuitive, collaborative online whiteboards, the candidate collaborates with the interviewer to solve design problems through visuals. It's a great way to evaluate a developer's system design skills because it is as natural as an on-site whiteboarding session.

Asynchronous interviews: Through asynchronous video interviews, recruiters can shortlist candidates while saving on cost and time. Instead of a real-time conversation, applicants watch or listen to a video with a series of interview questions. They get a fixed amount of time to understand and respond. Later, their answers/responses are reviewed by an AI, a recruiter, or some combination of the two. Recruiters have the flexibility to watch/review answers whenever and wherever they want and provide feedback.

Reports and insights: Recruiters get comprehensive online and downloadable reports, interview recordings and interview feedback, and review them at their convenience. As a result, evaluate multiple candidates in different geographical locations and time zones and save tons of time.
Conclusion
The tech hiring process is the first opportunity prospects have to interact with your business. A robust procedure can promote your business in the correct ways and attract the ideal candidate over a rival just as quickly as a flawed one can discourage a candidate from accepting a position.  Whether hired or not, candidates will have a favorable opinion of your business after a seamless selection  process. If not, candidates may proceed to post a scathing review on Indeed or Glassdoor. Depending on the nature of the remote hiring, even one negative comment can deter qualified prospective applicants from applying for other positions. By embracing advanced AI-powered platforms like Oto_Video, you can super-charge your tech hiring process and overcome several such challenges. Sounds exciting? Request for a demo today.