The competition in the job market is heating up, and the fight for top talent is getting more intense. In such a situation, recruiters and talent acquisition heads can't take candidate experience for granted during their hiring process.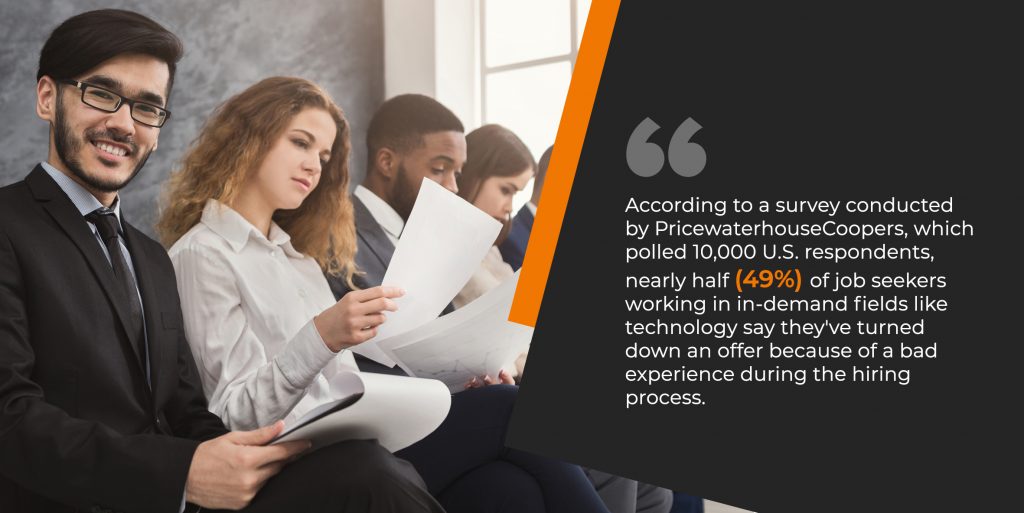 Hence, from the job description to the interview process to follow-up communications, it's critical how job seekers perceive your organization's brand throughout the entire remote hiring process.
To create a positive candidate experience, several organizations across industries are embracing remote hiring by leveraging cutting-edge AI-powered video interview platforms. It speeds up the hiring process, provides more flexibility than ever for job candidates and recruiters, and minimizes the bias that inevitably comes with in-person interviews. 
So, how can advanced video interview platforms help you drive candidate experience?
Video interview platforms are becoming increasingly popular among businesses looking to simplify the traditional interview process. Such recruitment platforms can help you enhance the candidate experience and engage and recruit talent better and faster than ever before. Take, for example, Oto_Video. It's an advanced AI-powered video interviewing platform for tech and non-tech hiring. Oto_Video can help you expand your talent pool by interviewing candidates from anywhere. Engage many candidates at once, transform candidate experience and move qualified talent to the next steps faster.
Here is how you can leverage its features to enhance the candidate experience. 
Faster process: Video interviews can significantly speed up the hiring process if you don't have the time to analyze all the applications for a position with a high volume of applicants. Instead of scheduling an almost impossible number of phone screens, watch the pre-recorded films when convenient. Additionally, video recruitment platforms like Oto_Video enable you to swiftly schedule interviews with in-demand applicants who are weighing their options. Even if the candidates are in between competing offers, reside elsewhere, have limited availability for in-person interviews, or need an interview team with busy schedules.

Convenience: If you have several internal stakeholders participating in the interview process, you are aware that occasionally one or two must withdraw, introducing consistency issues into the hiring process. Because virtual interviews are more flexible, there are fewer situations when that is necessary. This is better for candidates because you can skip the process of reporting how an interviewee performed.
Fair and transparent: Humans have a natural tendency to judge others when they first encounter them. Because of this, the adage "First impressions always last" persists. On-site interviews frequently contain unintentional bias. People are judged based on their behavior, how they are dressed, how they appear, how their hair is groomed, etc. Even though the position doesn't need them to be a polished public speaker. We often assume that someone who is exceedingly frightened is unqualified. People with disabilities can conduct interviews virtually from the comfort of their own homes, which is an additional advantage of this method. Because they are qualified for the position and possess the necessary abilities to succeed, the most acceptable candidates are hired thanks to a transparent and fair video interviewing platform.

Flexibility: Companies moving to entirely remote or hybrid workforces benefit from a larger applicant pool because those candidates are not restricted to living in a specific region. These new labor dynamics will require the adaptability that video interviews provide. Thus they must be supported. You can more easily find time to interview more prospects if the time-off requests, commutes for candidates, and unpleasant conference room scheduling is eliminated. Additionally, as more individuals apply for positions and are given consideration because the location is no longer a factor, recruiters' chances of identifying top talent will rise due to the larger talent pool. Even if your company is returning to the office, recruiting teams can improve first screenings by substituting video interviews for the standard screening phone calls. Hiring teams can more accurately determine which candidates should move on to the next stage of the interview process with the option to exchange interview records.

Cost and time savings: Conducting interviews can be expensive and time-consuming. The seemingly straightforward job of organizing an interview may become a significant pain, requiring you to exchange emails back and forth for days or even weeks to find a time that works for everyone. Additionally, this is not a simple task for the candidate. Individuals frequently need to take time off work and travel to make it to the screening interview. All this trouble to travel to a meeting where recruiters often base their decision on whether or not to hire the prospect on their initial impressions. Candidate screening using pre-recorded video interviews will provide you with all the information you need without unduly bothering the candidates. They may answer your questions at their own pace and comfort. This saves money and prevents scheduling conflicts because recruiters won't have to meet prospects in person during the first round.
Conclusion
The secret to keeping your organization attractive to the best prospects is to provide a good candidate experience. Additionally, employers must make a solid first impression on applicants, mainly if they are not hired. Candidates will see that your business is cutting edge and uses new technology if you use a video recruitment platform in your hiring process. You will appear even more attractive as a result of this. Additionally, allowing candidates to introduce themselves and tell you about their goals and skills without taking time from work or travel will demonstrate your regard for their needs.
Learn how Oto_Video can help your organization in developing a positive candidate experience. Request for a demo today.