As we step into the fourth Industrial Revolution, where AI and automation drive the workforce, there's much at stake for companies and professionals alike. Technology is advancing at a much higher rate now, and organizations need to be prepared for it. Technological advancement seems like a boon to every industry, but the prevalent talent gap is a hanging sword over the workforce. By 2025, over 85 million jobs could be displaced due to this advancement, while 97 million new jobs will be created with the backdrop of continuous digital transformation. So when AI and automation start taking over your industry, will your current skill sets in the organization be able to save you from the ax?
In half the cases, the answer is 'NO'.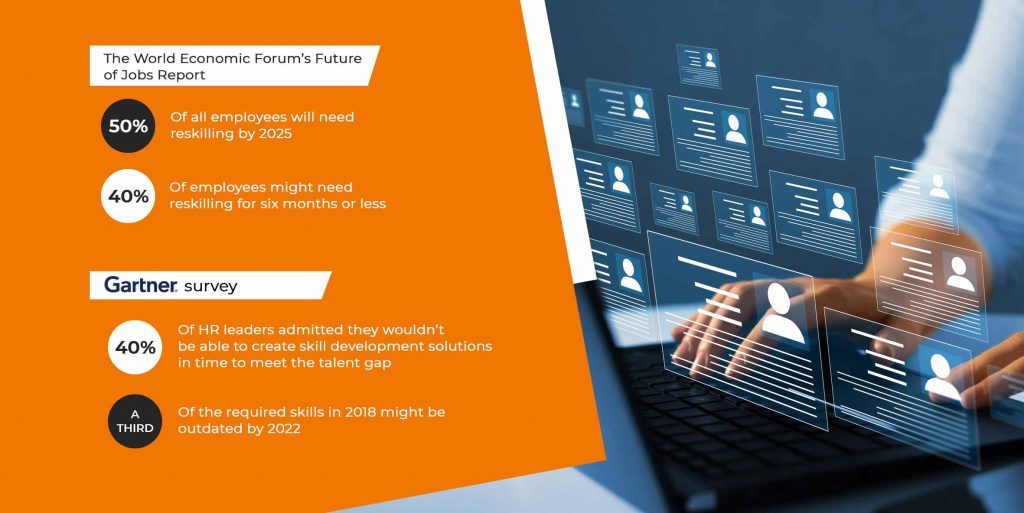 Companies worldwide have acknowledged this talent gap, and the pandemic helped aggravate the obvious. There is indeed an imminent need for upskilling and reskilling. 2025 isn't that far away, and the only thing that will keep companies afloat is a great upskilling and reskilling strategy. It is time to invest in talent development and employee training to meet the industry demands.
So, what can companies do to build a successful upskilling and reskilling strategy?
Invest in talent development: A McKinsey survey found that 87% of companies acknowledged a skills gap. This makes it crucial for employers to develop a comprehensive talent development program. Reskilling and upskilling are the need of the hour, and it requires some serious investment. Companies worldwide have already started investing in employee training, and the corporate training industry is steadily rising.
Analyze the skills gap: Not trying to state the obvious here, but before you can start the upskilling and reskilling process, you'll need to identify the skills gap. Identifying the skills gap helps you give the required attention to each talent and set up custom training paths.
Customize learning paths: Your employees might have different needs, and that's where a personalized learning path comes through. You could also use this to design a curriculum for a specific skill set. This way, you are upskilling employees who need to upgrade their skills and reskilling employees who need to gain some new ones.
Regularly assess the talent: Just starting the process isn't enough. You'll need to ensure that the employee training produces good results. The best way to do that is via data-driven, regular assessments. You can plan the next step in time when you have regular feedback.
Use interactive video-based modules: One of the best ways to keep your employees motivated in the talent development program is by engaging content. Various online platforms offer video-based course modules that you can adopt.
Wait, there's help!
If the increasing skills gap wasn't scary enough, the challenge of creating a great upskilling and reskilling strategy could add to it. Fortunately, there are solutions available that are cost-effective and efficient. For example, Otomeyt's talent development platform can do all the hard work for you. It incorporates proven methodologies that can help you transform your workforce.
Otomeyt's UBER framework has been specially designed to help companies upskill and reskill their employees. The integrated training platform takes care of everything from training to assessments. Your employees are analyzed for skills gaps and then trained on a customized learning path to ensure they are future-ready.
And if that's not it, subject matter experts are called in to train your workforce in various domains according to your requirements. The fight for a future-ready workforce is already in play. Let Otomeyt help you prepare for it.
Reach out to us, and let's discuss how we can help your company and workforce.