While it is the gateway to getting the right talent inside an organization, the hiring process can quickly turn into a revolving door. It takes nothing huge for an excellent candidate to turn around and exit through this door. The hiring experience is a fast-spinning floor where even the slightest oversight or gap can toss a good candidate out towards your competitors. So what makes this floor so slippery and this door (which is supposed to bring in talent and not throw good candidates out) so dangerous? Anything small or big- from a boring interview to a red flag on a company's diversity policy to a considerable delay in saying 'Yes' or 'No' to the candidate.
Here's what can constitute a turn-off for any candidate:
A fragmented recruitment process
Confusion and delays at various stages of the hiring
Lack of information on the job description, work culture, and overall job environment as well as expectations from the candidate
Doubts on policies around diversity, inclusion, fair pay, equity, career growth opportunities, etc.
Fatigue and bureaucracy in the hiring process
Poor engagement and communication
Lack of interactivity and no room for candidate participation in essential areas
Wastage of time due to lack of clarity or accuracy on job requirements
Bias or lack of transparency
Absence of empathy and feedback when apt- especially when communicating rejection 
Outdated processes and tools that do not align with the modern generation's lifestyle
Negligence in respecting the candidate's time, feelings, and capabilities
Don't take candidate experience casually
Communication, flexibility, and engagement have become even more underlined as areas that matter to a candidate – especially during and after the pandemic.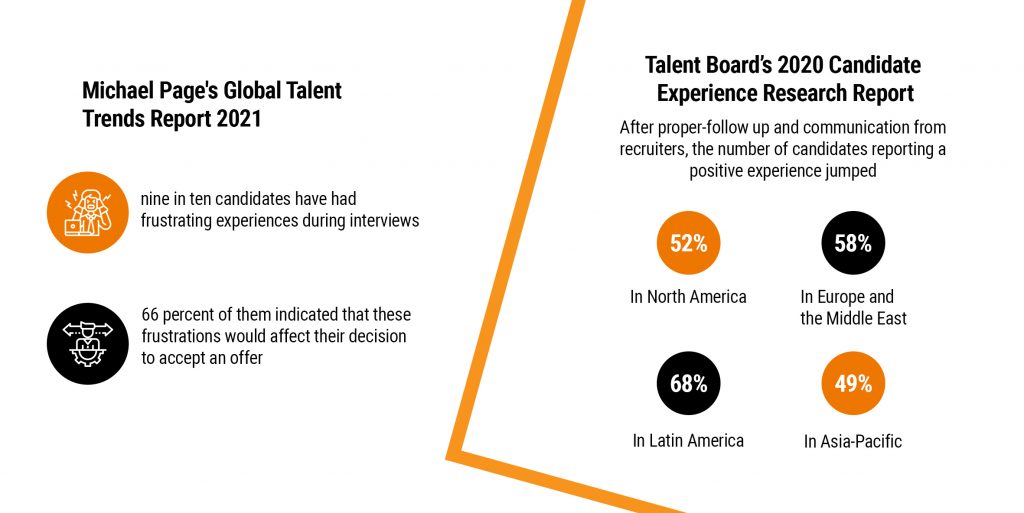 As per a recent LinkedIn report, 'Talent Market Drivers Since the Start of COVID,' what has emerged as a top priority for candidates who are considering a new job – is the ability to find flexible work arrangements – it has become 12 percent more critical globally between April 2020 and June 2021. This aspect could even turn exceptional candidates away.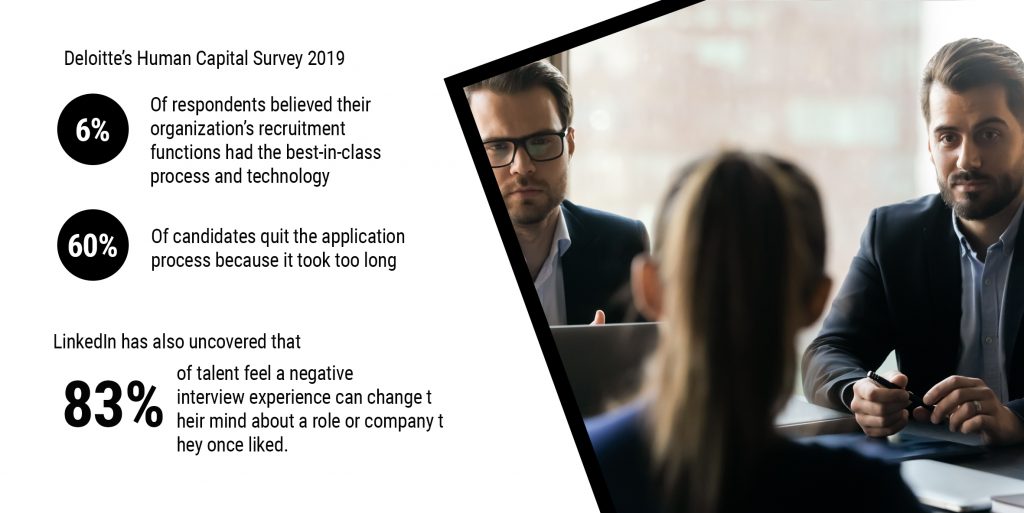 What's worrisome is that turning a candidate off can also turn your customers away. Sixty-four percent of surveyed job seekers shared that a poor candidate's experience would make them less likely to purchase goods and services from that employer- as unlocked in a 2017 survey by Future Workplace.
Catch them before they slip out- with tech's aid
Of course- No company can afford to leave candidates on this slippery floor, especially as business engines would be turned at full tilt for getting traction back to growth now that the pandemic is at its tail-end. 
A study by UnearthInsight reveals the IT/ITES industry could witness around 12,51,600 gross hires and 4.2 percent headcount addition – accounting for about 1,87,740 headcount during FY22. It is a severe battle out there. Today's average candidate looks for more than a good salary envelope or promotion when s/he joins a company. Today's talent looks for purpose, personal growth, and well-being that covers physical and mental health, work-life balance, and authentic engagement in a job. Hence, it becomes extra significant for companies to follow these principles during the recruitment.
be interactive and exciting – but also be well-managed on time
have low-touch, frictionless and high-outcome processes for today's tech-savvy generation
be simple, be fun, be personalized
be flexible and be capable of giving self-management power to a candidate during the hiring process
be respectful and careful about their expectations of fair treatment, inclusion, and human values
be transparent about crucial areas like diversity, inclusion, and equity
be well-simulated for the actual job environment and expectations
This is easily possible with AI-driven tech assessment platforms like Oto_Code that make the hiring process seamless, extremely engaging, and simple for the candidate. These solutions can bring in the power of automated score-cards, rapid assessments, precision, interactive interviews, high-fidelity job simulation, and transparency so that the candidate feels sure that this company will not disrespect their time, value, and intelligence. And all this can be done without compromising on reliability, scalability, and accuracy of assessments – no matter how technical or minute the job specification is. These solutions can pivot the hiring mindset from elimination to selection – and add deep engagement to the process for every candidate.
Interestingly, as per the UnearthInsight report, IT/ITES firms in India have invested $150 million to $200 million to digitize candidate experience. The FY2020-21 witnessed maximum growth in dollars invested for a candidate experience platform due to a spike in the war for talent, high attrition, and outsourcing.
When candidates can be sourced, tracked, and assessed in one place with intelligent and automation-backed assessments- this shift results in fast communication, transparency, and interactivity across the hiring process. Enterprises have even experienced a 60 percent jump in the 'time to talk' aspect with the right candidate by using such solutions.
The hiring process can remain a revolving door – but with a candidate-centric strategy backed by technology, you can turn the direction of this tide of talent. Make them come inside. And never look back.