The global talent shortage problem has reached unprecedented levels worldwide.
According to 'Global Talent Crunch', a study by Korn Ferry, the current global human talent shortage could create 85 million job vacancies by 2030. These vacancies would amount to $8.5 trillion in unrealized annual revenues if the shortage goes unaddressed.
With severe skill shortage, organizations may face:
Decrease in productivity
Increased costs in talent acquisition
Employee dissatisfaction and decreased retention
Inability to cater to client's needs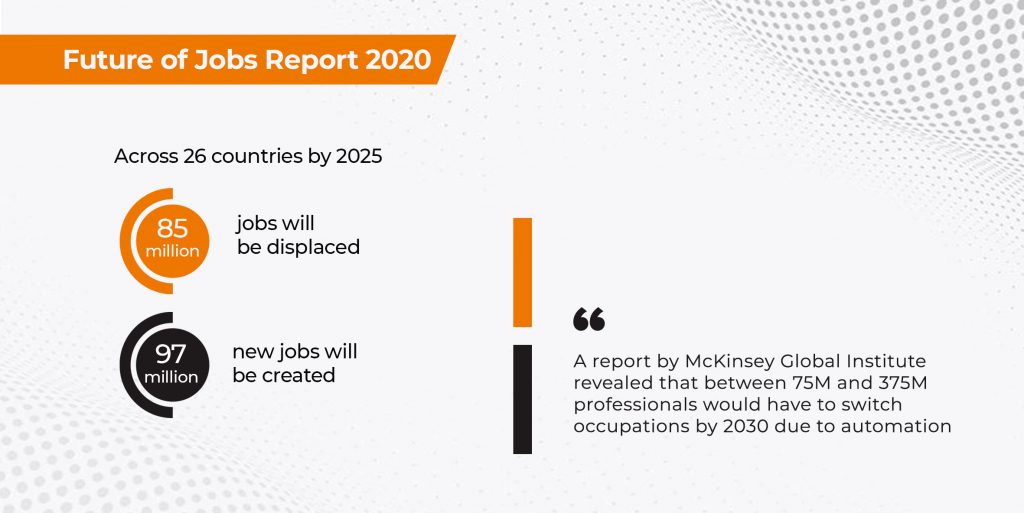 But to fill the job vacancies arising from the changing world of work, accelerated technological advances, and the automation of many routine tasks, companies must focus on swift upskilling and reskilling of their workforce at scale. 
But what are the challenges in upskilling and reskilling an organization's workforce? 
1. Content and curriculum designing
Organizations would have to devote productive man-hours to design a wide range of curricula and content for upskilling and reskilling employees. However, this mammoth task, if executed, would still fall short since it would not be able to cater to the wide variety of employees looking forward to upskilling.
2. Customized upskilling and reskilling
Each employee in an organizational workforce is unique and needs customized attention. However, in traditional methods of upskilling and reskilling, such personalized attention would be a significant drain on an organization's resources since it is practically not scalable.
3. Lack of real-world projects
Even though an organization attempts to nurture its workforce, it does not equate to productive output. This is simply because professionals are unable to practice and hone their newly learned skills on real-world projects.
A case in point is Amazon's commitment to investing $700 million to train 100,000 employees by 2025. This helps their employees access in-demand jobs, reducing Amazon's efforts to source new talent and creating a win-win situation for both parties while the employees work on real-world problems.
4. Data-driven assessment
Traditional upskilling and reskilling efforts do not take into consideration data-driven assessment. Unfortunately, this deprives the employees of learning about key areas requiring improvement.
5. Upskilling and reskilling programs are costly
Besides being resource-intensive, upskilling and reskilling programs are costly and challenging to scale. So, the question now arises – How can training managers and learning and development heads quickly scale their upskilling and reskilling efforts and take their talent development initiative to the next level?
Here is the answer. Companies can adopt the following ways to swiftly upskill and reskill their workforce at scale. 
1. Short and engaging video-based modules
Many solutions exist in the marketplace that offers short and engaging video-based study materials. This helps the organization save man-hours in designing and implementing programs. In addition, modern solutions offer both tutors and a virtual learning environment to help upskill and reskill the workforce.
2. Tailor-made curriculum and content
Customized content helps accomplish personalized learning. This allows organizations to avoid the cookie-cutter approach to talent development. By leveraging the power of AI-powered platforms, organizations can identify skill gaps with a breeze and build training plans designed to cater to their employees. This helps generate a positive ROI since this results in a workforce that is specialized in its skill set and future-ready.
Customized content helps take care of both- upskilling and reskilling. While upskilling helps employees become better at their current responsibilities. Reskilling, on the other hand, involves learning new skills that help perform a different job.
3. Real-time capstone projects
Workforces that engage in real-time capstone projects learn better. Capstone projects help employees hone their skill sets and prepare them to perform their best in real-world situations. Such projects also help employees brace themselves for handling unpredictable real-life scenarios.
4. Objective assessment and evaluation
Attending lectures on upskilling and reskilling is just one-half of the bigger picture. Organizations would benefit the most from assessing and evaluating their employees. Such a process can be effective if the assessment is data-driven and periodic. The assessments should also be able to find gaps in the skills learned.
Organizations can quickly identify skill gaps and create training plans for talent development by leveraging the power of AI-powered platforms.
5. Investing in cost-effective and scalable programs
Traditional delivery models for upskilling and reskilling programs are expensive and time-consuming. Organizations must invest in cost-effective solutions that deliver high-end interactive learning experiences with changing times. Such solutions are scalable and provide a virtual learning environment for the skill enhancement of the employees.
So, what is the best step forward?
In today's age of rapid transformation, it becomes crucial for learning and development heads to invest in training and talent development for their employees. Such training could be executed with the help of world-class learning content and proven learning methodologies offered by Otomeyt's talent development platform. It is an integrated training platform with proven learning methodologies that can help you drive talent transformation. You can leverage a unique framework to train your workforce with different experience levels, from bench resources to existing resources.
Plus, the virtual learning environment (VLE) offered by the platform can help you digitally transform your traditional delivery models to high-end interactive learning experiences. What more? You get performance reports to analyze and re-calibrate the program.
Talk to our experts today to learn more about how Otomeyt with its cutting-edge talent development platform can help your organization and upskill and reskill your employees.