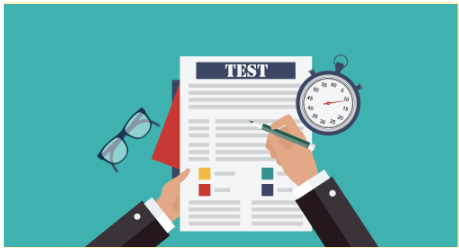 Making bad hires is a luxury that businesses cannot afford; especially in these challenging times as most companies around the world are trying to find their footing back in the economy to sustain. But companies end up making bad hires at some point or the other, resulting in replacement costs, downtimes owing to prolonged vacancy, and the consequential impact on the existing teams and their productivity.
So, what do you do to avoid such situations and make sure that the prospective candidates will be the perfect fit for your organization? The answer lies in pre-employment assessment tests. It is like weeding out the junk and nurturing the fertile, promising ones that would give you the best yield.
What is a pre-employment assessment?
Pre-employment assessment tests are an objective-oriented, standardized system of collecting and analyzing data of prospective candidates. It is a part of the hiring process and makes for an efficient, reliable, and result-driven approach to recruitment. The tests help determine the professional skills, capabilities, personality traits, performance potential, and cultural fit. Depending on the types of tests conducted, you can derive the results and the perfect talent that you want to onboard.
Types of pre-employment assessment tests
Depending on what you are looking for in a candidate, you can conduct –
Job knowledge tests: tests the basic qualifications and skills of candidates against the position applied for.
Personality tests: tests the overall character and professional behavior of the candidate.
Psychometric tests: tests the mental processes of the candidate and does a psychological evaluation.
Cultural fit tests: tests the compatibility of the candidate with the organization's culture, values, and visions.
Cognitive ability tests: tests the candidate's ability to think in a given situation.
Logical Reasoning and Problem Solving Tests: tests the candidate's ability to solve a problem by creating an arbitrary situation and how they reason those solutions.
Leadership Tests: tests the candidate's ability to manage and lead a team through team-building, motivation, etc.
Drug Tests and Physical Fitness Tests: tests the candidate's physiological health and checks for medical conditions, if any.
Benefits of pre-employment assessment
Like I said before, pre-employment assessment tests help avoid bad hires. But there's more to these tests that make them popular in the changing professional landscape.
Surveys show that over 50% of applicants don't even meet the required qualifications for a job advertised. This has become a more pressing issue than ever with online job boards and various channels of applications, resulting in a pile of applications. With an increase in a talented and high-quality workforce, recruiters cannot afford to spend time, money, and bandwidth filtering through irrelevant ones. The pre-employment tests help recruiters and HR managers narrow down the potential hires and get scientifically driven results, streamline hiring processes, avoid bad hires, improve the quality of hires, eliminate common hiring bias, and also improve the candidate's hiring experience.
What to expect from pre-employment assessment tests?
No test can give you 100% accurate results. While a pre-employment assessment is a smart approach to find the right hires and build a high-end talent pool, you should not expect it to magically solve all your hiring concerns. The idea of these tests is to achieve data-driven results, sharper analytics, and reduce the risk of bad hires, thus streamlining your hiring process. When done right, such assessment tests can lower hiring and training costs and help you onboard the right talent.
There are plenty of pre-employment assessment tools in the market and each one would claim to be the most accurate and promise you the results you want to get. But you should assess the wants vs. needs from your testing results before you jump into implementation. Choose a testing software that gives you more than just test results and uses cutting-edge tools of assessment. Features like in-built code tests, NLP assessment, integration with ATS, video analytics, and more.
To assess the effectiveness of the tests, analyze the ROI metrics, and look for improvement in your recruitment exercise. Also, there is no single approach to get the best candidate in the market. It is always a cohesive exercise of collective methodologies that eventually drive results. So, instead of completely relying on software, integrate with your best practices, and customize your hiring process.