The HR function is the driving force of any enterprise. Yet, it is often considered a cost-center. Unlike marketing function, which is a revenue-center, HR tends to be the office where money gets spent. But if this money is an expense-bill, it is dangerous myopia to indulge in. The time and projects that HR leaders spend are crucial in ensuring that an organization is furnished with talent consistently and timely. Without quality human resources, an organization could never achieve its growth path. Humans are the source of all effort, skills, direction, and progress for any organization.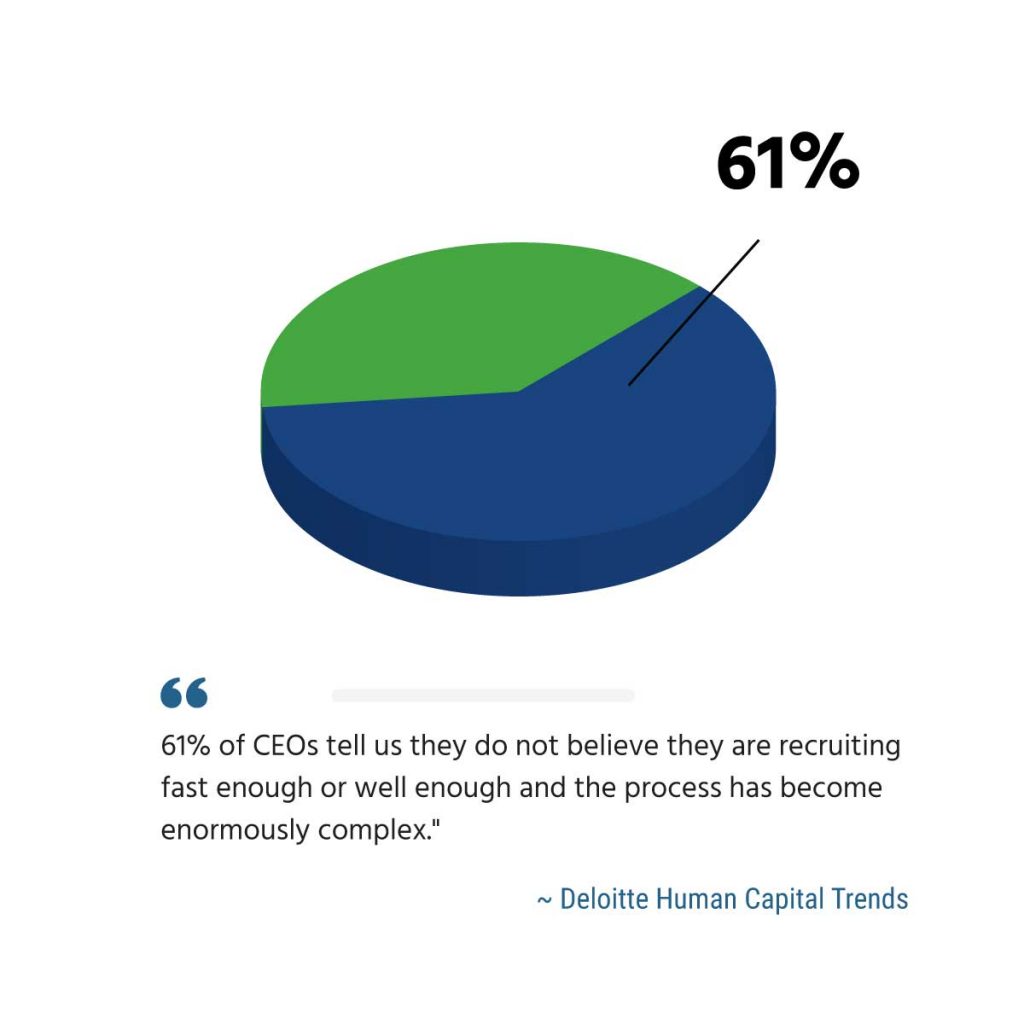 Where recruitment falters
Recruitment – handled with accuracy, efficiency, proper context, and a long-term view- helps keep this talent supply intact. Interestingly, recruitment is also a process where a lot of time, energy, and money can quickly dissipate. This is because of
Inaccurate planning and mapping of talent demand and supply
Approaching the wrong pool or a limited pool of resources
Too much time and energy spent on the top end of the funnel of hiring
Ineffective segmentation and targeting of requisite resources
Inability to tap lateral resources and passive resources
Gaps in ensuing stages like interviews, testing, and reference checks
Poor engagement and branding can lead to resources tuning out or losing interest
Unclear mapping of results
Loose integration points with other HR processes like talent-mapping, development, appraisals, and satisfaction
Ramifications on business hours – distraction, productivity loss, and unplanned downtime
But what if tools like Artificial Intelligence (AI) can solve these issues? Yes, an excellent set of tools are now available in the industry. They are proficient and proven in addressing these areas of wastage of time and money.
these areas of wastage of time and money.
AI – ROI-Friendly and Recruiter-Friendly
Artificial Intelligence (AI) can bring the power of accuracy, proactive planning, efficiency, and engagement in the entire chain of recruitment. Right from the beginning of the funnel to the very last drop of onboarding the perfect candidate, AI can assist recruiters in really powerful ways by,
Approaching the right segments and pools based on historical and future-oriented data on talent – demand and supply
Eliminating unnecessary areas of human involvement – like forms, personality tests, reference checks, and documentation. Here chat-bots can replace or collaborate with humans easily and helpfully
Empowering recruiters, interviewers, and decision-makers with new insights and nuances of the candidates – through social media data, unstructured data, image analytics, and facial analytics
Deepening of engagement and brand-association between the employer and prospective employees
Injecting timeliness, precision, efficiency, and effectiveness by streamlining a lot of data and processes
All this can manifest into some very impressive results seen in both tangible and intangible forms.
Reduction in hiring costs
Fewer hours spent in candidate selection, short-listing, and assessment
Decreased cost and time in interviews, on-boarding, and orientation-training
Significant increase in employee uptime
Early improvement in project outcomes due to well-timed and well-aligned supply of resources
A palpable rise in many other associated areas because of an influx of quality talent that stays committed, engaged, and productive for the organization
What will speed up these outcomes is the choice of the right expertise in approaching Artificial Intelligence (AI).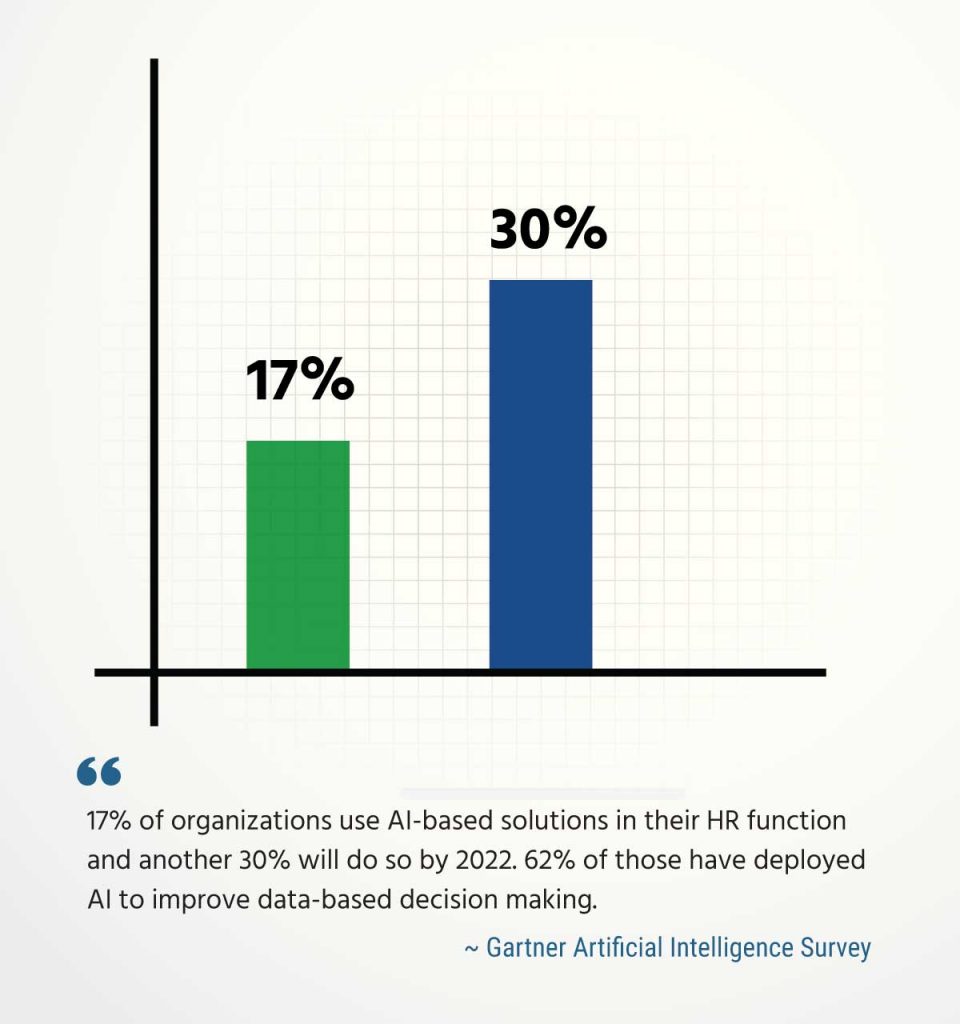 A report from ESI ThoughtLab-Deloitte also points out that those companies achieving high ROI for their AI projects (over five percent) had largely or fully implemented critical practices across data management, tracking results, and security, privacy, and ethics.
Leaders showed an average of a 4.3 percent ROI for their projects, compared to only 0.2 percent for beginning companies.
Payback periods also varied. Leaders reported a typical payback period of 1.2 years, and beginners showed it at 1.6 years.
Clarity and confidence with AI tools are the precursors to the returns expected from them.
Todd Carlisle, Co-Founder, of the People Analytics movement, says AI will make it easier for companies to find, grow, and retain the best people.
A TechRepublic study highlights that 56 percent of respondents predicted that implementing AI/ML solutions would be more complex than previous IT projects. Also, see that 53 percent said their users had unclear expectations for enterprise AI/ML projects.
Hence, start thinking like a leader. Recall what a customer of Otomeyt shared as a hands-on experience – The company reduced its hiring time and effort by 50 percent and feels a higher level of ease and certainty to build a world-class team.
"AI will augment HR and give HR time to work on more strategic business issues. The opportunity is to use AI to streamline HR manual processes and provide a more consumer grade service to employees."
Jeanne Meister, co-author, The Future Workplace Experience
It is time that we stop reckoning AI-related investments as money goes out. AI brings in much more – both in terms of what we can calculate and what we cannot (it's still impossible to put a price on rightly placed, happy and productive employees, isn't it?)