Get ready to tap a surge in demand of professionals across some hot spots of technology-skills
The year 2020 was a challenge and downturn for many industries. But, interestingly, for technology, this year turned to be quite an inflection point. As organizations found relief and business continuity in digital transformation, virtual workplaces and hybrid collaboration – technology's role became more pronounced than ever. And that led to an unprecedented rise in the need for professionals and experts who can help organizations in optimizing solutions adopted in 2020.
In 2021, I reckon certain technology skills will become critical for companies looking to accentuate and continue their digital transformation.
Here are the 8 tech skills that would be the ones worth watching out for in 2021
Software Development:A report on top skills for 2021 from Skillsoft Tech Signals indicates software development is getting bigger on up-skilling graphs. Increased demand for software and mobile apps are expected to increase by 21% by 2028 (U.S. Bureau of Labor Statistics) and application developer jobs by 28%. As per data from O'Reilly, top languages have continued to show a steady rise or marginal downfall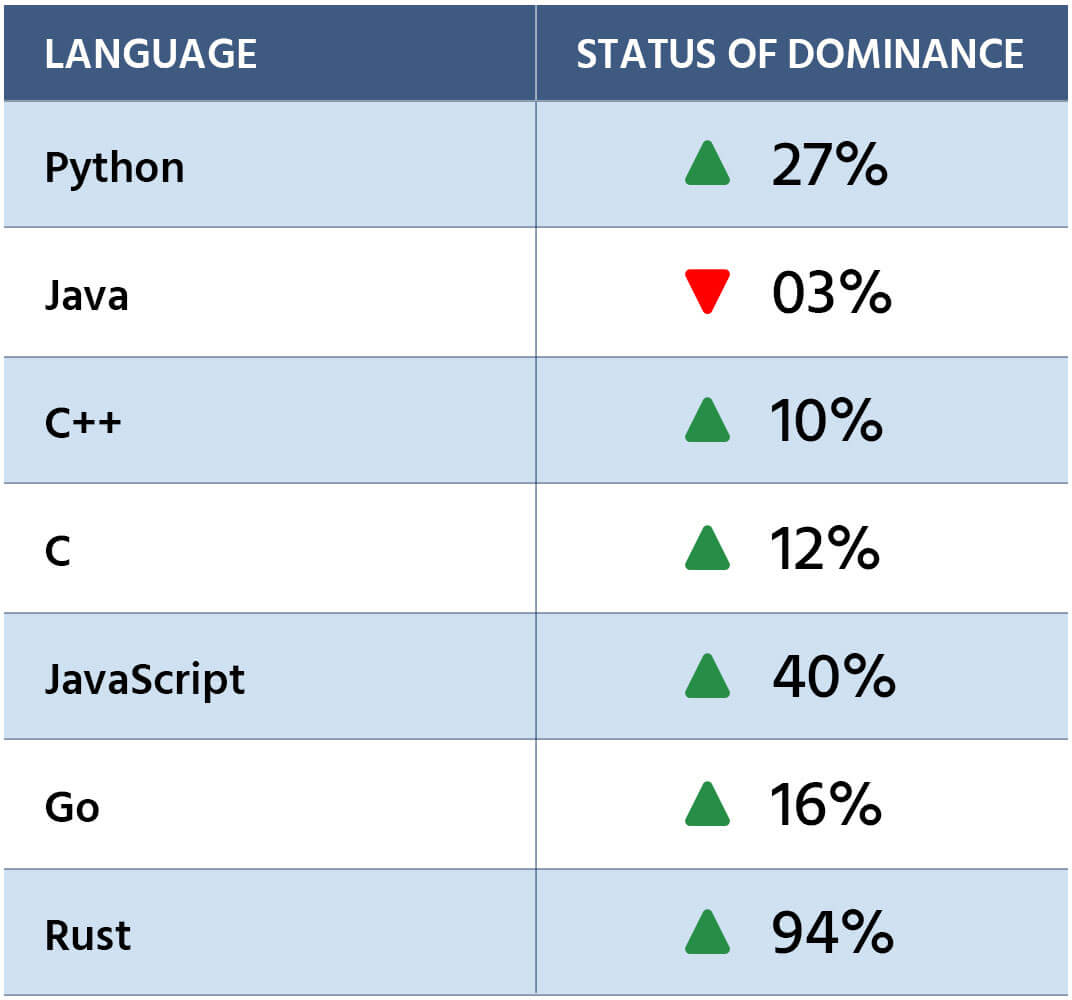 Businesses need more software than ever as it bounces to the 'new normal' in 2021.
DevOps: A Burning Glass Technologies report suggests that DevOps expertise is high on demand with more than 6 lacs open positions across North America alone. As more and more operations shift to the cloud in the post-COVID world, businesses need tech talent who can integrate DevOps and security operations that are critical to cloud deployments. DevOps professionals can meet the changing needs of businesses. They are adept at working with other areas of technologies to speed up processes and development cycles without compromising on accuracy and security.
Cloud Engineering: The next big spot is that of Cloud-related skills. Most companies went full throttle on investments in cloud models as on-premise work became out of question in 2020. The trend will gain strength now that the companies have realised the gains of investing in the flexibility of Cloud. Figures from Burning Glass show that occupations leveraging the cloud are expected to increase 14.7 percent over the next decade. The median salary for cloud-computing roles is $107,000. Prominent cloud engineering skills include areas like Azure, AWS, Google Cloud, Cloud fundamentals, Orchestration (Kubernetes), cloud infrastructure, compute resources, cloud migration, and virtualization.
Data Science: This field is going to explode to even better heights than what it did in the last two years. As per a research from AnalytixLabs, the beginning of the year registered a sharp increase in the demand for analytics professionals.
The number hit a peak in February–March 2020 –approximately 113,000 in the first week of March. Data Science skills would also grow as adjacent expertise areas that are vital to support core hot pockets like AI, ML, Analytics and digital automation. Data Science continues to hold its ground in the pandemic era. With more businesses relying on data driven decision-making, demand for Data Analysts, BI Analysts, Data Architects, Database Administrators, Business Analysts, Chief Data Officers, are on the rise.
Data Science has topped the list of LinkedIn's Emerging Jobs for three years running till 2020.
Mobile App Development: The world turned to mobile apps for everything from work collaboration to yoga therapy. Consumers are spending more than 5 hours per day on mobile devices to connect, inform and entertain. The trend will continue well into 2021. Mobile application developers who can collaborate with other departments to design, test, release, and support their applications will be in high demand.
The salary of mobile app developers ranges from $112,750 to $189,750.
Cybersecurity: Investing in tools and technologies is just the first step for enterprises. What follows as a natural course is the need to protect them and the data inside them. That means this technology world will always need a good cybersecurity professional to watch its back. The top 10 fastest-growing cybersecurity skills emerge strong as per some recent data from Burning Glass. It is evident here that employers are ready to pay more for workers who can prevent attacks before they occur. The top-bracket areas here are Application Development Security and Cloud Security. Projections show that demand for these skills over the next five years will rise 164% and 115%, respectively. Expect salary premiums of up to $15,000 for workers who have them.
AI/ML: A lot of companies have started to rely more and more on models and algorithms that complement human intelligence. But creating, managing and optimising these models needs a human in the loop – always. In fact, as per estimates from Burning Glass Technologies, IT automation and AI constitute the top-tier in salary premiums today. The research study -that analysed over 17,000 unique skills demanded across one billion historical job listings- underlined the importance of AI in the new skill-landscape. LinkedIn's estimates point out that the number of people in ML and AI went up 40 percent year-on-year.
Blockchain: A disruptive technology that is upending many business models already, Blockchain remains the crème de la crème because of its novelty and complexity. That explains why demand for Blockchain engineers went up nine percent. As per an index from Upwork, Blockchain emerged as the hottest skill in the U.S. job market. Even data from Burning Glass shows that over 5,743 largely full-time job openings were posted that required Blockchain skills in the last 12 months.
Companies in various domains including manufacturing, shipping, finance or insurance need Blockchain architects and Blockchain engineers. It is still in its infancy.
Test before you hire
But we all know how challenging it is to pick the right talent in these areas owing to massive skills shortages in the market. Today remote working has come to the rescue of talent acquisition managers. They can access a much wider pool of talent with no geographical constraints. Now it is more to do with zeroing in upon the right talent from such a wider pool. To help them do that, advanced tech assessment tools like Otomeyt come in handy. With an exhaustive list of tests customized for over 400 technologies in SD, DA, and Mobile app, remote video interview platform, etc., it helps them ensure,

Right candidate match,
Eliminate bias in the selection process,
Save cost and time,
Adopt global tech hiring standards and
Drive data-driven decisions.

With the talent pool increasing and job roles becoming versatile, it is becoming essential to use innovative tech hiring platforms to hire the 'right fit.' With smaller budgets, accurate evaluation of technical skills becomes even more crucial, as companies can no longer afford wrong hires.
It's time to leverage the power of smart technology tools to build great tech teams.